UPDATED: Jul 31, 2020
It's all about you. We want to help you make the right coverage choices.
Advertiser Disclosure: We strive to help you make confident insurance decisions. Comparison shopping should be easy. We partner with top insurance providers. This doesn't influence our content. Our opinions are our own.
Editorial Guidelines: We are a free online resource for anyone interested in learning more about insurance. Our goal is to be an objective, third-party resource for everything insurance related. We update our site regularly, and all content is reviewed by insurance experts.
| Irving City Summary | Stats |
| --- | --- |
| Population | 238,284 |
| Density | 3,514 per square mile |
| Average Cost of Car Insurance | $6,330.67 |
| Cheapest Car Insurance | $2,654.28 |
| Road Conditions | Mostly Fair |
| | #blank# |
From the Las Colinas Mustangs to the Dallas/Fort Worth International airport, Irving is a gem hidden among big cities in Texas. Just outside Dallas, it gives you the Las Colinas, one of the oldest "master-planned" cities in the entire United States.
Founded in 1903, the city of Irving is rich in history and welcoming in the new and improved.
The Toyota Music Factory lies in the city walls and is a vast entertainment meeting place for the entire area. Music is one of the best aspects of the city. Every night you can find a bar, concert hall, or restaurant that'll serve up a great tune. Though it's not a huge city, it's surroundings make it quite heavy in traffic and people.
With over 85 hotels in the city, there are plenty of appealing places to stay on vacation. If you're thinking of moving to Irving or taking a trip to catch a good band, you will not be disappointed.
Car Insurance in Irving, Texas
Car insurance is a tricky business in all cities of the United States.  You are probably asking yourself: What coverage is best for me? What companies have the best rates?
In this article, we'll help to educate you on auto insurance in Irving and help you get to know the facts of the city just west of Dallas. Further, you'll discover the company that gives you the best coverage that you can count on and great customer service that you can depend on.
Whether you've lived in Irving your whole life, or you might be moving out there, this guide will help you understand the inner workings of Irving's auto culture and insurance.
Male vs. Female vs. Age
At a median age of 31.9, Irving is a reasonably young city as age goes. This affects car insurance significantly. When you're below the age of 25 car insurance rates are far higher.
If you're a female above the age of 35, your rates for auto insurance are almost always going to be below the average. Of course, if you're over the age of 60, those rates go even lower.
| Irving Rates by Age | Price |
| --- | --- |
| 17 | $8,456.51 |
| 25 | $3,543.71 |
| 35 | $2,838.14 |
| 60 | $2,654.28 |
| | #blank# |
This table shows the difference only 10 years can make in annual auto insurance rates. Whether you're male or female if you're above the age of 25 and have a clean record you will find many competitive rates from top companies.
Cheapest Zip Codes in Irving
Different zip codes bring different variables to auto insurance. Companies determine many things from zip codes such as; the rate of stolen vehicles in your area, cases of vandalism, amount of claims as well as fraudulent claims, and damaging weather.
All of these variables can raise or lower the base rate for your insurance.
The cheapest average rate found at any zip code in Irving is 75039 at $6,182.00 annually. Remember, this is an average, so if you have a good credit history, a clean driving record, and aren't a teen, these rates will be much lower than the average.
If your zip is 75039 though you have a good chance of getting a great rate.
| Zip-code | Rate |
| --- | --- |
| 75039 | $6,182.00 |
| 75063 | $6,247.34 |
| 75061 | $6,307.57 |
| 75062 | $6,330.67 |
| 75038 | $6,517.48 |
| | #blank# |
Be careful, through different zip codes; there are usually differences in poverty/wealth; this is what determines the average rate of each zip code.
Best Car Insurance
Choosing the best car insurance is an interesting game. You can choose the cheapest one fairly easily, but what does that coverage get you? Sometimes the best car insurance isn't the cheapest. Low, medium, and high coverage can make or break you.
That low coverage car insurance is good on your pocketbook until you get in an at-fault accident.
Many different factors go into who has the best car insurance. There is usually no overall winner but the top companies, are top companies for a reason.
Sometimes that cheap rate is the best thing for you though. This section will help you choose the best coverage, the best company, and the best rate for your price range.
Cheapest Rates by Company
Saving money is almost always a good thing. Car insurance is no different. If you can save a buck, you're doing something right.
Military gets excellent treatment all over the U.S. (rightfully so) but especially in Texas. USAA is consistently the cheapest company in the state and Irving.
If you are not in a military family, your cheapest alternatives are usually Geico or Allstate. This table below will take you through the cheapest rates you can find.
| Cheapest Rates by Company | Average Annual Rate |
| --- | --- |
| USAA | $2,721.89 |
| State Farm | $3,272.27 |
| Geico | $3,561.33 |
| Nationwide | $3,966.20 |
| Progressive | $4,614.58 |
| Allstate | $5,770.16 |
| American Family | $6,705.69 |
| | #blank# |
The most expensive companies are Allstate and American Family. American Family has higher prices because it's a private mutual company. These companies tend to cover a lot more and are used by wealthier individuals. This does mean their insurance will protect you in almost every situation.
Best Car Insurance by Commute
Commuting is becoming a big part of the American workday. In some cases, it can account for more than three hours of a person's day.
Car insurance companies will ask you when you sign up how far your commute is going to be. Based on this, they will sometimes raise your rate if you drive over a certain amount of miles a day. Some companies (if you find the right one) won't raise it at all.
The more you are on the road, the more chances you have to get in an accident or any other insurance-related situation. Knowing this, companies try to protect themselves from heavy commuters by raising rates.
This table shows the companies that will increase rates for a long commute and which ones don't.
| Best Car Insurance by Commute | 10 Mile Commute (6000 Miles Annually) | 25 Mile Commute (12000 Miles Annually) |
| --- | --- | --- |
| USAA | $2,687.44 | $2,756.35 |
| State Farm | $3,272.27 | $3,272.27 |
| Geico | $3,496.34 | $3,626.32 |
| Nationwide | $3,966.20 | $3,966.20 |
| Progressive | $4,614.37 | $4,614.37 |
| Allstate | $5,625.40 | $5,914.92 |
| American Family | $6,705.69 | $6,705.69 |
| | #blank# | #blank# |
Best Car Insurance by Coverage Level
You'll need to understand the common types of coverage available on a car insurance policy to pick the best one for you. The various types of car insurance coverage are available to help protect you, your vehicle, and your passengers if you're involved in a car accident.
Coverage levels can be your best friend. Pay close attention to what is getting covered. It could save you a ton of money in the long run if you find better than low coverage and get in an accident that involves an injury.
If you go with minimum coverage that only covers what is required in Texas, medical bills could reach in the tens of thousands of dollar.s
Low coverage will save your pocketbook monthly, but high coverage will save you in case of an accident, or citation.
Be sure to check out what coverage covers what damage. Knowing what you're buying is a huge plus in car insurance.
| Rates by Coverage Level | Low Coverage | Medium Coverage | High Coverage |
| --- | --- | --- | --- |
| USAA | $2,615.66 | $2,709.71 | $2,840.31 |
| State Farm | $3,089.83 | $3,262.89 | $3,464.08 |
| Geico | $3,375.81 | $3,520.78 | $3,787.39 |
| Nationwide | $4,273.70 | $3,798.56 | $3,826.35 |
| Progressive | $4,421.91 | $4,595.52 | $4,827.29 |
| Allstate | $5,632.18 | $5,718.36 | $5,959.93 |
| American Family | $6,295.09 | $6,483.72 | $7,338.25 |
| | #blank# | #blank# | #blank# |
Best Car Insurance by Credit History
In today's world, we are almost defined by a number. Our credit history tells almost everything there is to know. If you have a poor credit score car insurance companies will sky-rocket their rates. Just like buying a car, this is almost as important as your driving record.
Some states are starting to make it illegal to raise rates based on credit history. California, Massachusetts, and Hawaii are the only states that do not allow companies to change rates based on credit score. Texas is not lucky enough to have this law, but there is a conversation of more states following suit.
| Company Rates by Credit History | Poor | Fair | Good |
| --- | --- | --- | --- |
| USAA | $3,977.61 | $2,318.07 | $1,870.00 |
| State Farm | $4,623.69 | $2,887.35 | $2,305.77 |
| Geico | $5,507.17 | $3,109.41 | $2,067.41 |
| Nationwide | $4,755.46 | $3,822.84 | $3,320.31 |
| Progressive | $5,225.39 | $4,479.80 | $4,138.53 |
| Allstate | $7,324.71 | $5,376.49 | $4,609.27 |
| American Family | $9,337.33 | $5,774.00 | $5,005.74 |
| | #blank# | #blank# | #blank# |
This table shows that Allstate raises their rates at almost $3000 when someone has a poor credit score compared to a good credit score. Keeping track of credit can help you in every walk of life.
Best Car Insurance by Driving Record
Almost as important as your credit score, companies look at your driving record with a fine-tooth comb. Even a parking ticket three years ago will buy you a few hundred dollars extra a year on your rate. Driving records usually stay with you for 3-4 years depending on the company.
One DUI will raise rates by thousands a year, one accident will raise your rates up to hundreds a year.
Having a bad driving record could mean no insurance at all in some cases.
Some companies will completely reject having you as a customer if you are a liability. But, if you have a clean driving record, you can guarantee you will get a competitive rate from every company. The best thing you can do for yourself is to drive safely.
| Rates by Driving Record | Clean Record | 1 Accident | 1 DUI | 1 Speeding Incident |
| --- | --- | --- | --- | --- |
| USAA | $2,019.21 | $3,004.62 | $3,544/58 | $2,319.17 |
| State Farm | $2,893.93 | $3,337.02 | $3,964.20 | $2,893.93 |
| Geico | $3,019.15 | $4,008.22 | $3,329.09 | $3,888.85 |
| Nationwide | $3,438.13 | $3,438.13 | $5,103.17 | $3,885.38 |
| Progressive | $4,027.54 | $5,168.16 | $4,712.66 | $4,549.93 |
| Allstate | $4,443.71 | $6,943.65 | $7,249.56 | $4,443.71 |
| American Family | $6,120.34 | $7,776.13 | $6,805.94 | $6,120.34 |
| | #blank# | #blank# | #blank# | #blank# |
With just one accident, almost every company will increase your annual rate by 1000 dollars. Driving safely on the road will also earn you some benefits from month to month.
Car Insurance Factors in Irving
Irving lies within the walls of the Dallas/Fort Worth Metro area. This area has been growing like wildfire and is prospering greatly.
Many things affect your car insurance rates. We've explained how the things you do affect them, but how do your surroundings affect them?
Everything from average household income to poverty can change your rates significantly. In this section, we'll delve into what makes insurance tick.
Growth & Prosperity
According to the Metro Monitor from 2010 to 2015, the metropolitan area of Dallas/Fort Worth is ranked 11th in growth and 15th in prosperity. This is an excellent sign for everyone in the city. But could also mean a bit of a hike in insurance prices.
Median Household Income
The average household income of the over 235,000 people in Irving, grew to $58,196 from the previous year's value of $54,868.
This chart shows how Irving stacks up against different surrounding areas and the entire United States. Irving comes in just above the nation's average, which is always a good thing.
If you live in a place with a high average income per household you will pay more for your car insurance.
Median household income gives insurance companies a base value of what the area can afford. Above all other factors, this will noticeably change car insurance rates.
Below you can use an insurance cost calculator to see what you can afford based on your income.
Homeownership
In 2017, 37.7 percent of the housing units in Irving were lived in by their owner. This did grow about a full percentage after 2016 but is still relatively low on the spectrum.
This means that a lot of the houses that you may live around are being rented out. This can mean a lot of noise for you.
It can also mean a headache for insurance companies. The more people who rent, the less likely they are to have multiple cars, a high income, etc.
Education
There are a few different universities in the metro area surrounding Irving. The student population of Irving is around 16,000 people. There are more male students than female students with 8,500 males receiving degrees.
Northlake College is the most populated and accounts for most of the student population.
Knowing how many students there are in the area is important for insurance. If there is a large number of student drivers in the area, that means rates will be higher.
For example, in Austin by the University of Texas, the rates there would be much higher due to the high amount of young drivers.
Wage by Race & Ethnicity
Race and ethnicity should no longer be of any meaning in our country, but besides, our efforts are tough to go blind to completely.
As in most areas of the United States, the Asian demographic in Irving has the highest wages, followed by whites; while the black population and Pacific Islanders are at the bottom of the list.
The reason this is worth mentioning is based purely off the average income of people in the city. If you are looking for car insurance and do not have a high income, you will be forced to choose a lower coverage plan.
Wage by Gender
Gender is a big factor in car insurance, so knowing how the different genders are weighing against each other is a great asset.
This graph shows that on average men make more than women in Irving in every category of common jobs. This translates to auto insurance by charging females less on their rates.
Most car insurance companies are also tuned in to the fact that women are much safer drivers than men are.
Poverty by Age & Gender
Poverty is steadily seen in every area of the United States. Irving is no exception.
According to Data USA females between the age of 25-34 account for the highest poverty rates in Irving. This means that they will also be charged some of the lowest rates insurance companies can provide.
Poverty by Race & Ethnicity
As you can see in the table above, whites and Hispanics make up the largest percentage of poverty in Irving. Whites and Hispanics make up a majority of the population as well, so that has a large factor on these numbers.
When choosing car insurance, see if you can find any deals that tend to minorities, or those living in poverty-stricken areas.  You never know what you could run across.
Employment by Occupations
Of the 124,000 employed people in Irving, the most percentage of people work in Office or Administration type areas. This comes back to commute times. If most people are working in offices from 9-5 commute times in the city will be mostly high.
Enter your zip code below to view companies that have cheap auto insurance rates.
Secured with SHA-256 Encryption
Driving in Irving
While Irving is miles off the highways, traffic getting out of the city can get tricky. With the Dallas/Fort Worth Airport nearby, one of the most popular airports in the nation, congestion is on the high end.
There are always events going on in Irving as well. The Toyota Music Factory hosts some of the most famous musicians in the world. There are also loads of different concerts and fun holiday parades that draw a lot of foot and vehicle traffic to the city.
In this section, we'll dissect the roads, safety, and traffic congestion. Car insurance companies look at the same factors as they decide how high or low your rate will be. It is best to know the facts and questions to ask when deciding on insurance.
Roads in City
We've all driven on terrible roads before that make you think twice about not looking at the GPS. Or hit that pesky pot-hole on 6th avenue that has taken the life of your alignment on more than one occasion.
Auto insurance companies have statistics on roads in cities. This factor relates back to the rates by each different zip code. If your zip code is full of roads that ruin tires and rims every day, your company will cover many fewer things.
In this section, we'll discuss some of the ways the roads in Irving affect the rates that companies offer.
Major Highways
Highways in Irving are quite extensive due to the surrounding cities and Dallas/Fort Worth Airport. However, none of the major highways go directly through the city, which is always good. Irving is pretty much walled in by four major highways though.
As mentioned before, companies will have a street view of each highway, the more traffic that your city has, the higher those rates go.
Texas, in general, has 25 different active highway routes that span over 3,500 miles.
The most traveled highways include I-635 or LBJ Highway, SH-114 or John Carpenter Freeway and SH-183 or the Airport Freeway. Traveling on these roads, you will encounter the most congestion in the area.
This map below shows the directions in which those major highways run and what cities they run through.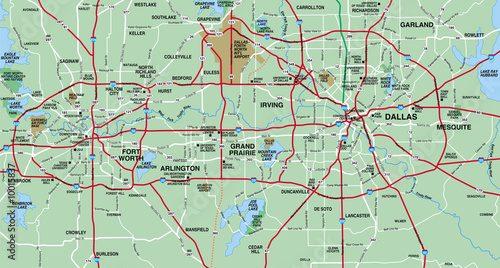 Popular Road Trips/Sites
Irving has many different sites where people come to visit. But not quite as many as the surrounding cities of Dallas and Fort Worth. The 85 hotels that reside in Irving will hold many people that are wanting to spend time in Dallas though.
Whether it's a Dallas Stars game or a Cowboys practice, the epicenter of sports in Texas is just around the corner.
Some of the most popular destinations can be seen in this video, but overall, the Toyota Music Factory and the overall music persona is Irving's biggest selling point. Everyone from Willie Nelson to Sublime has been to Irving to bless its people with some great music.
Road Conditions
Each large area containing more than 500,000 people has statistics on how their pavement rates. The Dallas/Fort Worth area has as follows:
Poor Roads – 21 percent
Mediocre Roads – 31 percent
Fair Roads – 20 percent
Good Roads – 28 percent
These statistics will be used by companies to determine some of the things they will cover. 21 percent of poor roads is an average number so most companies will cover accidents, injuries, etc. due to a bad road.
Each area also has an average of extra vehicle costs called VOC's, which averages out how much you may have to spend on your vehicle due to road conditions. This does not include gas and other basic things every car needs, instead, it refers to blown-out tires, ruined suspension, or a bad axel.
The Dallas/Fort Worth area has a VOC of $609. This is just about the middle of the road with the rest of the nation.
Overall, that is a good thing for Irving. Some roads may be bad, and it may cost you some money in the long run, but it is nothing major, and the roads aren't awful.
Insurance companies take a look at all of these small factors.
Speeding or Red Light Cameras?
Until recently red light cameras were in full effect in Irving. On June 2, 2019, Irving's Red Light Camera Safety Program ended. Governor Greg Abbott signed on it to lower costs.
Irving no longer issues or enforces photographic enforcement citations. Speeding and red light cameras are now only used as warnings to be aware.
This fact could save you a lot of money in rises in car insurance rates. As mentioned before, just one traffic citation can raise your rates by hundreds of dollars.
Vehicles in City
In every city, there are many different modes of transportation. Classic cars, motorcycles, buses, and public transits. The type of vehicle you drive can drastically affect your insurance rates.
Classic car insurance is often double the cost of regular car insurance. Motorcycle insurance is often a lot lower. If you have a souped-up red sports car that attracts the attention of every police officer in the county; you can guarantee your insurance will be higher than the average soccer mom van.
Most Popular Vehicles
Everything is bigger in Texas. Surprisingly the most popular car is not an oversize pickup. It's a Dodge Challenger.
After watching this video, the challenger is big for other reasons than size. The Challenger will raise those insurance prices because it's a sports car, and due to safety issues. When a car can go as fast as Challengers do, it's an issue for insurance companies.
Something important to remember is this; the higher the opportunity for an incident, the higher the rates will be.
So if you're planning on joining the Dallas scene and purchasing a Challenger, think twice. It also isn't great on gas due to the high output of power they possess.
In the Dallas/Fort Worth area, 47 percent of cars are American made.
Cars Per Household
As you can see in the table above most households in Irving, have two cars. This is consistent with most cities in the United States. Much of those two cars per household are shared as well.
Households Without a Car
In 2016 4.9 percent of houses had no vehicles at all. This is quite a bit higher than average. This helps you out in the long run. Fewer cars on the road mean lower commute times, and fewer chances for a traffic incident.
Speed-Traps
Speed traps are never fun. But they make the roads safer and make people recognize slowing down. Remember, a ticket is just extra money on your monthly insurance rate.
Stay in tune with speed traps and where they may be, or just go the speed limit.
In Dallas, there were reported seven speed traps in the past five years.
Vehicle Theft
Vehicle theft is a problem no matter where you are. Keeping your car doors locked at all times is the best way to avoid it.
Out of the 236,000 plus people that live in Irving there were 594 vehicle thefts in 2013. With more vehicles hitting the road every year, these numbers usually increase.
Rates of theft are growing as the costs of living rise. The FBI has found this has been a consistent trend in the past decades. According to the FBI, there were an estimated 765,484 thefts of motor vehicles nationwide in 2016. That left the rate to about 236 thefts per 100,000 people.
The safest neighborhood in the Irving area is Rochelle Blvd./Hidalgo St. While the most dangerous neighborhood in Irving is on Pioneer St.
Traffic
With the Dallas/Fort Worth International Airport right around the corner from Irving, traffic can get a bit hairy. Four major highways and an event venue that is known around the world will bring more people.
Insurance companies adjust based on the amount of traffic, and the congestion it causes. The longer people are on the road, the more chance they have of getting in some driving incident.
In this section, we'll show what areas have the worst amount of traffic, and where the busiest highways run. This can help you decide if not only Irving but Texas as well is the place for you.
Traffic Congestion in Texas
Since Irving is extremely close to Dallas, let's take a look at facts about congestion in that area of Texas. Dallas is the 122nd most congested city in the entire world. It is in the top 25 most congested cities in the U.S.
Each year it is estimated that $1,065 is spent per driver on congestion issues.
While Irving is outside of Dallas and you may not have to drive through the city to get to work, some of that traffic will be heading your way. Most people who live in Irving and the other neighboring cities often work in Dallas. That commute is well known to be some of the worst in the entire United States.
During the morning and evening rush hour times, the average speed of travel is only 33 mph.
In terms of car insurance, companies will know all these statistics. Knowing them yourself will only benefit you.
Transportation
As previously mentioned, the average commute for Irving is about 23 minutes. Of those commuters, almost 80 percent of them travel alone to work. This is a very high number but is only a little higher than the nation's average.
Driving alone is a good thing for insurance companies. The fewer people in the car, the less liable the insurance company may be in the case of a bad incident.
Road Safety
| Texas Traffic Safety Stats 2017 | Amount |
| --- | --- |
| Fatalities (All Crashes) | 3,722 |
| Fatalities (Drunk Driving Cases) | 1,468 |
| Fatalities (Single Vehicle Crashes) | 1,914 |
| Fatalities (Speeding Crashes) | 1,029 |
| Pedestrian Fatalities | 607 |
| Motorcycle Fatalities | 490 |
| | #blank# |
Road safety is a major concern in every city in every country. It is a topic on the lips of every politician. How do we keep our roads safer?
It's an endless question, but it starts with each person. Don't drink and drive. Put down your cell phone. Slow down to the speed limit. Those main tips would save countless lives.
In the table above, you can see how many traffic fatalities there were in Texas in 2017. In one year 3,722 people died in auto-related accidents. Of those 3,722, nearly 40 percent of them involved an intoxicated driver.
Allstate America's Best Drivers Report
Every year Allstate comes out with their Best Drivers Report. This shows the best drivers based on cities in America. They take into account many different things, but the main three are as follows:
Years between claims (per driver)
Likelihood of claims
Hard-Braking incidents
The Dallas/Fort Worth Metro area is ranked 139th among all U.S. cities. That is neither good nor bad. But it could be better. Allstate found that drivers in the area file a claim every 8.4 years on average. This is, again, about the middle of the road.
If you're thinking of moving to the Dallas metropolitan, you may want to consider the Best-Drivers Report.
Ridesharing
Ridesharing is becoming a huge epidemic in the United States and the whole world. Uber and Lyft are creating a new wave of people who aren't even buying cars.
Be careful whose car you get into though, some Uber drivers may not have insurance that covers you if you were to get in an accident.
In the downtown area of Dallas, there is public transportation as well as Uber and Lyft. This could save a lot of money a year with no car payment and no insurance payment.
EStar Repair Shops
EStar is a system developed by esurance to be a sort of repair/customer service shop. You can find the locations of them in many places throughout the U.S.
Esurance is all about making your life easier. That's where the idea came from. You can file a claim and find a repair shop within miles, all through your cell phone.
Car insurance can get tough; this is Esurance's tactic to help you out.
Weather
| Weather in Irving, TX | Stats (Fahrenheit) |
| --- | --- |
| Annual High Temperature | 76.4 |
| Annual Low Temperature | 55.7 |
| Average Temperature | 66.5 |
| Average Annual Rainfall | 36.19 inches |
| | #blank# |
Weather in Irving is usually pretty fair unless it is in the middle of summer or winter. Irving will experience extremely hot temperatures reaching over 100 degrees, and also experience below-freezing temperatures in the dead of winter.
Tornados and hurricanes can be a concern for those in Irving. But Irving and Dallas do sit in a good window. It takes a lot for a tornado to make it down from the midwest, and it takes a lot more for a hurricane to make it up from the Gulf of Mexico.
The weather for most of northeast Texas is around the same averages. Mostly fair temperatures and steady rainfall mean steady road conditions. This is always positive when talking about car insurance.
Public Transit
The positively best way to get around the Irving and Dallas/Fort Worth area, in general, is by car. But public transit is always available; it just might take some time.
Dallas does have a rail system. Though it's not quite as built like that of New York City's it does do its job. It can take you from downtown to the neighboring metro communities for as little as $3 for an all-day ride.
The DART or the bus system in the Dallas area is very good. It can get you far out of the city and through Irving.
If you're not looking to buy a car or insurance, the bus may be your best bet.
Alternate Transportation
Many people drive motorcycles but, new means of transportation are popping up everywhere. Irving itself may not have many, but the downtown Dallas area certainly will. Scooters and bikes are available for rent to get you from one place to another much faster than walking.
If you're living in Irving and want to catch a Dallas Stars game, then Uber to just outside the city, and find yourself a scooter the rest of the way. Its an enjoyable time for any age.
Of course, the best mode of transportation is always by car. Finding a good parking spot may be the trickiest part of your day though.
Parking in Metro Areas
Parking is always a pain. But the Dallas/Fort Worth Metro seems to be doing as best as they can. Most parking lots are monitored and are ran by Online App Meters so they can be paid through your phone.
Some more outer areas may still be pay change by meter on the street, which can leave your car at risk.
Be careful where you choose to park that precious Challenger.
Air Quality
Air quality in the Dallas/Fort Worth Metro area is surprisingly good. According to the American Lung Association, it is Ranked 17 out of 228 for high ozone days.
It is tied for 1st for the cleanest metro area in the country for pollution.
Hats off to the Dallas area for creating a clean environment. The cleaner we are the fewer insurance companies can hike up prices due to pollution.
Military/Veterans
In Texas, the military and its veterans are honored greatly. Remember, USAA has the lowest insurance rates across the board in Irving.
From the Arlington National Cemetery to the Presidents who have come from Texas, there is a rich history of military.
Car insurance does not take that for granted. Companies other than USAA also offer military and veteran discounts. With the Fort Worth Base Camp just miles from Irving, it is a popular area for veterans and current military personnel.
If you're prior or, the current military makes sure to check out which insurance companies offer a discount if you choose not to go with USAA.
Unique City Laws
The Dallas/Fort Worth area is chock-full of different laws. Some that make next to no sense and some that are plain ridiculous. Here are some of the weirdest:
In Fort Worth, you are only allowed one garage sale sign, and it must be on your property. How do you make any money if only your neighbors know?
In Irving, you can only smoke inside nine buildings. No wonder the air is so nice. In the entire city of over 236,000 people, there are only nine buildings to smoke inside.
In Fort Worth, if you don't use your parking brake every single time you park, you can be ticketed up to $185.
Weird laws are everywhere, but these seem to be very weird, and oddly, there is a lot more than just these.
Enter your zip code below to view companies that have cheap auto insurance rates.
Secured with SHA-256 Encryption
Irving Car Insurance FAQ
Irving, Texas is a good-size city in the Dallas/Fort Worth area. It has its historical touch and its modern twist. There is a lot to do in the surrounding area, so it is a fun place to be.
There's always loads of questions to be asked about car insurance, but here are some of the most frequent.
How much insurance does Texas require?
Texas state law states that every driver must have at least liability coverage.
How do I lower my auto insurance costs?
A clean driving record, good credit score, and old age are the best ways to get lower rates.
Why do insurance companies use my prior insurance information?
Insurance companies use this information to see what kind of customer you were. They look at how many claims you may have had and how many incidents you may have had.
What kinds of discounts are available in Texas?
There are discounts for loads of things. If you took drivers-ed in high school, you get a discount. Military personnel gets a discount. Safe driving gets you a refund. Asking your company is the best way to know.
How do I compare auto insurance quotes?
Some sites will compare quotes from many different companies based on where you want to buy. Lucky for you, you're already on one of those sites. Just enter your zip code in our FREE quote tool.
The surrounding area of Irving can get a bit busy. Traffic is fairly high and getting higher by the year. Even with all that vehicle pollution though, the air is immaculate.
If you're looking for a great place to live with affordable car insurance, Irving could be for you. If you already live there, do some shopping around, you may be paying too much for your insurance.