Best Pennsylvania Car Insurance (2023)
The average car insurance in Pennsylvania can cost $81 a month for full coverage. The minimum coverage mandated by the state is liability requirements of 15/30/5 for bodily injury and property damage coverage. Get expert advice on the best Pennsylvania car insurance and the cheapest car insurance in PA with our guide.
UPDATED: Nov 27, 2023
Fact Checked
Free Auto Insurance Comparison
Compare Quotes From Top Companies and Save
Secured with SHA-256 Encryption
Kristen Gryglik
Licensed Insurance Agent
Kristen is a licensed insurance agent working in the greater Boston area. She has over 20 years of experience counseling individuals and businesses on which insurance policies best fit their needs and budgets. She knows everyone has their own unique needs and circumstances, and she is passionate about counseling others on which policy is right for them. Licensed in Massachusetts, New Hampshire,...
UPDATED: Nov 27, 2023
It's all about you. We want to help you make the right coverage choices.
Advertiser Disclosure: We strive to help you make confident insurance decisions. Comparison shopping should be easy. We are not affiliated with any one insurance provider and cannot guarantee quotes from any single provider.
Our insurance industry partnerships don't influence our content. Our opinions are our own. To compare quotes from many different insurance companies please enter your ZIP code on this page to use the free quote tool. The more quotes you compare, the more chances to save.
Editorial Guidelines: We are a free online resource for anyone interested in learning more about insurance. Our goal is to be an objective, third-party resource for everything insurance related. We update our site regularly, and all content is reviewed by insurance experts.
UPDATED: Nov 27, 2023
It's all about you. We want to help you make the right coverage choices.
Advertiser Disclosure: We strive to help you make confident insurance decisions. Comparison shopping should be easy. We are not affiliated with any one insurance provider and cannot guarantee quotes from any single provider.
Our insurance industry partnerships don't influence our content. Our opinions are our own. To compare quotes from many different insurance companies please enter your ZIP code on this page to use the free quote tool. The more quotes you compare, the more chances to save.
On This Page
UPDATED: Nov 27, 2023
Fact Checked
Pennsylvania is known as the "Keystone State." Why? As one of the original 13 colonies, Pennsylvania has played an instrumental role in U.S. history.
While living in the state that witnessed the signing of the Declaration of Independence is interesting, less thrilling is the search for Pennsylvania car insurance.
Researching car insurance in Pennsylvania can be difficult and frustrating. Not only are there dozens of insurers to pick from, but there are also different coverage options and rates.
To help you through the process, our guide covers everything from coverages to traffic laws in Pennsylvania. Keep reading to prepare yourself for driving around Pennsylvania.
Want to start comparing the best online discounts by companies today? Make sure to take a look at our rate comparison of companies to help you find the best Pennsylvania car insurance.
Pennsylvania Car Insurance Coverage & Rates
The cost of car insurance varies from state to state. Several factors contribute to this, one being that states require different coverage levels.
We want to go through Pennsylvania's coverage requirements and the resulting rates so you can plan ahead on your budget for car insurance.
Let's begin.
Pennsylvania Minimum Coverage
Pennsylvania law requires drivers to have the state's minimum coverage on their vehicles. NOLO's list of minimum coverages is below.
An all-purpose policy (of at least $35,000 total coverage) also fulfills Pennsylvania's minimum requirements. We want to point out, though, that these are just the minimum requirements.
You can purchase more coverage than the amounts shown above, which we encourage. Coverages above the state minimum will better protect you in an accident.
 Forms of Financial Responsibility
So how do you prove to law enforcement that you have Pennsylvania's minimum coverage? According to the Pennsylvania Department of Transportation (PennDOT), drivers can use the following forms as proof of insurance:
Insurance ID card
Declaration page of an issued insurance policy
Valid insurance binder (a temporary proof of insurance valid for 30 or 60 days)
Copy of application for the Pennsylvania Assigned Risk Plan
Letter from your insurance carrier verifying your financial responsibility
You can also have an electronic insurance ID card, as Pennsylvania allows drivers to have electronic proof of insurance. Though this is convenient, remember to also carry a paper version in case of technical issues.
Premiums as a Percentage of Income
Car insurance is an expensive budget option. It may surprise you to learn what percentage of most people's annual income goes toward car insurance.
Is car insurance cheaper in Pennsylvania? We've partnered with Quadrant to bring you three years of data on Pennsylvania's income and car insurance payments.
Disposable income is the amount you have left to spend after paying taxes. In Pennsylvania, the percentage of income going to car insurance has barely changed. While the cost of car insurance increased, Pennsylvania residents' incomes also increased, keeping the percentage stable.
Pennsylvania's 2014 percentage of income going to car insurance was just under the 2014 countrywide average of 2.4 percent. 
Pennsylvania's percentage of income going to car insurance is average (the most expensive state pays 3.5 percent, while the cheapest state pays 1.42 percent).
Want to check how much of your income is going to car insurance? Try out our free calculator below.
CalculatorPro
Average Monthly Car Insurance Rates in PA (Liability, Collision, Comprehensive)
What is the average cost of car insurance in Pennsylvania? We've talked before about the insurance requirements in Pennsylvania, and we want to break that down a little further by looking at Pennsylvania's average premiums for core coverages.
The below data is from the National Association of Insurance Commissioners (NAIC).
We want to note that NAIC's data is based on the state minimum. This means that your insurance costs will likely be higher than the ones shown above.
However, when Pennsylvania's overall average is compared to the countrywide average, Pennsylvania's overall average is about $20 less. This is only a small amount, but it does mean that Pennsylvania's rates are less than average.
Additional Liability
Additional coverages are useful, providing extra protection in case of an accident. However, sometimes companies don't pay out many claims for these coverages. That's why we want to take a look at these coverages' loss ratios in Pennsylvania.
A loss ratio is a percentage that shows how much a company is losing in claims, while also taking into consideration earned premiums. If a company has a loss ratio of 70 percent, it is paying out $70 in claims for every $100 in earned premiums.
A company with a high loss ratio (over 100 percent) means it's paying out too many claims and risking bankruptcy. A low loss ratio means a company is paying out too few claims.
Below are the additional coverages' loss ratios in Pennsylvania.
PIP's loss ratios have remained steady throughout the years, which is good. However, MedPay's loss ratios are all over the place. In 2013, Medpay's ratios were extremely high, but they then dropped to less than 10 percent in 2015.
Less than 10 percent isn't good, as it means that a lot of claims aren't being paid. This could be because companies paid out too many claims in 2013 and had to be frugal to avoid bankruptcy.
Luckily, uninsured and underinsured loss ratios didn't follow MedPay's path. This is great, as uninsured and underinsured insurance is important to have.
Pennsylvania ranked 43rd in the U.S. for uninsured drivers, with 7.6 percent of drivers in Pennsylvania driving uninsured.
The last thing you want is to be in an accident with an uninsured or underinsured driver. If you don't have additional coverage, you'll be forced to pay the accident costs yourself.
Add-Ons, Endorsements, & Riders
It may seem like we've covered quite a few coverages already, but we've only scratched the surface. Insurers offer multiple add-on coverages to fill out a policy.
Pennsylvania doesn't require any of these car insurance add-ons. However, they are useful if you want some extra protection or a special service, such as roadside assistance.
Average Car Insurance Rates by Age & Gender in PA
Now that you know what coverages you need, we want to show you how to save on them. We will look in-depth at factors that affect car insurance rates with data from Quadrant.
In some states, insurers base rates on gender. However, Pennsylvania is one of the first states to prohibit insurers from using gender to create car insurance rates.
Pennsylvania has taken this a step further by creating a new gender-neutral option for driver's licenses (available in 2020).
Pennsylvania Full Coverage Car Insurance Monthly Rates by Age & Gender
| Insurance Company | Female (17) | Male (17) | Female (25) | Male (25) | Female (30) | Male (30) | Female (60) | Male (60) |
| --- | --- | --- | --- | --- | --- | --- | --- | --- |
| Allstate | $608 | $638 | $181 | $190 | $168 | $176 | $150 | $154 |
| American Family | $414 | $509 | $124 | $147 | $116 | $137 | $104 | $105 |
| Farmers | $810 | $773 | $172 | $180 | $160 | $167 | $120 | $128 |
| Geico | $298 | $312 | $97 | $93 | $90 | $87 | $73 | $74 |
| Liberty Mutual | $723 | $785 | $187 | $215 | $174 | $200 | $148 | $159 |
| Nationwide | $411 | $476 | $136 | $150 | $124 | $136 | $99 | $104 |
| Progressive | $801 | $814 | $141 | $146 | $131 | $136 | $92 | $95 |
| State Farm | $311 | $349 | $101 | $111 | $94 | $103 | $76 | $76 |
| Travelers | $719 | $910 | $107 | $116 | $99 | $108 | $89 | $90 |
| U.S. Average | $566 | $618 | $138 | $150 | $128 | $139 | $106 | $110 |
We want to point out that Quadrant based the rates above on Pennsylvania's purchased coverages, so they are calculated off high-risk drivers, drivers who purchase more than state minimum, and drivers who purchase additional coverages (such as MedPay or PIP).
So don't take the rates above as being set in stone. Depending on your driving record and other factors, your rates could be slightly higher or lower.
However, you can get a good idea of average car insurance in Pennsylvania. While your gender won't influence rates in Pennsylvania, your age definitely will.
Older drivers have more experience, which is why teenage drivers have the highest rates. So the older you get, the less you'll pay for insurance.
Cheapest Rates by ZIP Code in Pennsylvania
Have you ever moved to a new area and found that your car insurance rates increased? Even within the same county, a new ZIP code can cause insurers to increase or decrease your rates because areas vary in crime levels, accident rates, and weather disasters.
The cheapest and most expensive ZIP codes have a significant difference in price. Between the two, there is over a $5,300 price difference. Because there is such a dramatic difference in price, make sure to check out providers' prices in your area.
Cheapest Rates by City in Pennsylvania
Philadelphia is the most expensive city in Pennsylvania, costing over $4,000 more than Bellefonte (the cheapest city). Philadelphia is the most populated city in Pennsylvania, while Bellefonte's population is barely over 6,500 people.
Rates in Pennsylvania's 10 Largest Cities
Before we leave the topic of area rates, we want to look at what the rates are in Pennsylvania's 10 largest cities.
Philadelphia is the most expensive city, while Lancaster is the cheapest city out of the 10 largest cities in Pennsylvania. If you drive around Lancaster, keep an eye out for horse-drawn buggies — Lancaster is the home of Amish country.
Best Pennsylvania Car Insurance Companies
It can be hard to pick an insurer. Even if someone you trust highly recommends an insurer to you, that insurer's rates could be completely different from what your friend is receiving.
To help you find an insurer that is right for you, we are going to go through companies' ratings and rates. This will help you determine what you'll end up paying for an insurer, and if that insurer is worth the cost. Let's jump right into it.
The Largest Companies' Financial Ratings
A.M. Best is a great rating site that looks at companies' financial standing.
Below are A.M. Best's ratings for the largest companies in Pennsylvania.
All of the largest companies in Pennsylvania have A.M. Best ratings that are an A or higher. If you look at the loss ratios of these companies, you can see they are great.
This means all the companies have become large insurers partly because they have good finances and pay out a decent amount of claims.
Companies with Best Ratings
The rating website J.D. Power surveys thousands of customers each year to rate companies based on customer satisfaction levels. Below are the results of J.D. Power's 2019 study.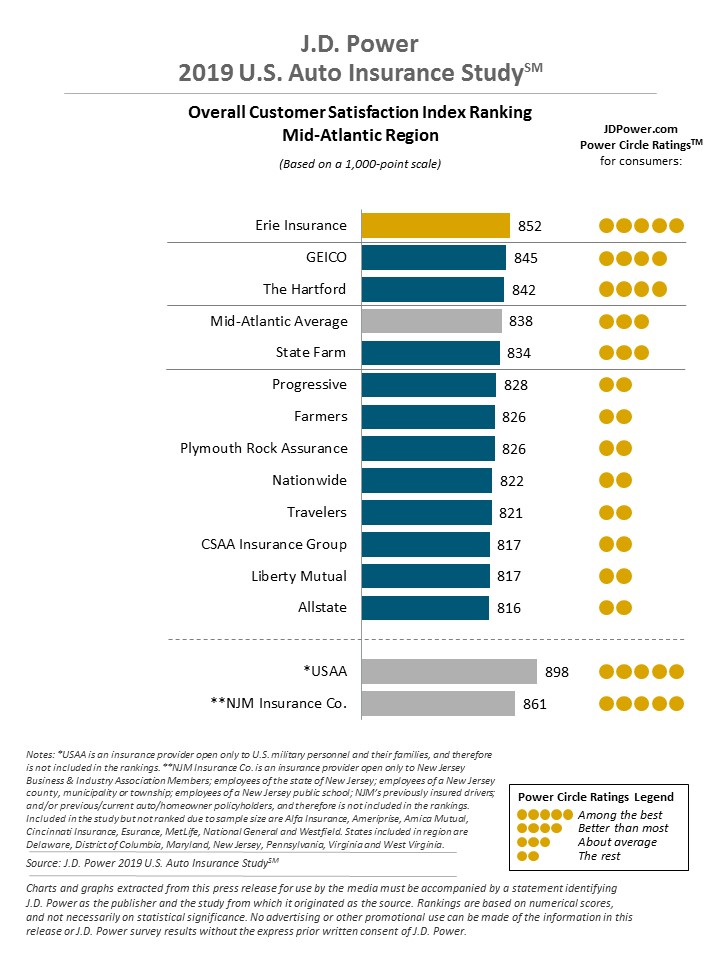 Regarding the best Pennsylvania car insurance reviews, Erie Insurance received the best rating in the Mid-Atlantic Region, followed by Geico and The Hartford. Allstate received the poorest customer satisfaction rating from A.M. Best, earning 816 points out of 1,000.
Read more:
While A.M. Best gave USAA and NJM Insurance Co. "among the best" ratings, these companies were not included with the rest of the insurers because USAA is only for military personnel and NJM Insurance CO. is only for certain New Jersey residents.
Companies with Most Complaints in Pennsylvania
We've looked at satisfaction ratings, but what about complaints? The NAIC's data on companies' complaint ratios is below.
It may seem odd that State Farm has over 1,000 complaints but a complaint ratio of less than 1 percent, while other companies only have a few complaints but higher complaint ratios.
This is because the complaint ratio is relevant to how many customers a company has. If a company only has a few thousand customers but a hundred customers submit complaints, the complaint ratio will be high.
Cheapest Companies in Pennsylvania
While customer satisfaction is important to look at, price is also a vital factor to consider when shopping for car insurance.
Travelers is the most expensive provider on the list, costing almost 50 percent more than the Pennsylvania average. If you are looking to save money, Travelers probably isn't the best choice.
What's the cheapest car insurance in PA? Consider companies like Geico instead of Travelers, as Geico is almost 50 percent less than the state average. While USAA is over 120 percent less than the state average, USAA is only for military members. Read more about USAA in our USAA insurance review.
Commute Rates by Companies
If you drive more than 12,000 miles a year, your insurer may be charging you more. Below are the commute rates of Pennsylvania insurers.
Only three providers on the list don't raise rates for a longer commute: Travelers, Progressive, and Nationwide.
Liberty Mutual has the highest price increase (about $300) out of the insurers who do increase rates. So if you find your bill is higher than normal after taking a new job further away, check to see if your insurer increased your rates based on commute distance.
Commute times are not the only factor that will increase your rates.
Coverage Level Rates by Companies
Want to upgrade your coverage level but aren't sure you can afford it? Below are the costs for coverage upgrades at major Pennsylvania insurance companies.
A lot of insurers on this list have economical upgrade costs.
For example, Progressive has the highest price increase, but it is only about $750 to go from low to high coverage. In other states, upgrading to high coverage can cost well over $1,000.
Some of the insurers also have incredibly low price increases. At Nationwide, the upgrade from low to high coverage is less than $100. This is an incredible rate, and Nationwide customers should take advantage of it. Read more about Nationwide in our Nationwide insurance review.
Credit History Rates by Companies
Do you know what your credit score is? Your insurers do, and they use your credit score to calculate rates.
The average credit score in Pennsylvania is 687. This is higher than the national average credit score of 675.
Pennsylvania's average credit score is good, as it is above average in the U.S. Let's see what insurers would charge Pennsylvania residents for a good, poor, and bad credit score.
Poor credit can quickly make car insurance expensive. At Allstate, the decrease from good to poor credit will cost drivers almost $2,000. That's a lot to pay each year.
So make sure to shop around at providers to find a better deal. At Nationwide and USAA, for example, the price increase from good to poor credit is less than $1,000.
This may still seem like a hefty price to pay, but it is still considerably less than at other providers.
Driving Record Rates by Companies
As you probably already know, your driving record has a huge impact on your rates. However, not all insurers increase prices in the same amount. If you have a poor driving record, shopping around at insurers is an important step.
It's important to determine what insurers charge for different offenses. Geico, for example, penalizes drivers the most for a speeding violation. At other insurers, a speeding violation is less serious than a DUI or accident.
So depending on your driving record, make sure to pick an insurer that has the lowest rates for you. Doing so could save you hundreds or thousands of dollars.
Largest Car Insurance Companies in Pennsylvania
Now that we've looked in-depth at companies' rates, let's look at the companies' market shares.
State Farm has the largest market share in Pennsylvania. Farmers has the smallest market share, but, like State Farm, it has a great loss ratio. In fact, all the companies on this list have great loss ratios, which is probably how they made their way to the top.
Number of Insurers in Pennsylvania
Pennsylvania has a large number of insurers, much more than the top 10 we've shown you.
Domestic means an insurer who is in Pennsylvania. Foreign means an insurer who is outside the state. Pennsylvania has a high number of domestic insurers. If you want an insurer who is local to your area, a domestic insurer may be for you.
There are only 166 domestic insurers to pick from, compared to 929 foreign insurers.
Pennsylvania State Laws
If you aren't originally from Pennsylvania, the state laws may confuse you. Every state has different driving laws, which means residents may find themselves unwittingly breaking a law.
If you want to avoid a ticket, keep reading to learn about Pennsylvania's car insurance and driver safety laws.
Let's get started.
Car Insurance Laws
Just like every state has different car insurance requirements, there are also different laws about car insurance. This section will cover everything from how state laws are determined to unfair claim laws.
So stick with us as we go through Pennsylvania's requirements.
How Pennsylvania State Laws for Insurance Are Determined
Currently, the NAIC says insurers have to submit rates to the Pennsylvania state authority and receive approval before insurers can use rates. This is meant to regulate insurers so customers don't have to deal with inflated rates to meet Pennsylvania's state insurance law.
You won't have to worry about this legal process, as the insurer will take care of it, but we wanted you to be aware of the system in place.
Windshield Coverage
Have a crack in your windshield that needs repairing? Pennsylvania law doesn't require insurers to replace drivers' windshields, but most insurers will repair/replace windshields with comprehensive coverage.
If your insurer does cover your windshield replacement or repair, you can choose the repair shop. Once you have your repair shop lined up, make sure to get your windshield repaired as soon as possible.
Driving with a crack that obstructs your vision of the road is extremely dangerous and could result in a ticket.
High-Risk Insurance
Pennsylvania drivers with poor driving records may have to purchase high-risk insurance. While Pennsylvania law doesn't require high-risk insurance, insurers have the right to refuse high-risk drivers.
Drivers who are refused coverage will have to apply to the Pennsylvania Assigned Risk Plan for car insurance. Drivers who apply to this program are guaranteed insurance, as insurers must accept drivers who are on the Pennsylvania Assigned Risk Plan.
However, this plan is expensive. Before you turn to it, make sure to shop around at different providers.
Find out the best insurance companies for high-risk drivers.
Low-Cost Insurance
Pennsylvania does not have a low-cost insurance program for low-income families.
Three states have low-income, government-sponsored programs: California, Hawaii, and New Jersey.
Since Pennsylvania doesn't have a low-cost insurance program, it is important to shop around for rates. Doing so can bring car insurance costs down to a reasonable level.
Learn more about cheap car insurance.
Automobile Insurance Fraud in Pennsylvania
Auto insurance fraud is illegal. Fraud is a serious offense, as it costs insurers billions of dollars every year. The Insurance Information Institute says that property and casualty fraud equals $30 billion every year.
So how do people commit acts of fraud that contribute to such a large loss?
Filing claims for fake accidents
Adding false charges onto a claim
Staging an accident
Pennsylvania has four fraud bureaus that work to catch false claims like the ones above. The bureaus also work to make sure insurers are not committing fraud. For example, insurers may state that they paid out more in a claim than they did and pocket the remaining money.
Want to learn more about insurance fraud? Contact the Pennsylvania Insurance Department through their online contact form. They can give you more information about insurance fraud, as well as the process for filing a fraud report.
Statute of Limitations
A statute of limitations is how long you have to file a claim from the time of your accident.
The statute of limitations exists to make claims as easy as possible. The longer people wait to file a claim, the harder it is to remember the details of the accident and find witnesses.
So how long do you have in Pennsylvania?
Personal Injury: Two Years
Property Damage: Two Years
Pennsylvania's statute of limitations is normal in the U.S., although it is on the shorter side. Since time can get away from us, make sure to file shortly after your accident. Filing quickly also makes sure you can move on from your accident.
Pennsylvania Unfair Claims Settlement Practices
Pennsylvania's Unfair Claims Settlement Practices makes sure that insurers practice fair business with their customers. The law makes sure insurers reply to claims. It also makes sure that insurers completely disclose information to customers.
Why is this important? Without the law, insurers could get away with "forgetting" your benefits during a claim. It also prevents insurers from ignoring your claims.
Vehicle Licensing Laws
Need a new driver's license? States have different requirements on when you need to head down to the DMV to get a new license. There are also different penalties for when you are caught driving without insurance.
To make sure you are prepared for Pennsylvania's laws, we are going to venture into the topics of IDs and license laws for new drivers.
Let's get started.
REAL ID
Pennsylvania (like most states) will require REAL ID after October 1, 2020, for the following:
Boarding a domestic commercial flight
Entering a federal building
Entering a military installation
You won't be able to fly or enter federal/military buildings if you don't have a REAL ID. While a passport does count as a form of REAL ID, a REAL ID driver's license tends to be more convenient and is a good backup.
The good news is that if you got a driver's license after September 1, 2003, a REAL ID may already be available to you, because PennDOT likely already has your required identification documents on file.
For those who don't have a REAL ID on hold, they will need the following forms of identification to apply.
Birth certificate or valid U.S. passport
Social security card
Two proofs of current Pennsylvania address
Proof of legal name changes (if applicable)
We want to note that a REAL ID is optional. You do not need a REAL ID to drive, vote, or as a form of ID (other than for flying and entering military/federal buildings).
However, you need a form of REAL ID (REAL ID license or passport) to fly and enter military/federal buildings after October 1, 2020.
So don't delay — the last thing you want is to be scrambling for a form of REAL ID before a flight.
Penalties for Driving Without Insurance
Car insurance is a legal requirement in Pennsylvania, so law enforcement will check for proof of insurance at traffic stops and after accidents. As a reminder, the following forms are acceptable as proof of insurance:
Insurance ID card
Declaration page of an issued insurance policy
Valid insurance binder (a temporary proof of insurance valid for 30 or 60 days)
Copy of application for the Pennsylvania Assigned Risk Plan
Letter from your insurance carrier verifying your financial responsibility
If you can't provide proof of insurance (there is a grace period for you to provide proof), you will face penalties.
You also face costs beyond the ones shown above. If insurers see a lapse in insurance, they will charge drivers more.
As for a suspension of registration, PennDOT will send you an intent to suspend registration letter for not responding to the following requests for additional information:
Proof of insurance request (or not providing proof of insurance within 30 days of the cancellation date of previous insurance).
Request for a Statement of Non-Operation of Vehicle.
Not providing proof of insurance at the time of a traffic offense or accident.
If this happens to you, you'll have to fill out additional paperwork to prove you had insurance. Make sure you do it right away. Otherwise, PennDOT will revoke your right to drive.
Your one-stop online insurance guide. Get free quotes now!
Secured with SHA-256 Encryption
Teen Driver Laws
Pennsylvania teens can get their learner's permits as young as age 16. However, teens with learner's permits must follow driving restrictions to make sure they learn to drive in as safe an environment as possible.
The Insurance Institute for Highway Safety (IIHS) lists learner permit restrictions as the following:
Once teens have held their learner permits for a certain amount of time, they can take a driver's test. Teen drivers who pass the driver's test will receive intermediate licenses.
Before teens with intermediate licenses can receive an adult license, they have to follow the restrictions below.
The above restrictions help limit dangerous distractions and conditions for young drivers. Limiting passengers and nighttime driving helps young drivers gain experience before distractions are added to the car.
Older Driver License Renewal Procedures
Now that we've covered teen driver's licenses, we want to look at the license renewal process for older drivers (over age 65) in Pennsylvania.
Older drivers have the same renewal process as the general population, although they are allowed to renew licenses every two years if they wish. Pennsylvania also allows older drivers to use mail or online renewal, which means an in-person visit to the DMV is not necessary.
New Residents
New to Pennsylvania? You'll need to go to a local DMV to get a Pennsylvania driver's license.
Another item to add to your checklist is contacting your insurance provider so they can change your rates and coverages to meet Pennsylvania's insurance law. Your insurer will also issue a new insurance ID card with your new address.
You need to make sure your insurer provides insurance in Pennsylvania. If not, you'll have to look for a new provider to avoid a lapse in insurance.
License Renewal Procedure
If you are part of the general population of drivers (not a teen or over age 65), Pennsylvania's license renewal procedures are below.
The nice thing about Pennsylvania's license renewal procedure is that the state permits online and mail renewals. This means that drivers don't have to visit in-person.
Negligent Operator Treatment System (NOTS)
A negligent operator treatment system is a law that works to prevent reckless or careless driving. So what happens if you break the law? Below are Pennsylvania's penalties for reckless driving — driving that endangers others on the road.
Reckless driving is a serious offense. Drivers who drive recklessly will lose their license for six months, pay fines, and serve jail time. Careless driving is also serious, but it carries lesser penalties than reckless driving.
If careless driving causes injury or death, it will carry similar penalties to reckless driving.
Rules of the Road
So how can you avoid being a careless driver? One of the ways is to know the rules of the road and follow them. However, the rules of the road can be different across states. If you aren't familiar with Pennsylvania's road rules, don't fear.
We will cover all of Pennsylvania's must-know laws, from fault versus no-fault to automation laws. Stick with us to avoid a ticket.
Fault vs. No-Fault
Pennsylvania is a little tricky. The state is a combination of no-fault and at-fault insurance. What do these two types mean? No-fault means an insurer will cover your accident costs regardless of which driver caused the accident. In an at-fault state, whoever caused the accident will have to pay the other driver's accident costs.
Pennsylvania allows drivers to pick either no-fault or at-fault insurance. Talk to your insurer to decide which is the better option for you. Either way, make sure to have good coverage in case of an accident.
Seat Belt & Car Seat Laws
Pennsylvania has a strict buckle-up law.
Below are the seat belt requirements in Pennsylvania.
Enforcement of the seat belt is not primary in Pennsylvania, except for children under age 18. This means officers can pull drivers over if they see children not wearing seatbelts (or not properly contained in car seats).
As for car seats, drivers must follow the laws below.
If drivers violate a car seat law, the fine is $75. This is considerably higher than the seat belt violation fine, as the car seat law is meant to keep children safe.
Since young children can't buckle themselves into car seats, the law makes sure parents and guardians are keeping their children safe.
The last passenger safety law we want to cover is the restriction on riding in the cargo area of a vehicle. Unless passengers meet the qualifications below, they cannot ride in the cargo area.
People 18 and older (vehicle must be going less than 35 mph)
People 17 and younger (if the cargo area is enclosed)
Parade, hunting, and farm operations
Children under age 17 are only allowed to ride in a cargo area if it is enclosed. This is to help lessen the chance of children falling out of the vehicle.
Keep Right & Move Over Laws
Pennsylvania's keep right law is easy to follow.
Drivers who are driving slower than the average speed of traffic around them need to keep to the right lane.
This makes sure that the flow of traffic isn't interrupted. The left lane should be for faster vehicles and passing.
Pennsylvania's move over law is also easy for drivers to follow. Drivers must move over a lane if they see the following vehicles on the side of the road with flashing lights.
Emergency response vehicle
Tow trucks
Utility vehicles
The best practice to follow is to move over any time you see a vehicle with flashing hazard lights. If you can't move over, you need to significantly reduce your speed.
Doing so will give you extra reaction time in case someone is walking around the vehicle.
Speed Limits
Posted speed limits ensure drivers don't treat roads like a NASCAR race track. Pennsylvania's speed limits are below.
These are the maximum speed limits that can be posted. You won't see signs in Pennsylvania with speed limits higher than the ones shown above.
Ridesharing
In Pennsylvania, rideshare drivers have to have ridesharing insurance. There are a few providers in Pennsylvania who offer ridesharing insurance, so you may be able to get it through your current provider.
Erie
Geico
Liberty Mutual
Progressive
Read more: What documentation do I need to file a car insurance claim with Erie?
If you want to drive for a company like Uber or Lyft, there are also company requirements you'll have to meet. For example, you'll need to have a clean driving record and a few years of driving experience.
Automation on the Road
Self-driving cars are starting to become a reality. In Pennsylvania, laws are regulating the use of automated vehicles.
Type of driving automation allowed on public roads: PennDOT does authorize the testing of highly automated vehicles. It also authorizes the deployment of highly automated work-zone vehicles. Effective since April 22, 2019.
Operator license: Operators must be licensed to test highly automated vehicles.
Operators in vehicles: Operators don't have to be in highly automated work-zone vehicles.
While most vehicles have some level of automation, such as cruise control warning, your vehicle doesn't count as an automated vehicle unless it can drive itself.
Safety Laws
Pennsylvania has multiple laws that work to protect drivers. Without these laws, the streets would be overrun with impaired or distracted drivers. While it seems like common sense not to drive impaired or distracted, it still happens.
Keep reading to learn about Pennsylvania's safety laws and resulting penalties.
DUI Laws
States are different in how they address drunk driving. In Pennsylvania, drunk driving is known as a DAI (Driving After Imbibing).
In Pennsylvania, any blood alcohol content over 0.08 is a DAI. The lookback period (the time a DAI stays on a driver's record) is 10 years. That's a long time to have to pay increased rates.
In Pennsylvania, there were 314 alcohol-impaired driving fatalities in 2017.
So what happens if the law convicts a driver of a DAI?
For second and third offenses, drivers must have an IID lock on their vehicle. This device requires drivers to do a breathalyzer test before the car will start.
With all the offenses, there are fines, possible jail time, license revocation, and mandatory classes. Not to mention increased insurance rates.
Bottom line? Don't drive drunk. It's not worth the risk.
Marijuana-Impaired Driving Laws
Like drunk driving, marijuana-impaired driving is illegal. Marijuana is also illegal in Pennsylvania, although medical marijuana has been legalized.
Pennsylvania residents with medical marijuana cards can drive if the THC per se in their system is less than one nanogram.
If a driver with a medical marijuana card has more THC per se in their system than the limit, law enforcement may charge them with impaired driving. An impaired driving charge carries similar penalties to a DAI. Drivers will face possible jail time, fines, license suspension, and more.
Since it's impossible to determine the amount of THC in your system, it's best not to drive until your high has completely worn off.
Distracted Driving Laws
Put that cellphone down in the car. Distracted driving is a dangerous habit. Pennsylvania has laws that restrict cellphone use in cars to reduce distracted driving.
While Pennsylvania doesn't have a handheld ban, the state does ban texting. Enforcement of the texting ban is primary, so officers can pull over and ticket any driver they see texting.
In states where enforcement is secondary, officers can ticket drivers for texting but need a different reason to pull a driver over. For example, an officer could pull over a driver who runs a stop sign while texting, but not a driver who is texting but doing nothing else wrong. 
Driving in Pennsylvania
Every state has different driving risks. It doesn't matter how good a driver you are, there are always factors outside of your control
For instance, Pennsylvania is the likeliest state for deer collisions. Knowing about this risk can help you avoid an accident. Since deer are active at dusk and dawn, being extra alert during these times can reduce the chances of an accident.
To help prepare you for Pennsylvania's risks, we are going to go through everything from vehicle theft to transportation issues.
Let's jump right in.
Vehicle Theft in Pennsylvania
Unfortunately, there is always a risk of theft when you own a vehicle. Below are the top 10 stolen vehicles in Pennsylvania.
Honda Accords are the most popular stolen model in Pennsylvania. Out of the 544 stolen Honda Accords, the model from the year 1997 was stolen the most. So if you own a 1997 Honda Accord, keep it locked up at night.
Now that we know what types of vehicles are stolen, let's see which cities are the worst in Pennsylvania for vehicle theft. The FBI's 2013 report is below.
According to the FBI's 2013 report, Philadelphia is the worst city for vehicle theft. Philadelphia had 5,483 stolen vehicles, which is over 4,000 more than other cities' totals.
If you live in Philadelphia, purchasing comprehensive coverage is a smart move. Comprehensive coverage will protect you if your car is stolen or vandalized and from natural disasters and animal collisions (remember what we said about deer in Pennsylvania).
Road Fatalities in Pennsylvania
How many fatalities happen on Pennsylvania's roads? In this section, we will look in-depth at Pennsylvania's fatalities and what causes them.
We know that Pennsylvania has numerous laws to keep dangerous drivers in check, but we want to see how many fatalities occur from dangerous habits like drunk driving.
We also want to see which roads are the worst for fatalities, which weather conditions are the most dangerous, and more.
So stick with us as we go through Pennsylvania's fatality rates. Reading this section will give you a better idea of what to watch out for.
Most Fatal Highway in Pennsylvania
Highways have many fatal crashes every year. High speeds and heavy traffic can contribute to deadly crashes. In Pennsylvania, the deadliest highway is I-80. This highway has seen a total of 106 crashes and 115 fatalities, earning I-80 a fatal crash rate of 0.5.
Fatal Crashes by Weather Condition & Light Condition
Learning how to drive in snow, rain, and other inclement weather conditions is vital. It's also important to learn how to drive at night when there is limited vision.
But while teens learn how to do this in the driver's manual and practice during their permit training, sometimes drivers don't get as much as experience as they need.
Even the most experienced drivers can wreck during inclement weather.
Let's take a look at when most fatalities occur in Pennsylvania (2017 data).
While crashes occur in Pennsylvania during snow and sleet, the majority of crashes happen during rainy conditions. There were 297 crashes that happened during dark conditions, as well.
If you want to prepare as much as possible for inclement weather and light conditions in Pennsylvania, a defensive driving course can teach you valuable skills.
Fatalities (All Crashes) by County
Now that we've covered weather and light conditions, we want to see which counties in Pennsylvania have the most fatalities. Below is the NHTSA's data on Pennsylvania's counties.
In Pennsylvania, Philadelphia County consistently has the highest number of fatalities. Within five years, Philadelphia County had a total of 475 fatalities.
Traffic Fatalities
The average number of fatalities is different on rural versus urban roads. The difference in fatality numbers is due to several factors, such as how urbanized a state is or how much wildlife is present on rural roads.
Let's take a look at which roads are riskier in Pennsylvania.
While there isn't a drastic difference between rural and urban roads, rural roads do tend to have more fatalities in Pennsylvania. Following the posted speed limit and keeping an eye out for wildlife will help reduce your risk of a crash on rural roads.
Fatalities by Person Type
Now that we know the statistics for county crashes and road types, we want to see who has perished in these crashes.
The number of bicyclist fatalities doubled from 2013 – 2017. Pedestrian fatalities have also remained high, with 147 deaths in both 2013 and 2017.
As you can see, it's not just drivers and passengers killed by car crashes. Don't rely on drivers to see you. Practice road safety and wear bright, reflective clothing while near a roadway.
Fatalities by Crash Type
We want to continue our look at crash statistics by looking at the most fatal causes of crashes in Pennsylvania.
So what types of crashes have the most fatalities?
2017 fatality records show that roadway departures, single-vehicle, and speeding crashes claim the most lives in Pennsylvania.
Five-Year Trend for the Top 10 Counties
The fatalities below are for the largest counties in Pennsylvania. Because these counties are larger, you can expect them to have a higher number of fatalities than smaller counties.
Once again, Philadelphia County has the highest number of fatalities. Following closely behind Philadelphia County is Alleghany County, which had 67 fatalities in 2017.
Fatalities Involving Speeding by County
You may recall that speeding is a major contributor to fatal crashes in Pennsylvania. Below is the number of speeding fatalities by Pennsylvania counties.
In 2017, the counties with the most speeding fatalities were Berks County and Philadelphia County. Only two counties, Pike County and Cameron County, had zero speeding fatalities in 2017. Hopefully, these two counties continue to monitor drivers to discourage speeding.
Fatalities in Crashes Involving an Alcohol-Impaired Driver (BAC = .08+) by County
Drunk driving is another contributor to fatalities.
Once again, Philadelphia County and Allegheny County had the highest numbers in 2017. Since these two counties are among the largest in the state, the higher number of fatalities is probably due to the larger populations.
A few counties, though, had zero fatalities in 2017: Cameron County, Columbia County, and Sullivan County.
Teen Drinking & Driving
Teens are well-known for participating in risky behaviors. Unfortunately, the combination of alcohol and limited driving experience in teens is often deadly.
In the state of Pennsylvania, 0.8 underage, alcohol-impaired driving fatalities happen per 100,000 people.
Pennsylvania's average is lower than the national average, which is 1.2 underage, alcohol-impaired driving fatalities per 100,000 people. Since Pennsylvania's average is lower than normal, we want to see how many underage arrests officers are making.
Pennsylvania ranks 12th in the U.S. for its number of underage arrests. This is great, as it means Pennsylvania is actively working to prevent drunk driving in teens.
EMS Response Time
We've covered crash rates for long enough. Let's switch topics by taking a look at EMS response times in Pennsylvania.
Pennsylvania's response times are good. Whether you're on a rural or urban road, you will be at the hospital in under an hour from the time of the crash.
Transportation
Before we end this guide, we want to look at transportation in Pennsylvania. We've collected information from Data USA on driving around the state.
So stick with us as we go through car ownership, commute time, and more.
Let's get started.
Car Ownership
A hundred years ago, owning a vehicle was a major status symbol. Today, most Americans are lucky enough to own more than one car.
In fact, in Pennsylvania, most residents have two cars parked in their driveway. In the graphic below, Pennsylvania's averages are in orange, while the U.S.'s averages are in grey.
While 41.8 percent of households in Pennsylvania own two cars, some have none. 4.84 percent of Pennsylvania households own zero cars, meaning they must use public transit or carpool.
Commute Time
Long commutes can be brutal. Luckily, the average commute time in Pennsylvania is 25.7 minutes. This amounts to 51.4 minutes a day, which is only .4 minutes longer than the national average.
Some commute times are a breeze: 3.14 percent of Pennsylvania residents have a commute of fewer than five minutes. If you're lucky enough to belong to this small percentage, you'll be able to hit snooze more than once.
Commuter Transportation
Most of Pennsylvania's residents drive alone to work each day.
While 76.2 percent of residents drive alone, 8.51 percent do carpool. There is also a surprising amount of residents (4.22 percent) who work from home.
Traffic Congestion in Pennsylvania
For some, sitting trapped in traffic can bring on claustrophobia. If you hate the thought of long lines of honking cars, check out Inrix's data on the worst cities for traffic.
Philadelphia and Pittsburgh win the award for the worst cities for traffic in Pennsylvania. If you live in one of these major cities, be prepared for having to allow extra commute time.
We've now made it through our comprehensive guide on the best Pennsylvania car insurance, and we hope all your questions were answered on how to get car insurance in PA.
If you want to start comparing the best online discounts by company, try out our free tool below.