Best New Jersey Car Insurance (2023)
New Jersey minimum car insurance requirements are 15/30/5 for bodily injury and property damage coverage. New Jersey car insurance rates average $115 per month. Use our comparison tool to shop around for multiple New Jersey car insurance quotes and find cheap New Jersey auto insurance.
UPDATED: Nov 27, 2023
Fact Checked
Free Auto Insurance Comparison
Compare Quotes From Top Companies and Save
Secured with SHA-256 Encryption
Brandon Frady
Licensed Insurance Agent
Brandon Frady has been a licensed insurance agent and insurance office manager since 2018. He has experience in ventures from retail to finance, working positions from cashier to management, but it wasn't until Brandon started working in the insurance industry that he truly felt at home in his career. In his day-to-day interactions, he aims to live out his business philosophy in how he treats hi...
UPDATED: Nov 27, 2023
It's all about you. We want to help you make the right coverage choices.
Advertiser Disclosure: We strive to help you make confident insurance decisions. Comparison shopping should be easy. We are not affiliated with any one insurance provider and cannot guarantee quotes from any single provider.
Our insurance industry partnerships don't influence our content. Our opinions are our own. To compare quotes from many different insurance companies please enter your ZIP code on this page to use the free quote tool. The more quotes you compare, the more chances to save.
Editorial Guidelines: We are a free online resource for anyone interested in learning more about insurance. Our goal is to be an objective, third-party resource for everything insurance related. We update our site regularly, and all content is reviewed by insurance experts.
UPDATED: Nov 27, 2023
It's all about you. We want to help you make the right coverage choices.
Advertiser Disclosure: We strive to help you make confident insurance decisions. Comparison shopping should be easy. We are not affiliated with any one insurance provider and cannot guarantee quotes from any single provider.
Our insurance industry partnerships don't influence our content. Our opinions are our own. To compare quotes from many different insurance companies please enter your ZIP code on this page to use the free quote tool. The more quotes you compare, the more chances to save.
On This Page
UPDATED: Nov 27, 2023
Fact Checked
The highest auto theft rates, most expensive auto insurance, and property taxes higher than anywhere else in the nation are three lists on which New Jersey reaches the number one spot. We are going to focus on the best New Jersey car insurance. When you live in a state with high car insurance rates, you want to get the best deal on car insurance possible.
Car insurance is very confusing and can take a lot of time to research. This New Jersey auto insurance buyer's guide will look at some of the biggest and best companies and see how they rate to help you compare car insurance options. Insurance isn't the only thing we are going to take a look at; we are also going to help you with state laws and licensing laws.
If you are ready to find the cheapest rate in New Jersey, enter your ZIP code above for free quotes.
New Jersey Car Insurance Coverage and Rates
New Jersey has the 4th highest car insurance rates in the nation according to the Insurance Information Institute, but why?
Being one of the wealthiest states, there is a lot of money to be spent on high-priced, luxury cars. Luxury vehicles are expensive to insure and expensive to fix.
Drivers in New Jersey are also big commuters. Combine the high-density population and amount of drivers on the road, and you get a higher opportunity for claims needing to be filed.
New Jersey is a "no-fault" state. Strict laws on personal injury protection coverage cause a higher coverage rate. Keep reading to find out more about being a no-fault state and personal injury protection coverage.
Minimum New Jersey Car Insurance Limits
According to New Jersey auto insurance law, every driver must have coverage on their vehicle. New Jersey auto insurance requirements set a minimum limit for how much insurance you need.
Drivers have two types of policies available for purchase, basic, and standard. Standard is the dominant choice for residents due to the larger amount of coverages offered, although basic is a good option for someone with minimal assets, due to lower prices.
As you can see, the standard policy offers significantly more coverages and would be very useful in the event of a larger claim. Bodily injury coverage is an option for the basic policy, but it is not included.
New Jersey residents also have to choose their option to sue. Below is an excerpt from NOLO website explaining the limited right to sue for basic policyholders:
For New Jersey vehicle owners who choose only a "Basic" car insurance policy (and we'll spell out what that means a little later), the good news is that medical expenses and other economic losses incurred by anyone covered under the policy will be paid after a car accident, up to the limits of PIP coverage, regardless of who was at fault for the crash.

But with the Basic Policy, the policyholder (and the policyholder's family members and any other covered individual) is automatically bound by what's called a "limited right to sue." The injured person can only pursue legal action against the at-fault driver — stepping outside the no-fault provisions of PIP coverage — if the accident caused the injured person to suffer:

loss of a body part
significant disfigurement
significant scarring
a displaced fracture
loss of a fetus
permanent injury (meaning the affected body part has not healed to allow normal function, and is not expected to), or
death

If the impact of the accident has meant this threshold, the injured person gains the right to file a third-party car insurance claim or personal injury lawsuit against the at-fault driver, which allows recovery of "pain and suffering" damages and other non-economic losses (which, again, are not available via a no-fault or PIP claim).
If you chose the standard policy, you have the options above of limited right to sue or unlimited right to sue.
Forms of Financial Responsibility
We have established that all drivers must carry insurance on their vehicles. The New Jersey Motor Vehicle Commission states you must be able to present proof in the below circumstances:
Before an inspection
Involved in an accident
When stopped for a traffic violation
Stopped in a spot check by a police officer
Proof can be with an identification card from the New Jersey insurer or can be shown electronically with a cellular device or tablet.
Premiums as a Percentage of Income
Once you get your auto insurance quote, you will want to know what percentage of your income you'll be spending on it and budget out your expenses.
For a more personalized percentage, you can use our percent calculator below.
Average Monthly Car Insurance Rates in NJ (Liability, Collision, Comprehensive)
The above table shows the average premium for liability, collision car insurance, comprehensive car insurance, and combined coverage for New Jersey compared to nationwide averages.
Liability car insurance is required, but the others are not necessarily a requirement unless you have a loan or are leasing your car. This coverage is used when you are at fault. It is divided into two categories: bodily injury and property damage.
Comprehensive and collision are coverages used for a windshield, collision with animals, theft, and natural causes. It does not matter who is at fault.
Additional Liability
As we mentioned earlier, personal injury protection is required for a no-fault state. Personal injury protection is used for your medical expenses and even lost wages. It is similar to health insurance, but in states requiring the coverage, you will need to file a claim with your PIP insurance provider before medical insurance. See our guide on how to file a car insurance claim.
MedPay, or medical payments, is similar to personal injury protection. This coverage is only for medical use. Unlike PIP, you can not use this for lost wages or any type of long-care rehab services.
Unfortunately, people break the law. They decide to drive without acquiring the mandated insurance. When they get into an accident, they usually cannot cover the claim with their assets, so it falls back to you. Maybe they even have insurance — but not enough. This is when you will use your uninsured and/or underinsured motorist coverage.
New Jersey is ranked number 14th in the nation for uninsured drivers.
Add-Ons, Endorsements, and Riders
You can add endorsement and additional coverages to your policy. Below is a list of the most-commonly added endorsements.
Guaranteed Auto Protection (GAP)
Rental Reimbursement
Emergency Roadside Assistance
Modified Car Insurance Coverage
Average Monthly Car Insurance Rates by Age & Gender in NJ
Gender plays a slight role in how your rate is determined, but not as big as age. Teen drivers have a significantly higher rate than any other driver with a clean record. Insurance companies see a teen with little experience on the road, they see a high-risk driver.
Rates in New Jersey's 10 Largest Cities
Cheapest Rates by Zip Code
Where you live can also play a role in how much you pay for car insurance. Below we have the breakdown of rates by zip code and city.
Cheapest Rates by City
Best New Jersey Car Insurance Companies
Most consumers look at cost when trying to find a company. The dollar is the bottom line, especially when living in a state with the highest insurance rates in the nation. While price is important, insurance companies have more rating factors that should be considered. It is hard wading through the waters looking for the best and cheapest.
In this next section, we are going to look at New Jersey auto insurance companies and their ratings and some of the biggest factors that go into getting your insurance premium.
So sit back and let us research so you can find the cheapest auto rates.
The Largest Companies' Financial Rating
The following can be found on the AM Best website:
AM Best is the only global credit rating agency with a unique focus on the insurance industry. Best's Credit Ratings, which are issued through A.M. Best Rating Services, Inc., are a recognized indicator of insurer financial strength and creditworthiness.

AM Best is also a trusted source of insurance data and market intelligence, covering thousands of companies worldwide through analytical resources and news coverage that provide a critical perspective for informed business decisions.
Based out of New Jersey, this trusted rating agency makes looking at the financial stability of insurance companies easy with their rating system.
Why should you care about a company's financial standing? If you have a claim you want a company that will be able to pay out your claim and make the process as seamless as possible.
Companies with Best Ratings
Financial standing isn't the only thing you want to look at when finding a company. Yes, you want the company to be able to payout for your claim, but you also want good customer service during the process of the claim.
J.D. Power is often used as a standard of how a company is doing with its service and satisfaction. Real consumers rate products and services.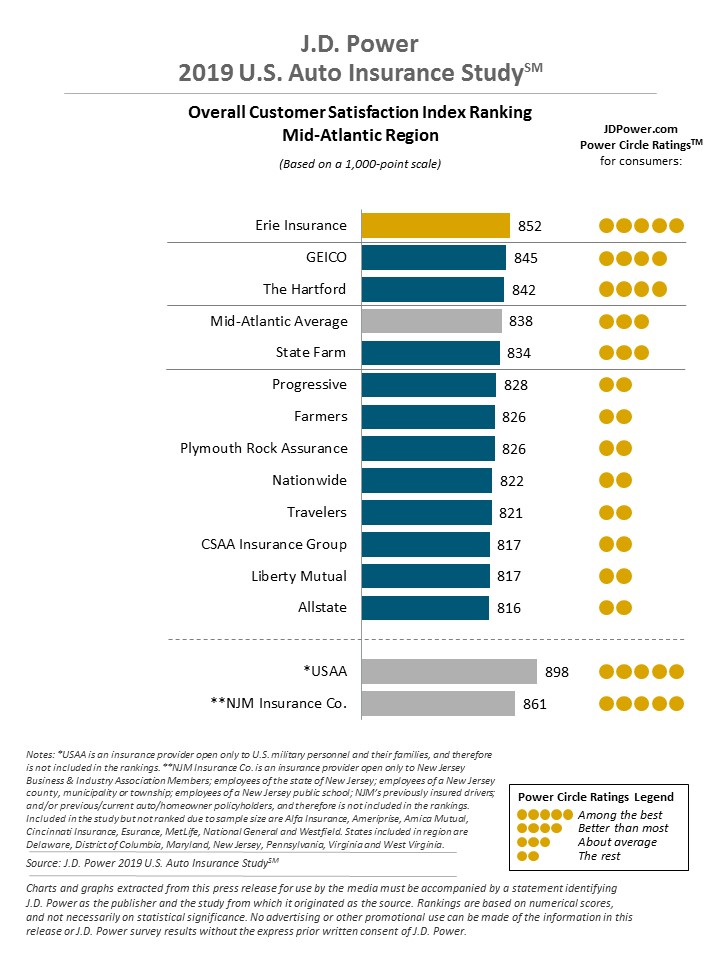 A cheap quote may get you to go with a company, but good customer service will make you want to stay.
Read more: How long does it typically take for Allstate to process a car insurance claim?
Companies with Most Complaints in New Jersey
No matter how great a company is eventually they will get a complaint. Even the best companies end up with complaints.
Cheapest Insurance Companies in New Jersey
Who is the cheapest in New Jersey? By far, Geico (New Jersey auto insurance code 148) is typically the cheapest. Progressive and St Paul follow Geico in the lowest premium in the state.
Commute Rates by Companies
Commuting is a huge part of New Jersey driving. Do long commutes affect your rates? Thankfully for New Jersey residents, it doesn't drastically change your rates.
Coverage Level Rates by Companies
More coverage equals more money, but how much more?
If you take a look at Geico or Progressive, you'll see the difference between low and high coverage is under a thousand dollars for an entire term period. Always get quotes with various levels of coverage — you may be surprised how much getting more coverage is.
Credit History Rates by Companies
Credit history is known for following you on bigger purchases, like your home and auto. Does it follow you and affect your insurance rates? Let's find out.
Your credit history affects your insurance rates. Take a look at Liberty Mutual's rates above; they are higher for poor credit history. If you have less-than-stellar credit, you will want to take a look at Geico, Progressive, or Nationwide, as they have a lower rating on poor credit history.
Driving Record Rates by Companies
One of the most obvious rating factors is your driving record. A clean record is going to get the best rate available.
Driving under the influence convictions and accidents on your record will cause a drastic increase in your premium. Read our top 12 factors that affect car insurance rates to learn more.
Largest Car Insurance Companies in New Jersey
Geico is the largest company in New Jersey, so it comes as no surprise their rates are the lowest in the state.
Loss ratio is an important percentage to look for when shopping for insurance. Loss Ratio is the ratio of earned premium to claims paid. For instance, if a company earned $100,000 in premium and pays $60,000 in claims its loss ratio is 60 percent.
If a loss ratio is too low, the company may not pay claims very well. Too high, the company is not making money and may not be financially stable.
Number of Insurers by State
We divide insurers into two different categories: domestic and foreign. Domestic means they were formed under New Jersey laws, while foreign means the company was formed under another state law.
Your one-stop online insurance guide. Get free quotes now!
Secured with SHA-256 Encryption
New Jersey State Laws
State laws mandate a lot of insurance rules and regulations. Consequently, obeying state laws can also help keep your insurance costs down. Following the speed limit, DUI regulations, and the licensing renewal process will keep more money in your pocket.
So let's visit state laws, vehicle licensing, and road and safety laws to help you better your understanding and keep insurance costs down.
Car Insurance Laws
The Department of Banking and Insurance for New Jersey regulates the issuance of licenses, high-risk markets, and rates for the state. This department also wants to educate consumers when they are buying car insurance.
Windshield Coverage
New Jersey does not have any unique laws about windshields. If you have the standard policy, you should have a $750-deductible for windshields.
High-Risk Insurance
If you have a record of speeding violations, accidents, or drinking under the influence, your insurance provider can non-renew you or decline coverage.
Since you have to obtain insurance, New Jersey has the New Jersey Personal Automobile Insurance Plan (NJ PAIP), a high-risk pool offered to drivers that cannot get insurance from a normal market insurance company.
While this insurance may be higher than a normal market quote, it may be necessary if you are struggling to get insured elsewhere, as you must maintain insurance on your vehicle to remain legal on the roads of New Jersey. Check out our list of the best car insurance companies for high risk drivers.
Low-Cost Insurance
The cost of insurance is high in New Jersey, which can cause a financial strain on drivers with a lower income. The last thing you want is to feel forced to drive uninsured and then get into an accident.
New Jersey has tried to help this problem with Special Automobile Insurance Policy. If you are eligible for federal Medicaid, you may also be eligible for this program.
Automobile Insurance Fraud in New Jersey
The Insurance Information Institute states:
Insurance industry estimates generally put fraud at about 10 percent of the property/casualty insurance industry's incurred losses and loss adjustment expenses each year, although the figure can fluctuate based on line of business, economic conditions and other factors. Using this measure, over the five-year period from 2013 to 2017, property/casualty fraud amounted to about $30 billion each year.
Consequently, the losses are felt by consumers by higher rates in premiums.
New Jersey has strict penalties for insurance fraud. Penalties can include:
Loss of license
Civil fines up to $15,000 per violation
Incarceration
If you suspect fraud, the New Jersey Motor Vehicle Commission states that you do the following:
To help the Office of Insurance Fraud Prosecutor (OIFP), report fraud by e-mail to [email protected], online or by calling (877) 55-FRAUD (553-7283). Fraud increases the cost of insurance for all New Jersey drivers – please don't hesitate if you suspect something.
Statute of Limitations
The statute of limitations is the time frame you have to file a claim. New Jersey laws state you have two years to file a claim.
Vehicle Licensing Laws
Your car is not legal without insurance, just as you are not legal without a license. Since this a regulated and mandated law, New Jersey has laws on obtaining a license and renewing your license.
Real ID
Congress passed the Real ID Act in 2005. This bill makes for stricter standards when states issue a license to state residents. Doing so makes it possible for states to use these as identification when entering federal buildings or commercial flights.
Currently, New Jersey has an extension and you can still use your regular license until October 2020.
Penalties for Driving Without Insurance
New Jersey has very serious consequences if you choose to drive without insurance. If convicted of driving without insurance, you could face the following:
Fines ranging from $300 – $1000
Community service
Surcharge fee to DMV of $250 for three years
Mandatory license suspension for one year
Fees and court costs
That is just the first time. You could face the following if found guilty a second time:
Fines up to $5,000
Mandatory 14-day jail sentence
Community service
Two-year license suspension
As you can see, driving in New Jersey with no insurance is a high risk you do not want to take. Not only can you suffer the above consequences, but you could also damage your financial status by getting into an accident and not having coverage.
Teen Driver Laws
Keeping teens safe on the road is very important. Therefore, New Jersey has heavy guidelines for new drivers to make sure they are ready for the roads. New Jersey uses a Graduated Driver License Program.
Learner's Permit
At age 16, you can enroll in a driver's education program, which is usually offered at a school or can be found on the New Jersey Motor Vehicle Commission's website.
Probationary License
To move onto the next license, which is the probationary license, teens must have their permit and drive supervised for six months.
The following rules are listed on the NJ Motor Vehicle Commission website for supervised driving:
Display a reflectorized decal on license plates
No driving from 11:01 p.m. to 5:00 am
Must have an adult supervising in the front seat who is 21 years of age or older possessing a valid New Jersey license with at least three years of driving experience
One passenger allowed unless parent or guardian is in the vehicle
No cell phone use
Seatbelts are to be worn at all times
You must also pass the road test, which can be scheduled online.
Basic Driver License
Once you have your probationary license and drive unsupervised for one year, you may move on getting your basic driver's license.
The following is listed on the above website as guidelines for unsupervised driving:
Display a reflectorized decal on license plates
No driving from 11:01 p.m. to 5:00 a.m.
Parent or guardian are allowed as passengers
Only one additional passenger unless parent or guardian is in the vehicle
No cell phone use
Seatbelt must be worn at all times
Older Driver License Renewal Procedures
Drivers over the age of 70 have the option to renew their licenses every two or four years. The same guidelines for vision and mail renewal listed below apply.
License Renewal Procedures
New Jersey requires all drivers to renew their licenses every four years. You have the option to renew your license through the mail as long as you do not need a new photo. Every 10 years you must have a vision screening test.
New Residents
If you are new to New Jersey, you have 60 days or to the expiration of your current license to change your license, whichever is first. You must surrender your out-of-state license once you obtain your New Jersey license.
Rules of the Road
A safe driver follows the rules of the road. If you are new to New Jersey, you may not know them. Even long-time residents can forget or laws can change. We are going to go over some of New Jersey's rules of the road.
Fault vs. No-Fault
As we said earlier, New Jersey is a no-fault state. This means that regardless of who was at fault in an accident, your insurance will pay for your claim.
Seat Belt & Car Seat Laws
All passengers and drivers must use a seat belt for safety.
Car seat laws for New Jersey are listed below:
Children under two or under 30 pounds must be in a rear-facing infant seat
A rear-facing car seat is to be used for children under four or under 40 pounds until no longer safe by the standards of the manufacturer
Use a forward-facing rear seat for children under eight years of age; if grown out by weight and height, use a booster seat
Unless you are an employee on duty, it is not permitted to ride in the cargo area of a truck.
Keep Right & Move Over Laws
In 2017, over 50,000 tickets were issued for left-lane driving. In New Jersey, the left lane is for passing or turning left only.
Most states have laws regarding moving over when approaching emergency vehicles. New Jersey law states that when you see flashing lights, you are to slow down and move to the far lane, if possible.
Speed Limits
All states have speed limits for safety. Below is a table with New Jersey limits. Remember, these limits are subject to change — especially in a construction zone.
Ridesharing
New Jersey has become the 36th state to regulate ridesharing. With Uber and Lyft becoming widely used, New Jersey put regulations on the companies.
The rideshare company must register their company with the state and have background checks on all drivers. Companies also have to verify all drivers have $1.5 million liability and uninsured/underinsured motorist coverage.
Therefore, if you want to become a driver for a ridesharing company, it is wise to verify with your current insurance carrier to make sure there are no gaps in your coverage.
Automation on the Road
Currently, New Jersey has no laws about automated car use, but that may not be the case for long. At the beginning of 2019, New Jersey created a task force to evaluate automated vehicles.
Safety Laws
Next up, we will take a look at safety laws in New Jersey. We will break down driving under the influence and distracted driving laws.
DUI Laws
Driving under the influence of alcohol is dangerous for you and others on the road. New Jersey has strict laws to deter drivers from getting behind the wheel after drinking.
Drivers can be convicted of driving under the influence with a blood alcohol content of 0.08 percent or higher.
Distracted Driving Laws
Phones have become an extremely dangerous item while driving. You think you can make a quick text and look away from the road — but that is when disaster happens.
All drivers are banned from any use of a hand-held device or texting while driving. Texting and driving carries fines and penalties, as well as more serious charges if distracted driving causes fatalities.
Driving in New Jersey
Driving in any state can have risks. This next section we will take a look at car thefts and fatalities in the state.
Vehicle Theft in New Jersey
Read more: Best Car Insurance Company for Jeeps
Hondas are the car of choice for car thieves in New Jersey. The Accord is the top model, and 1997 is the most popular year.
Read more: Best Car Insurance Company for Hondas
It is no surprise due to the size of Newark and Jersey City that they see the highest numbers in car theft.
Road Fatalities in New Jersey
Accidents happen to various people in many different situations. Below we have charts showing when, where, and why fatalities occur in New Jersey.
Most fatal highway in New Jersey
US-130 is considered the most fatal highway in New Jersey. Not only is it dangerous for drivers, but it is also dangerous for pedestrians.
Fatal Crashes by Weather Condition & Light Condition
More fatalities happen in normal weather conditions and daylight hours than other times or conditions.
Fatalities by County
Traffic Fatalities
Fatalities by Person Type
More fatalities occur in passenger auto and pedestrians than any other person type.
Fatalities by Crash Type
Five-Year Trend For the Top 10 Counties
Fatalities Involving Speeding by County
Fatalities in Crashes Involving an Alcohol-Impaired Driver
Teen Drinking & Driving
New Jersey takes underage drinking very seriously. If a teen is found drinking and has the adult blood alcohol limit of 0.08 percent, they will be treated as an adult and the same penalties listed above will apply.
If an underage drinker is found with a blood alcohol content of even 0.01 percent, then they could face fines and license suspension. Even if the underage drinker was not driving or doesn't have a license, the license suspension will take effect when the underage drinker gets their license.
EMS Response Time
Whether you have an accident in rural or urban areas of New Jersey, emergency medical services can get you to a local hospital in under an hour.
Transportation
Commuting is a major way of getting to work in New Jersey. Let's take a look at New Jersey car ownership and commuting.
Car Ownership
The gray shows the national average while the orange shows the New Jersey average. Similar to most Americans, New Jersey families are two-car households.
Commute Time
The average commute time for New Jersey residents is a little over 30 minutes.
Commuter Transportation
Most Americans drive alone to work. As you can see, public transit is also a huge part of commuting to work. As a result, New Jersey is more than double the average rate for the average U.S. commuter.
That was a lot of information to unpack. We hope this was helpful and you are well on your way to getting the cheapest and best car insurance for New Jersey.
Ready to compare New Jersey auto insurance rates and save? Enter your ZIP code now for fast, free quotes.