FREE Insurance Quotes Comparison
Compare Insurance Quotes Instantly. Get Started Now!
Free Insurance Comparison
Compare Quotes From Top Companies and Save
Secured with SHA-256 Encryption
You can save $610/yr* by comparing insurance
*based on industry survey
Find a Review
Looking for ratings and reviews about a specific insurance company? Click above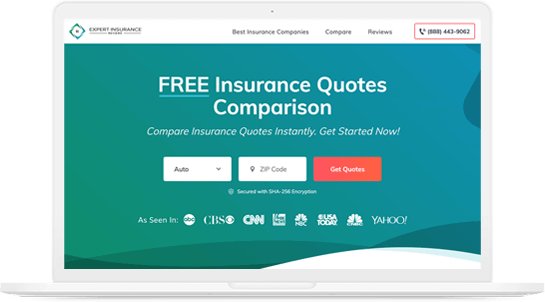 Buy Insurance Online
In most states, eight different factors go into each of your quotes. Rates are not the same across all companies in your state. Each company will customize your insurance quote based on any combination of these factors you provide. Start your search today by entering your ZIP code. It's free to get started.
Auto Insurance
Home Insurance
Expert Insurance Reviews
Sometimes, finding a great insurance company at an affordable price is quite a challenge. We are here to help you learn more about the different types of insurance, the best types of policies to choose, and review all there is to know about insurance companies large and small in your area.
After learning the ins and outs of nearly every common insurance available, our comparison tool will assist you in narrowing down your options so you can get the best rates. All you have to do to get started is enter your ZIP code above to get free insurance quotes now.
Ready to start comparing insurance rates? Enter your ZIP code below.
Car Insurance
Anyone with a valid driver's license should carry sufficient auto insurance in case of an accident. Car insurance policies, if chosen wisely, will make sure you, your loved ones, your vehicle, others' vehicles, other drivers and passengers, and even others' property that isn't a vehicle are all fully covered.
Car insurance is a legal requirement in almost every state; unfortunately, the minimum legal liability limits will not help you at all — only other drivers and other property. We are all in the game to find the cheapest car insurance rates, but we also can't predict how much coverage we will actually need when the unpredictable happens.
Reviewing each type of policy, limits of coverage, and multiple car insurance companies is essential to keep you, your family, and your property safe. That's why insurance experts recommend that policyholders review coverage and limits every six months, though you can make changes to your coverage or change companies at any time.
However, if you purchase a new vehicle, you have a baby, your teen begins to drive, or you move, these constitute life changes.
The top auto insurance companies currently leading the market are State Farm, Geico, Progressive, and Allstate. Compare car insurance coverages and companies often to get the best coverage and the best rates.
Home Insurance
Anyone who owns valuable property such as a car, collectibles, or home should insure their assets based on their value. Your home is very likely the most expensive property in which you will ever invest.
Strangely, none of the 50 states require home insurance, but most people mortgage their home through a lending company or bank that will definitely require coverage on a home that could take you up to 30 years to pay off.
Luckily, most of the major car insurance companies also offer home or renters insurance with a discount to boot. Some insurance companies offer between 5% and 15% discounts on home insurance if you bundle all of your policies with one company.
The top home insurance companies currently leading the market are Amica Mutual, Allstate, Travelers, and MetLife. Start comparing home insurance companies, coverages, and rates now.
Life Insurance
How will your debts be settled if you pass away? How can you make sure your loved ones are taken care of? These are questions that young people don't often ask themselves but should. Though it sounds morbid, accidental death can happen at any time in your life.
Life insurance premiums are based on your age, gender, marital status, number of children, and if you own a business with a business partner, other assets you wish to be secured in case of your death. There are basically two options: term life insurance and whole life insurance
Term life insurance is for catastrophic situations and best for anyone under the age of 45. The statistical chance of you dying before the age of 45 is very low; therefore, your flat monthly rate will be cheaper for term life insurance.
Once you turn 45, however, the statistical chances of your death begin increasing and your monthly premium payments will be much higher if you purchase another 20-year term life insurance policy.
Every time you purchase another 20-year term life insurance policy, the rates will be based, once again, on age, gender, occupation, medical needs, and hobbies.
After turning 45, it may be good to consider purchasing a different type of life insurance policy because between 45 and 85 (only five years passed the US life expectancy), your statistical chances of death increase by 31 percent.
It's time for an upgrade.
A whole life insurance policy is permanent and carries a cash value, meaning it is good until your death, no matter your age or when it was purchased, and, in some cases, can be cashed out at any time. Whole life insurance is a wise investment as your age increases and your health decreases.
The needs of your financial dependents will ultimately determine which policy is best suited for you. And, don't forget, a hefty life insurance cash out is useless without a will or power of attorney. Numbers speak — purchase a life insurance policy to make sure your financial responsibilities are handled in case the unexpected happens.
The top home insurance companies currently leading the market are MetLife, New York Life Insurance Group, Northwestern Mutual, and Prudential. Use our quote tool now to find great rates and reputable companies to compare your life insurance coverage option today.
Health Insurance
Most Americans seek full-time employment for the benefits, and health insurance is an important one. Interestingly, however, in some cases, a private health insurance plan is cheaper than the group plan premiums that an employer would provide.
Fortunately, we now have the Healthcare Marketplace that ensures every American has the opportunity to purchase a health insurance policy to fit the needs of their family, regardless of pre-existing conditions, to cover preventative care, specialist visits, prescriptions, and much more.
However, one aspect of a health insurance policy to pay close attention to is the network of doctors and who accepts the plan. If you have specific preferred doctors, it's best to do your research prior to choosing a plan and a company.
The top health insurance companies currently leading the market are United Healthcare Group, Anthem, Aetna, and Cigna. Compare health insurance policies offered by a wide variety of companies by using our comparison tool.
Medicare Health Insurance
Most Americans are fully taxed on their income by their employer. Along with tax fees are social security and medicare fees based on the amount of each paycheck.
The Medicare program is designed to help those over 65; however, most older individuals need supplemental health insurance on top of Medicare. Why? Everyone is eligible for Medicare Part A at the age of 65 at no cost. Sadly though, Part A covers only hospital visits, short term stays at nursing or rehab facilities, some health care services, and some hospice stays.
Everyone over 65 is also eligible for Medicare Part B (also called MediGap). At a cost, Part B will cover doctors visits, in-home services, medical equipment, outpatient care, and preventative services. There are even options to expand MediGap coverage with an additional eight levels beyond Part B.
The top health insurance companies currently leading the market are Humana, Aetna, Cigna, and AARP by United Healthcare. Compare supplemental Medicare Health Insurance rates by using our free quote tool now.
Pet Insurance
Health insurance is a way to keep your family healthy and be able to seek medical attention when needed; our pets are no different. Many Americans consider their pet a part of the family and seeing one of your pets sick is always difficult.
Vet bills can stack up quickly. For example, Great Danes are a wonderful breed, but 42 percent of them develop Gastric Dilatation-Volvulus Syndrome (GDV). This is a serious life-threatening issue and if it's not addressed within a few hours with emergency surgery, death is the result.
Many veterinarians will actually complete GDV surgery while spaying or neutering; however, because of their accelerated growth, Danes should not be spayed or neutered until they are three years old. GDV surgery will cost an average of $8,000, and that doesn't include the special diet afterwards — prescription dog food at $100 a bag. Given the potential financial burden of veterinary care, obtaining the best pet insurance quotes is a wise decision.
Your Great Dane is not only your beloved friend but also an investment, especially if you plan to breed. Great Danes puppies from champion bloodlines can easily exceed $5,000 in cost.
Generally, pet insurance rates are cheapest when purchased at puppyhood and will increase as the dog ages. So, just as you would purchase health insurance for yourself and your children, your pets need insurance as well.
Ready to start comparing insurance rates? Enter your ZIP code below.