Best New Hampshire Car Insurance (2023)
This New Hampshire auto insurance review lists the best New Hampshire car insurance companies based on rates and coverage. Learn more about New Hampshire auto insurance requirements before shopping for New Hampshire car insurance quotes below.
UPDATED: May 12, 2023
Fact Checked
Free Auto Insurance Comparison
Compare Quotes From Top Companies and Save
Secured with SHA-256 Encryption
Leslie Kasperowicz
Farmers CSR for 4 Years
Leslie Kasperowicz holds a BA in Social Sciences from the University of Winnipeg. She spent several years as a Farmers Insurance CSR, gaining a solid understanding of insurance products including home, life, auto, and commercial and working directly with insurance customers to understand their needs. She has since used that knowledge in her more than ten years as a writer, largely in the insuranc...
UPDATED: May 12, 2023
It's all about you. We want to help you make the right coverage choices.
Advertiser Disclosure: We strive to help you make confident insurance decisions. Comparison shopping should be easy. We are not affiliated with any one insurance provider and cannot guarantee quotes from any single provider.
Our insurance industry partnerships don't influence our content. Our opinions are our own. To compare quotes from many different insurance companies please enter your ZIP code on this page to use the free quote tool. The more quotes you compare, the more chances to save.
Editorial Guidelines: We are a free online resource for anyone interested in learning more about insurance. Our goal is to be an objective, third-party resource for everything insurance related. We update our site regularly, and all content is reviewed by insurance experts.
UPDATED: May 12, 2023
It's all about you. We want to help you make the right coverage choices.
Advertiser Disclosure: We strive to help you make confident insurance decisions. Comparison shopping should be easy. We are not affiliated with any one insurance provider and cannot guarantee quotes from any single provider.
Our insurance industry partnerships don't influence our content. Our opinions are our own. To compare quotes from many different insurance companies please enter your ZIP code on this page to use the free quote tool. The more quotes you compare, the more chances to save.
On This Page
UPDATED: May 12, 2023
Fact Checked
 Currier Museum of Art, Mount Washington, and Ice Castles are just some of the endless things to do and see in New Hampshire. From the beautiful foliage to the snowy winters, New Hampshire has so much to offer residents and tourists.
If you live in New Hampshire, chances are you drive most places. Whether this driving is for work or play, you need to know the ins and outs of the roads and insurance. Who has the time for all that research?
We do. We take facts and figures and compile them into easy tables and graphs to help you figure out the best insurance and companies for your needs. So while you are enjoying the historical sites, snowy mountains, or amazing beaches, we will do the work for you.
If you already know the facts and are just looking for a cheap auto insurance quote, enter your zip code to use our free comparison quote tool.
New Hampshire Car Insurance Coverage & Rates
Coverage and rates are not the most exciting topics, but they are necessary to look at if you are looking to purchase car insurance. We are going to take a look at how much coverage is required and what the average New Hampshire resident pays for car insurance.
New Hampshire Minimum Coverage
New Hampshire is one of the few states that does not have a law requiring insurance. While you may like that fact you do not have to pay for insurance if you do not want it, think what would happen if you were to get into an accident without any coverage.
Driving without insurance could cause financial ruin for you or someone else. You are required to pay for property damage and bodily injury if you get into an accident. So while you do not have to have insurance, we recommend it.
Not everyone gets a free pass to drive without insurance. The following convictions will require drivers to obtain insurance and show financial responsibility in New Hampshire:
A driving while intoxicated conviction
An at-fault accident without having insurance
Drivers convicted of certain violations such as leaving the scene of an accident or second reckless driving offense
If you chose to carry insurance you must maintain the following minimum coverage limits:
$25,000 – bodily injury liability for one person
$50,000 – bodily injury liability total for multiple persons
$25,000 – property damage
$1,000 – medical payments
You must keep proof of insurance in your vehicle, which could be an ID card or a copy of your policy. New Hampshire also allows electronic proof of your insurance on your cellular device.
Minimum coverage costs vary from state to state.
Forms of Financial Responsibility
If you are required to have proof of financial responsibility or proof of insurance, you have two options. Since you are required to pay for bodily injury or property damage, you can deposit securities at the state treasurer's office showing you have funds to cover damages in the event of an at-fault accident.
If you do not have funds personally to deposit, you can obtain an insurance policy with the above-listed minimum limits.
Premiums as a Percentage of Income
We took a look at the three-year trend of how much disposable income accounts for the cost of insurance premiums in New Hampshire.
Average Monthly Car Insurance Rates in NH (Liability, Collision, Comprehensive)
The core coverages of a policy are liability, comprehensive, and collision. Liability coverage is used for the other party if you are found at fault. Comprehensive and collision are used on your vehicle regardless of fault.
We took data from the National Association of Insurance Commissioners and found both the average premiums for New Hampshire and national averages. These averages are based on New Hampshire's minimum limits.
New Hampshire averages are lower on all categories.
Additional Liability
If you chose to buy insurance, you are required to have additional coverages. Medical payment coverage is used for your medical bills in the event of bodily injury. This is a required coverage in New Hampshire.
Uninsured and underinsured motorist coverage is used if you are in an accident with someone who doesn't have insurance or doesn't have enough to cover your loss.
This table shows the loss ratio of New Hampshire insurance companies. Loss ratios show how much a company is getting in earned premium versus how much they are spending in claims. For instance, a company that made $100,000 and paid out $50,000 in claims has a 50 percent loss ratio.
If a company has a higher ratio, say 100 or over, they are not making money. If their ratio is lower, say below 50, they do not pay out in claims.
Add-Ons, Endorsements, & Riders
Insurance companies offer an array of different endorsements and additional coverages you can add to your policy. Below are some of the most commonly added coverages.
Rental Reimbursement
Mechanical Breakdown Insurance
Non-Owner Car Insurance
Modified Car Insurance Coverage
Average Car Insurance Rates by Age & Gender in NH
A lot of different factors go into getting an insurance rate. In this section, we are going to take a look at age, gender, and marital status.
While some companies may adjust their rate based on your gender, across the board the rates are very close. The biggest factor is age. Check out those Safeco rates for young, male drivers. Yikes!
The more experience you have as a driver, the lower your rate will go.
Cheapest Rates by Zip Code
You are also rated based on where your car is garaged. Zip code and the city can make an impact on your rates.
Cheapest & Most Expensive Rates by City
It is no surprise that New Hampshire's two largest cities, Manchester and Nashua, are also top of the list for the most expensive cities for insurance.
Best New Hampshire Car Insurance Companies
So you want insurance, but where should you get it? We are going to take a look at some of the biggest and best insurance companies New Hampshire has to offer.
We compared rates of some of the top companies and looked at the biggest factors that determine your rates. If you have a bad driving record or bad credit, we can direct you to the company that will have the best rates for your needs.
Let's dig in and see what these companies have to offer.
The Largest Companies' Financial Rating
AM Best has a great description of what they do on their website:
AM Best is the only global credit rating agency with a unique focus on the insurance industry. Best's Credit Ratings, which are issued through AM Best Rating Services, Inc., are a recognized indicator of insurer financial strength and creditworthiness.

AM Best is also a trusted source of insurance data and market intelligence, covering thousands of companies worldwide through analytical resources and news coverage that provide a critical perspective for informed business decisions.
So how do the top 10 insurance companies rate?
They all get A ratings or higher. It is no surprise as these large companies have excellent financial standings in the insurance world.
Companies with Best Ratings
Financial standing is not the only rating we want to look at. While you want a company you know is solid and can pay out if a claim arises, you also want a company with good customer service.
Even when your premium may go up, insureds appreciate good service and will stay, even with a rate increase. So we looked to J.D. Power for customer satisfaction ratings for New England insurance companies.
Companies with Most Complaints in New Hampshire
With all the good things, there are also bad. Which companies get the most complaints? Take a look.
The National Association of Insurance Commissioners takes complaints on companies and tracks them.
Cheapest Companies in New Hampshire
You want a good, solid company to get rates for your insurance, but at the end of the day, money can affect your decision.
Geico is significantly lower than other companies in New Hampshire, while Safeco has higher rates. Why are rates so different at different companies? We are going to look at some of the biggest factors that go into getting your rate with a carrier.
Commute Rates by Companies
Do you commute to work every day? If you do, you can see which companies rate that factor higher than others.
Liberty Mutual and Nationwide are good options for drivers with longer commutes.
Coverage Level Rates by Companies
You may not want to only buy the minimum state limits. You are now faced with how much you are going to pay for more coverage. The results may surprise you.
Companies like Geico and USAA offer higher coverage for almost the same price as they do lower coverage. There are also companies, Nationwide for instance, that offer more coverage for cheaper rates.
It is always a great idea to quote which insurance you would like to have, even if you think it may be too expensive.
Credit History Rates by Companies
Credit history follows you for major purchases like a home or car. It can also lower your interest rate on credit cards and loans. Does it affect your insurance?
The answer is a resounding yes. Take a look at Liberty Mutual. The rates for someone with poor credit are more than double.
If you do struggle with your credit, look to companies such as Progressive or Nationwide. Both companies do not have a great rate increase for credit history.
Driving Record Rates by Companies
The most obvious factor to affect your driving rate is your driving record. It is no surprise companies take into consideration how you drive and rate you on any violations.
The best rate will always be given to someone with a clean driving record. Following state laws and being a cautious driver will help you keep a clean record and get the best rate.
Largest Car Insurance Companies in New Hampshire
Geico, State Farm, and Progressive hold a major market share of insurance providers in New Hampshire.
Number of Insurers by State
New Hampshire has almost 700 insurers to choose from. We separate insurers into two categories: domestic and foreign. Domestic insurers are in-state insurers, while foreign are companies made out-of-state.
New Hampshire Laws
Each state has different laws unique to their state. If you are new to New Hampshire, you may not know some of the different laws regarding licensing, insurance, and safety laws.
First up, let's take a look at car insurance laws.
Car Insurance Laws
Car insurance is driven by certain state laws. Minimum limits, insurance requirements, and fraud laws are all driven by the state.
How State Laws for Insurance are Determined
The state regulates how companies can rate and change their rates. New Hampshire insurance companies have to file their rate changes in an approved time frame.
The National Association of Insurance Commissioners breaks down how laws are made and what is expected from insurance companies.
Windshield Coverage
When you are driving down the interstate and hear the rock hit your windshield, you hope to not see a crack. If you do have a crack, you may need your windshield replaced.
New Hampshire allows after-market parts as long as it is detailed in the quote. The consumer also has the right to choose which repair shop to take their vehicle.
Although New Hampshire has no law stating an insurance company must pay for windshield repairs, most companies do have coverage if you have comprehensive added to your policy. Check your policy or with an agent to verify coverage.
High-Risk Insurance
While New Hampshire may not require insurance for every driver, certain offenses can cause you to file SR-22 insurance.
SR-22 is the mandatory filing of insurance, usually done by your insurance company.
Below is a list from the New Hampshire Department of Safety of violations that will land you an SR-22 filing:
DWI – (1st, 2nd, Subsequent, Aggravated).
Underage DWI – (1st, 2nd, Subsequent, Aggravated).
Leaving Scene of Accident.
Conduct After Accident.
Subsequent (2nd) Offense Reckless Operation.
Automobile Insurance Fraud in New Hampshire
In 1993, the New Hampshire legislature created the New Hampshire Fraud Unit. Any type of insurance fraud is illegal and should be reported immediately.
You can report insurance fraud to the below:
Fraud can come in two different ways, hard or soft. Hard fraud is a deliberate falsification of a claim to obtain funds for something that never happened. Soft fraud is when you may have a claim, but you add false information to make the claim bigger than what it may be.
Statute of Limitations
Statute of limitations is the time frame you have from when a claim occurs to when you must report it. In New Hampshire, you have three years for property damage or bodily injury.
Vehicle Licensing Laws
We have covered a lot about car insurance and laws, but now we are going to look at driver laws. Let's look at renewing your license, getting a new resident driver's license, and teen drivers.
Real ID
In 2005, Congress passed the REAL ID Act. This act made stricter licensing guidelines for states when issuing state driver's licenses.
New Hampshire is compliant with the REAL ID Act; therefore, drivers can use their license as a form of identification to enter commercial flights and federal buildings.
Penalties for Driving Without Insurance
Since New Hampshire drivers are not mandated to buy insurance, there are no penalties for driving without it.
As we discussed earlier, some drivers must file an SR-22 and show financial responsibility by showing proof of insurance. If you do not obtain an SR-22 filing, your license and registration will be suspended.
Teen Driver Laws (IIHS)
We saw earlier how teen drivers can cause quite a spike in your insurance premium. Teens must follow licensing laws and driving restrictions mandated in New Hampshire.
Older Driver License Renewal Procedures
Older drivers renew their licenses the same way all drivers renew. See below for the renewal process.
New Residents
Welcome to New Hampshire! Once you have established residency, you have 60 days to transfer your license and registration.
Fees depend on the type of vehicle, so contact your local Department of Motor Vehicles for the exact cost. You must surrender your out-of-state license when you obtain your New Hampshire license.
License Renewal Procedures
New Hampshire license renewal is every five years. You can do so in person or you may mail or electronically submit your renewal every other year.
Rules of the Road
To keep drivers safe, you need to follow the rules of the road for New Hampshire. If you are new to the state, you may not know all these rules, so we will break them down for you. Even if you have lived here for a while, you may still need to refresh yourself on these laws.
Fault vs. No-Fault
New Hampshire is an at-fault state. This is important in determining who's insurance is filed and paying for the claim. Being an at-fault state means whoever is at fault for causing the accident is the one to file insurance and payout for the claim.
– Seat Belt & Car Seat Laws
New Hampshire is one of the few states that does not require insurance, but that's not all — New Hampshire does not have seat belt laws for passengers or drivers eighteen-years-old or over.
They do have safety laws for passengers or drivers under eighteen.
New Hampshire also has no law concerning riding in cargo areas of pickup trucks.
Keep Right & Move Over Laws
State laws require slower-moving traffic to remain in the right lane.
There is also a law that requires drivers to vacate the lane closest to emergency vehicles when safe to do so. Any vehicle with flashing lights or any maintenance vehicle falls under this category.
Speed Limits
All states have mandated speed limits. Below are New Hampshire speed limits.
Remember, speed limits are subject to change, especially in construction zones.
Ridesharing
Ridesharing has become a popular mode of transportation, but it has also become a side job for many drivers.
It is important to check with your company, like Uber or Lyft, to verify any coverages you may have through them. The following companies have ridesharing coverages available in New Hampshire:
– Automation on the Road
Automated cars are no longer a thing of the future. Many cars are being made that can drive themselves with no driver present.
Currently, other states are creating laws around automated cars; New Hampshire is not one of these states. Due to a death involving automated vehicles, New Hampshire has banned the testing of all automated cars.
Safety Laws
Lastly, we are going to look at safety laws. Driving under the influence and distracted driving are two major safety concerns drivers face. We are going to look at laws prohibiting both.
DUI Laws
If you are convicted of driving under the influence, you will have some major penalties to face. Jail time, fines, and loss of your license are a few of the penalties. If you have three or more convictions, you could be facing years without a license.
Marijuana-Impaired Driving Laws
Marijuana is legal for medical purposes and there are no specific laws for marijuana-impaired driving.  That doesn't mean you are off the hook for driving while impaired.
Driving under the influence of any substance is illegal, whether that be alcohol or marijuana. If you are convicted of driving under the influence of marijuana, you must complete an Impaired Driver Education Program.
Distracted Driving Laws
It seems like everyone has a cellular device, both the older and younger generations. We all have heard of the distractions and dangers cell phone use poses to drivers. New Hampshire has strict laws against the use of cell phones; there is a hand-held ban and a texting ban.
Driving in New Hampshire
We have looked at all the laws, companies, regulations, licensing, and rules of the road. Now we are going to take a look at vehicle theft, fatalities, and transportation.
We share this information to help drivers know when and where theft and fatalities occur, hoping to prevent them in the future.
Vehicle Theft in New Hampshire
Honda, both Civic and Accord, are the top two choices for theft. The Honda Civic has the top spot, with 1997 being the most-popular year stolen.
We also took a look at the top cities for car theft. Did your city make the list?
You can watch this short video showing how you can protect your car from thieves.
Road Fatalities in New Hampshire
Sadly, road fatalities occur even to the most cautious drivers. We have compiled data to show you when, where, how, and to whom these fatalities happen.
– Most Fatal Highway in New Hampshire
Interstate 93 is the most fatal highway in New Hampshire. An average of five to six fatalities happens on this stretch of road in a year.
Fatal Crashes by Weather Condition and Light Condition
Daylight hours and normal weather conditions see more fatalities than any other time or condition.
Traffic Fatalities
Rural roads often see more fatalities than urban roads.
Fatalities by Person Type
This next table shows the person type — like occupant, motorcyclists, or pedestrian.
Fatalities by Crash Type
Roadway departure sees more fatalities than other categories.
Five-Year Trend For The Top 10 Counties
We took a look at the top 10 counties in New Hampshire and what their five-year trend is for fatalities.
Fatalities Involving Speeding by County
Fatalities in Crashes Involving an Alcohol-Impaired Driver by County
Teen Drinking & Driving
Underage drinking is strictly against the law in New Hampshire. Any blood alcohol content level of 0.02 or more is considered underage drinking.
Possession of alcohol could result in a suspended driver's license.
Statistically, age groups of 12 – 15 and 18 – 25 have a higher binge drinking rate in New Hampshire than most Americans.
EMS Response Time
If you are in an accident, you want emergency medical services to get to you quickly. In both urban and rural areas, EMS can get to you and transport you to a local hospital in under an hour.
Transportation
How do New Hampshire residents get to work, and how long is their commute? In this next section, we took information and graphs from Data USA. The orange is the average New Hampshire driver and the gray is the average American driver.
Car Ownership
Most American families own at least two cars. New Hampshire is no different from the majority of households in the nation.
Commute Time
The average worker drives a little over 25 minutes to work every day.
Commuter Transportation
Like most Americans, New Hampshire drivers prefer to drive to work alone.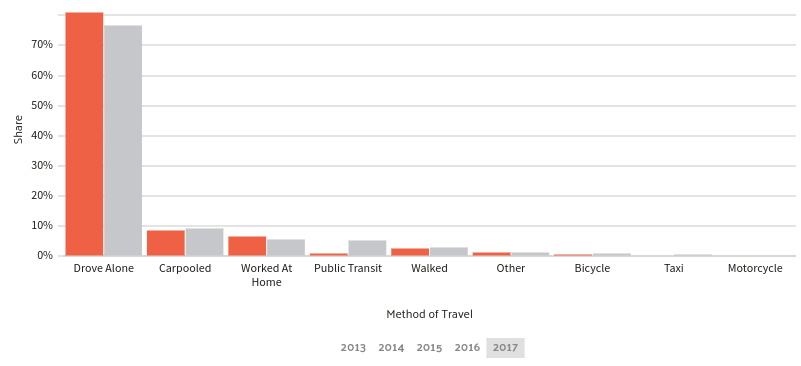 Traffic Congestion in New Hampshire
New Hampshire doesn't score the best in traffic congestion and car maintenance cost, ranking 46th out of 50.
While no specific cities were listed on traffic indexes, the New England Compass is a great resource to view New Hampshire traffic, construction, and road closures. So before you hit the road, you can check out how long you may be stuck in traffic and the best route to take.
We hope this helps you as you start your journey to finding the cheapest car insurance for your needs. Please our FREE quote tool to start comparing rates today.