Best Delaware Car Insurance (2023)
Delaware auto insurance rates can be as low as $412.82/mo with minimum liability requirements of 25/50/10 for bodily injury and property damage coverage. Don't get behind the wheel in Delaware without auto insurance. Penalties for driving in Delaware without insurance can be severe.
UPDATED: Aug 13, 2023
Fact Checked
Free Auto Insurance Comparison
Compare Quotes From Top Companies and Save
Secured with SHA-256 Encryption
Leslie Kasperowicz
Farmers CSR for 4 Years
Leslie Kasperowicz holds a BA in Social Sciences from the University of Winnipeg. She spent several years as a Farmers Insurance CSR, gaining a solid understanding of insurance products including home, life, auto, and commercial and working directly with insurance customers to understand their needs. She has since used that knowledge in her more than ten years as a writer, largely in the insuranc...
UPDATED: Aug 13, 2023
It's all about you. We want to help you make the right coverage choices.
Advertiser Disclosure: We strive to help you make confident insurance decisions. Comparison shopping should be easy. We are not affiliated with any one insurance provider and cannot guarantee quotes from any single provider.
Our insurance industry partnerships don't influence our content. Our opinions are our own. To compare quotes from many different insurance companies please enter your ZIP code on this page to use the free quote tool. The more quotes you compare, the more chances to save.
Editorial Guidelines: We are a free online resource for anyone interested in learning more about insurance. Our goal is to be an objective, third-party resource for everything insurance related. We update our site regularly, and all content is reviewed by insurance experts.
UPDATED: Aug 13, 2023
It's all about you. We want to help you make the right coverage choices.
Advertiser Disclosure: We strive to help you make confident insurance decisions. Comparison shopping should be easy. We are not affiliated with any one insurance provider and cannot guarantee quotes from any single provider.
Our insurance industry partnerships don't influence our content. Our opinions are our own. To compare quotes from many different insurance companies please enter your ZIP code on this page to use the free quote tool. The more quotes you compare, the more chances to save.
On This Page
UPDATED: Aug 13, 2023
Fact Checked
Taxes. Going to the dentist. Shopping for car insurance. It's natural to want to put these things off until the last minute.
The good news is, hunting for Delaware auto insurance to cover all the drivers in your family doesn't have to be like pulling teeth.
If you're one of the approximately 961,939 individuals currently residing in the state of Delaware, finding the right car insurance coverage to give you peace of mind and protection whenever you hit rubber to the road is vital.
Whether it's almost time for you to start thinking about policy renewal with your current Delaware auto insurance carrier again, or you're not quite happy with your current provider but don't know where to start looking, you won't want to miss our one-stop-shop guide to coverage in your state.
From carrier rates to the best car insurance companies to state laws and more — we've got it all here for you.
Start comparison shopping today to save big on Delaware auto insurance coverage. Just enter your zip code in our FREE online rate tool to get started!
Without further ado, let's jump right into Delaware car insurance coverage and rates!
Delaware Car Insurance Coverage and Rates
Delaware was the first of the original colonies to ratify the nation's constitution in 1787. Aptly nicknamed The First State, Delaware is the second smallest state in the country in terms of land mass after Rhode Island. While the state itself is just 1,900 square miles, this doesn't mean there's any shortage of things to see and do.
From rich history to gorgeous beaches to beautiful East Coast charm, Delaware has plenty to recommend it to visitors and residents alike. Stunning Delaware and Rehobeth beaches are two of the most famous beach spots stretching along the state's 28-mile coastline, with pristine white sand, restaurants, boutiques, and a relaxing ambiance.
For history buffs, spots such as The Hagley Museum and Library and the Nemours Mansion in Wilmington aren't to be missed. Also in Wilmington is the Delaware Art Museum, featuring an extensive collection of Pre-Raphaelite and American Art.
For nature lovers, the Brandywine Creek State Park is a 933-acre paradise of greenery and wildlife, featuring a zoo, playground, an abundance of walking trails, and more.
No matter if you've lived in The First State all your life or are contemplating a relocation, it's critical to know what the requirements are for Delaware auto insurance and what options you have for coverage so you can make the best decision for you.
Delaware Minimum Car Insurance Coverage Requirements
As is the case with most states, Delaware requires drivers to carry auto insurance to cover their registered motor vehicles in accordance with state-mandated minimums. The following are the minimum amounts of coverage Delaware motorists must take out for their policy:
$25,000 bodily injury liability coverage per person for injuries sustained in a collision you cause
$50,000 total bodily injury liability coverage if two or more individuals sustain injuries in a collision you cause
$10,000 property damage liability coverage for property damage sustained in a collision you cause
It is important to note that while these are the minimum amounts you must carry on your Delaware auto insurance policy, it is advisable to take out higher levels of coverage.
The coverages noted above will pay for the costs of things like medical expenses, property damage costs, and other bills incurred by other motorists, passengers, or pedestrians in the event you cause a collision. Your car insurance company will cover these damages up to and until your policy limits are exhausted.
If your policy limits are exhausted and there are still damages as of yet unpaid, you will be held personally liable to cover these expenses, potentially endangering your own assets in the process.
This is why it is recommended to carry and maintain coverage levels exceeding the state minimum, both in order to safeguard your assets and to prepare for the unexpected if a collision happens.
Your liability coverage will come into effect if a member of your family is operating your vehicle, or if someone else who you have authorized to drive your car is behind the wheel.
Bear in mind, these liability coverages discussed will not pay for any injuries you sustain in the event of a collision.
In addition to these mandated minimums for bodily injury liability and property damage coverage, Delaware auto insurance laws also require drivers to carry PIP (Personal Injury Protection) coverage on their policies. The mandatory PIP minimums are as follows:
$15,000 for any individual who sustains injuries during a collision and is covered by your policy
$30,000 for all individuals who sustain injuries during a collision and are covered by your policy
PIP will pay for things like lost wages, medical bills, and other related expenses you or covered individuals incur if you get into an accident, regardless of who causes the actual collision.
Delaware adheres to the traditional fault system of assigning financial responsibility for losses such as injuries and property damage resulting from a collision. What this means, is that whoever causes the accident is also held responsible for covering the costs of any damages sustained by other drivers, passengers, and pedestrians as a result.
Technically, the at-fault driver's insurance company will handle these costs — until policy limits are exhausted.
Mandatory Forms of Financial Responsibility in Delaware
In addition to maintaining the minimum liability and PIP coverages as required under Delaware auto insurance laws, you must also carry proof of insurance or financial responsibility with you at all times.
Whether you get into an auto accident and are asked to furnish proof of insurance or you get pulled over for a routine traffic stop and the law enforcement officer requests it, failure to provide acceptable proof of financial responsibility can result in serious penalties.
Delaware is one of 48 states that permits digital proof of insurance or an electronic copy of your insurance card on your mobile device. You could also provide proof of insurance in the form of your:
Carrier-issued hard-copy insurance card
The auto insurance declarations page
Insurance policy binder
Failure to provide proof of insurance could lead to fines of $1,500 for first-time offenders and $3,000 in fines for following violations. You could also have your license suspended for a period of up to six months.
Long story short — don't get behind the wheel without coverage and always carry proof of insurance with you in your vehicle or have it readily accessible on your mobile device in case you are ever pulled over or get into an accident.
Every year the Delaware Division of Motor Vehicles runs a check on a minimum of 10 percent of all vehicles registered in the state and requests that the owners provide proof of insurance. If you are included in the audit, you must contact your Delaware auto insurance company right away to have them send Form FR-19 to the DMV, affirming that you have been insured without a lapse in coverage and that your policy is currently in force.
While the following options are more costly, there are a few alternatives you can opt to provide proof of financial responsibility with apart from an insurer issued auto policy. These are a surety bond, cash, or securities.
Let's take a closer look at what these options could mean for you —
Surety Bond — Delaware currently accepts two different types of surety bonds.

One is a bond issued by a surety company that is licensed to do business in The First State, while the other is a bond feature a minimum of two sureties.
With the second bond option, both sureties must involve ownership of Delaware real estate with equities totaling an amount that is at least twice as much as the amount of the bond.
A court of record judge must affirm the real estate. The bond will be filed with the state treasurer and you can only cancel it following a written notice period of 10 days.

Cash or Securities — You also have the option to deposit cash, trust fund money, or securities equaling $40,000 as proof of financial responsibility.

The deposit must be made with the state treasurer, who will provide you with a certificate.
In order to receive the certificate, you must also provide proof that you do not currently have any outstanding judgments against you in your county of residence.
Premiums as a Percentage of Income in Delaware
Have you ever thought about how much of your annual take-home income is going to cover the costs of Delaware auto insurance premiums?
The table below reveals the average disposable incomes of Delaware residents in the period between 2012 and 2014, along with the percentage of their incomes eaten up by auto insurance premiums. Your disposable income is the amount you have left over after taxes to save or spend as needed.
If you examine the data above, you'll see that the percentage of residents' income going to cover the costs of auto insurance premiums was at its lowest in 2012, rose by 0.08 percent in 2013, and went down by 0.03 percent in 2014.
The average Delawarean's disposable income went down by a slight amount in 2013 but was at its highest in 2014, which helped to compensate somewhat for the increase in the cost of auto insurance.
If you look at the premiums as a percentage of income data for neighboring Pennsylvania in 2014, you'll discover that residents were paying out just 2.24 percent of their annual income to car insurance premiums as opposed to the average Delawarean who was handing over 3.02 percent of their income to pay for coverage. However, the average Pennsylvanian's take home pay in 2014 was also about $2,200 higher than what Delawareans brought home that year, at roughly $42,414.00.
Ready to find out just how much of your own income is going to cover the costs of your Delaware auto insurance coverage? Use the calculator below to see for yourself.
Average Monthly Car Insurance Rates in DW (Liability, Collision, Comprehensive)
The table here illustrates the latest data compiled by the NAIC (National Association of Insurance Commissioners) indicating the average costs for Delaware auto insurance. Be prepared for these premiums to increase as of 2019 and onward.
Keep scrolling to discover the additional options for liability coverage you'll want to take into account when deciding how to structure your Delaware auto insurance policy.
Additional Liability Coverage in Delaware
The table above reveals the average loss ratio for Delaware auto insurance companies, based on data released by the NAIC. An insurer's loss ratio is the total percentage of losses they incur as compared to the premiums they write.
If a Delaware auto insurance carrier sustains a loss ratio above 100, this indicates that they are actually paying out more to insureds in claims than what they are earning back in premiums. If this pattern continues, it can be very bad news for the insurance company.
The data above shows that Delaware auto insurance companies saw healthy gains to losses for both PIP and uninsured/underinsured motorist coverage in the years between 2012 and 2014.
However, as of 2014, insurers were paying out considerably more for MedPay than they were earning back in premiums written. If this trend continues, carriers will need to consider increasing their premiums in order to level out this ratio.
Currently, coverage options such as collision, comprehensive, and uninsured/underinsured motorist insurance are all completely optional in the state of Delaware.
With that said, Delaware ranks number 28 out of all 50 states for uninsured drivers, with roughly 11.40 percent of all motorists in the state getting behind the wheel without coverage.
While your premiums could be higher in the short term if you opt to include uninsured motorist coverage on your policy, you'll save yourself considerable stress and financial strain in the long run if you are ever involved in an accident with one of these uninsured drivers.
Plan for the unexpected and protect yourself and your family by carrying coverages beyond the state required minimums. If you have add-ons like uninsured motorist coverage on your policy, you won't have to worry about what happens next and who will cover any medical bills and other expenses if the at-fault driver doesn't have insurance.
Add-ons, Endorsements, and Riders
When you're searching for Delaware auto insurance coverage, you'll also want to take a second look at these essential add-ons, endorsements, and riders to determine if you want them included on your policy.
Rental Reimbursement
Mechanical Breakdown Insurance
Average Car Insurance Rates by Age & Gender in DW
We've all been told that male drivers pay more for car insurance coverage than female motorists do. But, it is this truly the case across the board?
Let's take a closer look.
Demographic and Insurance Carrier
Just a quick look at this table, and you'll notice that age and marital status are two of the most significant factors that will affect your rates for Delaware auto insurance coverage. Let's dive into a few examples.
Take Allstate, for instance. They charge teen drivers noticeably higher rates than any other age demographic. In fact, a single, 17-year-old male driver pays out roughly $11,300 more in average annual rates than a single, 25-year-old male driver does.
The gap isn't so wide with carriers like Nationwide, who charge teen drivers roughly $4,000 to $6,000 more than the rest of the driving population. You may have also noticed that Delaware auto insurance rates tend to drop the older the driver is.
For instance, married, 60-year-old male drivers insured by Travelers pay out just $1,568.84 in annual premiums, as compared to the staggering $14,106.72 Travelers charges single, teen male motorists.
Insurance companies typically view older, married drivers as being more established and responsible, which makes them more likely to present a reduced risk to insure. If you're concerned how the age of the drivers in your household could affect your auto insurance rates, no need to despair.
Factors like age and marital status are just one piece of the puzzle that insurers take into account when assessing rates. We'll get into more of these factors further down.
Rank by Demographic and Insurance Carrier
The table above shows the top Delaware auto insurance carriers ranked based on the average annual rates they charge insureds, from most to least expensive. Use the search bar to filter through the table and see where your car insurance carrier falls into the mix.
You'll see that Liberty Mutual made it to the number one ranking position with a mind-blowing $41,390.16 in premiums charged to teen drivers. Travelers has the cheapest rates of all, which are charged to married, female 60-year-old drivers.
Highest and Lowest Rates in Delaware by Zip Code
Check out the table above and use the search bar to see what Delaware auto insurance companies are charging residents in your zip code. It's fascinating to note how the area you live in can dramatically affect the premiums you end up paying.
Case in point, residents in the 19801 zip code in Wilmington pay approximately $1,700 more in annual premiums than individuals who live in a less densely populated zip code like 19930 in Bethany Beach.
The moral of the story here is that people who live in larger cities with higher populations can expect to pay more expensive premiums than residents who live in less population-dense regions.
Most Expensive/Least Expensive Carrier Rates by City
Use the search bar to find your city in the table above, which illustrates the most and least expensive Delaware auto insurance company rates by city.
You'll notice that Bethany Beach has the cheapest rates of all the cities listed and Yorklyn the most expensive, with a nearly $3,000 premium difference.
It is interesting to note that Bethany Beach has a population of just around 1,010 individuals. Yorklyn is an unincorporated community, but its county New Castle County has a population of approximately 559,793.
This goes to show that areas with less population density trend towards lower car insurance premiums than the bigger cities or regions with increased populations do.
Best Delaware Car Insurance Companies
With so many Delaware auto insurance companies vying to make your shortlist of contenders, how do you know which carriers live up to consumer expectations and which have fallen short of the mark?
From the 10 largest Delaware car insurance companies' financial ratings to a breakdown of rates by factors like your commute and driving record — it's all here. For all this and more, keep on reading.
The 10 Largest Delaware Car Insurance Companies' Financial Ratings
One of the first components you want to consider when determining whether a Delaware auto insurance company is the right choice for you is the carrier's financial strength rating.
What's a financial strength rating?
We're glad you asked.
An insurance company's financial strength rating is simply a measurement of the entity's ability to fulfill its obligations to insureds.
The global rating provider AM Best regularly releases the financial strength ratings of companies throughout the insurance market.
AM assigns the ratings A+ or A++ to carriers it has deemed to have a superior ability to meet financial obligations to consumers, while an A rating indicates that the carrier has an excellent ability to continue to meet those obligations.
Check out the table below, listing AM Best's ratings for the 10 largest Delaware auto insurance carriers.
Delaware Car Insurance Companies with the BEST Customer Ratings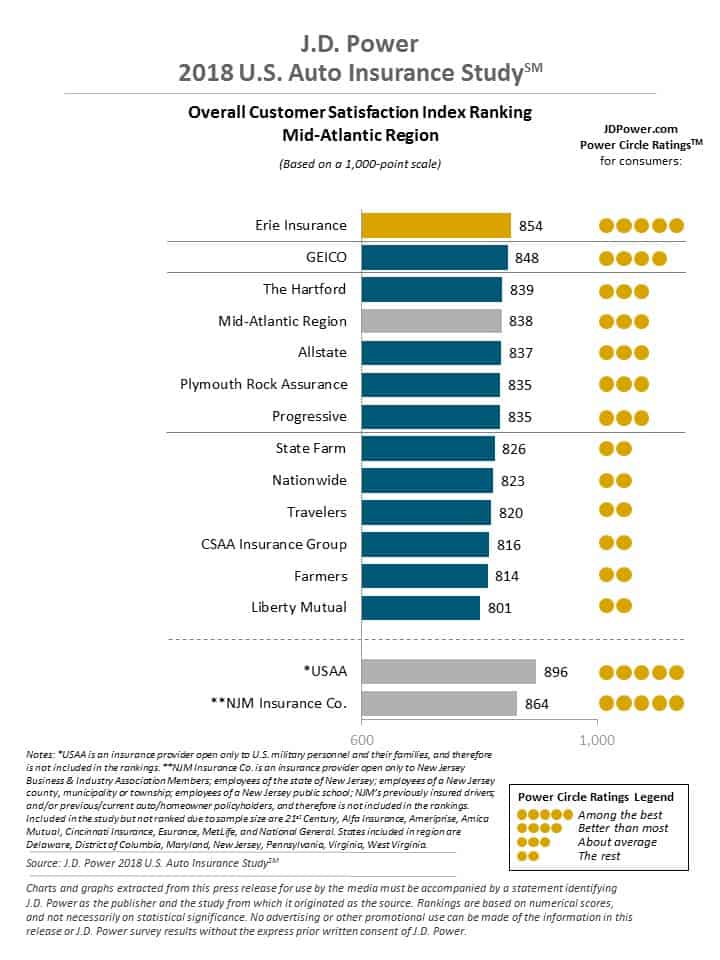 Delaware Car Insurance Companies with the MOST Customer Complaints
The table here indicates the most up to date complaint data released by the NAIC for the 10 largest Delaware auto insurance carriers. As a note, it is important to remember that an insurer's complaint ratio reveals overall customer satisfaction.
Therefore, complaint data should be a single component of many that you consider when deciding which insurer is the best fit for your needs.
Cheapest Delaware Car Insurance Companies
As we can see, the cheapest Delaware auto insurance carriers in the state, comparing their rates to the state average of $5,986.32. Liberty Mutual has by far the most expensive rates of the group and USAA the cheapest, with an approximately $16,000 difference in annual rates between the two.
That's hardly a small change.
Now, it's time to examine some of the key factors Delaware auto insurance companies can and do use when assessing your rates. From the length of your commute to your driving history, it's important to know how your individual situation could either lower or elevate your insurance rates.
Let's jump right in.
Commute Rates
Did you know that your commute to work could actually affect the rates Delaware auto insurance carriers assess for your annual premiums? The table below illustrates precisely how some, but not all, insurers in the state will charge you higher premiums if you have a longer commute.
Is your current carrier on this list? You'll note that companies such as Nationwide and Progressive charge consumers the exact same rates, regardless of the length of the commute.
Whereas companies like Liberty Mutual charge insureds with a 25-mile commute about $1,000 more in rates annually than drivers with a 10-mile commute.
At the end of the day, it often all comes down to the carrier you select to get the most affordable coverage for your specific driving habits, as well as certain factors in your driving history.
Coverage Level Rates
It's natural to assume that Delaware auto insurance companies can and will raise your rates if you pick high vs. low levels of coverage. Our researchers did some digging into the subject to determine how varying levels of coverage could either reduce or skyrocket your annual rates.
Let's see what the data had to say.
While each carrier listed above shows a variance in rates based on the coverage level you select, the gap is significantly wider with some insurers than others.
For example, Allstate charges insureds with high coverage roughly $1,000 more in annual premiums than they do consumers with low coverage, while Nationwide only charges insureds about $120 more for high vs. low coverage levels.
Our researchers found that Liberty Mutual charges the steepest rate difference of all for high vs. low levels of coverage, with approximately $2,000 more tacked onto consumers' car insurance bill annually if they opt for high over low coverage.
Credit History Rates
Save for a very few states where it's illegal to do so, car insurance companies can and will look at your credit score and use it as one of the determining factors to assess your annual coverage premiums. Delaware auto insurance companies are permitted to review your credit history when determining your rates.
Depending on your credit habits, you could see a noticeable reduction or rise in your annual car insurance premiums. 
A 2017 study released by Experian found that the average Delawarean has a median VantageScore of 672, with 3.13 credit cards, and an average balance of $6,366. This VantageScore is just below the national median of 675.
Take a look at the following table to identify how your current credit card usage habits could affect your annual Delaware auto insurance rates.
Once again, Liberty Mutual charges the highest rates across the board and the widest gap in premium costs to consumers who have a good vs. poor credit history. In fact, they charge consumers with poor credit roughly $11,400 more in yearly premiums than insureds with good credit!
On the other end of the spectrum, you have a carrier like Travelers, that charges only about $600 more per year to individuals with poor vs. good credit.
The lesson to be learned here is that a less than stellar credit history doesn't mean you have to break the bank just to cover the costs of Delaware auto insurance.
Plus, if your credit score isn't quite where you'd like it to be, starting to work on your spending habits and credit usage now could mean you'll see a reduction in rates down the line. Who doesn't want to save money on auto insurance?
Driving Record Rates
It likely isn't a shock that your driving record is one of the most crucial components Delaware auto insurance companies will look at when assessing your annual premiums.
Why is this?
Your driving history is a direct indication to any auto insurance company as to how much of a risk you pose to cover. If your driving record is fraught with violations and accidents, insurance companies deem it more likely that they will have to pay out on your policy more often.
The greater the risk a consumer poses, the steeper their premiums will be. 
Don't just take our word for it. Check out the table below to let the data speak for itself.
A number of carriers listed here are more forgiving of certain driving violations than others, but it is worth noting that the data listed only shows the jump in rates for a single violation. If you incur multiple of any of the violations listed here on your record, the carrier may not be so understanding.
Let's look at a few concrete examples. For instance, Liberty Mutual charges insureds with one DUI over $12,000 more in annual premiums than they do to drivers with a clean record. In the case of a carrier like USAA, there's only about a $1,400 difference in rates charged to motorists with one DUI vs. a clean driving record.
If you currently have a clean driving record — you're in great shape, and keep it up.
If your driving record has been marred by some violations, now is the time to start improving your driving habits, both for the sake of your safety and that of other motorists on the road. Not only that but improving your driving record now could lead to cheaper premiums eventually when your policy renewal comes up again.
The 10 Largest Car Insurance Companies in Delaware
Number of Car Insurance Providers in Delaware
Driving Laws in Delaware
Now that you're an authority on the primary elements Delaware auto insurance companies factor into the mix when determining your rates, it's time to delve into an equally important subject — driving laws in The First State.
From the lowdown on high-risk insurance coverage to the requirements for new residents to license renewal procedures, we've got you covered.
Delaware's Car Insurance Laws
Knowing the key Delaware auto insurance laws won't just help you and your family stay safe on the road. Understanding these requirements governing all motorists in The First State could also save you time, stress, and help you keep your car insurance costs down in the long run.
Sounds like something you need to know, right? Let's get things underway.
High-Risk Insurance
If you have a long history of accidents or driving violations, you may not just find it difficult to secure Delaware auto insurance coverage — you could find it impossible. If you've found yourself in this challenging predicament, the Delaware Automobile Insurance Plan (DAIP) could be a viable solution for you.
For drivers who have been refused coverage by Delaware auto insurance companies due to a history of violations such as accidents or DUIs, the DAIP can be an excellent option to secure coverage outside of the voluntary car insurance market.
Provided you fulfill the eligibility requirements, you will be guaranteed car insurance and be required to carry and maintain at least the state-mandated minimum coverages.
Since its inception in 1947, the DAIP has existed to guarantee auto insurance coverage to drivers who are unable to secure insurance through the voluntary insurance market. The DAIP will assign you a Delaware auto insurance company rather than allowing you to select your insurer yourself.
The company you are assigned is based on the carrier's share of the insurance market in the state. It is also key to realize that in addition to not being able to select your own carrier, your premiums will also be higher through the DAIP than they would be if you purchased insurance on your own.
As a result, the DAIP should only be a final resort if you simply can't secure insurance anywhere else. Any broker or agent who carries a current insurance license in the state of Delaware can assist you with applying to and securing coverage through DAIP.
In order to join the DAIP, you must fulfill the following criterion:
Be licensed in the state of Delaware
Have attempted to secure insurance in the 60 days prior and been unsuccessful in doing so or the insurance rates you were quoted were higher than they would be through DAIP
In addition, you will be required to agree that you will pay your bills in a timely fashion and that all the information included in your application is completely truthful. Some factors which could impede your eligibility status for coverage through DAIP include:
You will not be able to secure coverage if you have not fulfilled your insurance premiums to any carrier in the 12 months prior. However, you can move forward with your application if you pay the outstanding amount.
If you apply for collision and comprehensive coverage but fail to bring your vehicle to be visually inspected within the 30-day period following your policy issuance, your assigned carrier has the right to cancel your policy. The insurer can reinstate your policy if you bring your car in and it passes the inspection.
Once you apply for and are accepted into DAIP's high-risk pool, your coverage will be in force for a period of three years, provided you remain eligible and pay your bills on time.
This period is an ideal time to reduce your risk as a motorist so that when the time comes, you can secure more affordable insurance through the voluntary market once more. 
You will typically have three choices for fulfilling your DAIP premiums. These options are as follows:
Pay 30 percent of your yearly premium when you apply and pay the remainder within a period of 30 days following receipt of your mailed policy.
Pay 25 percent of your yearly premium when you apply, and the rest in an installment plan of five, equal payments. Installment plans do incur an additional fee of four dollars.
Pay the full yearly premium when you submit your application.
Once your three years of coverage have ended, if you still fall into the high-risk driver category, you will be permitted to apply once more to DAIP and be held as a new applicant. The program will review your application again and likely assign you a different carrier than before.
Low-Cost Insurance
Only a few states in the nation currently offer government-sponsored low-cost insurance plans to drivers who meet certain income thresholds. At this time, Delaware is not one of them.
Windshield Coverage
A number of states mandate a waived deductible for car repairs, and some require that original manufacturer replacement parts be used during repairs. As it stands now, Delaware doesn't have any laws in place specific to windshields.
You have the freedom to decide where you want to have repairs done, but of course, you may have to cover any price difference. If you are willing to make up the difference you can require the mechanic use only original manufacturer parts rather than used or aftermarket components.
Automobile Insurance Fraud in Delaware
In the state of Delaware, automobile insurance fraud is a criminalized act as laid out in the Delaware Insurance Fraud Prevention Act. There are numerous acts that are categorized as insurance fraud, and both insurers and insureds could be found guilty of committing this type of fraud.
For the purposes of this guide, we will take a closer look at consumer automobile insurance fraud in The First State. Examples of insurance fraud include:
Intentionally and knowingly supplying or assisting with supplying incomplete, untrue, or misleading information to an insurer in connection with an insurance application, claim, or any other policy benefit.
Preparing, supplying, or requesting that a certificate of insurance be issued when you know it contains untrue or misleading information regarding the policy.
If an individual is convicted of insurance fraud in the state of Delaware, they could face an administrative penalty imposed by the state's insurance commissioner of up to $10,000 for each instance of fraud. Delaware's Insurance Fraud Prevention Act also states the following:
In the event of nonpayment of the administrative penalty after all rights of appeal have been waived or exhausted, a civil action may be brought by the Commissioner in Superior Court for the collection of the administrative penalty, including interest, attorneys' fees and costs…
It is also at the Insurance Commissioner's discretion to require the guilty party to pay restitution to the insurer for any benefits paid out during the course of the fraudulent claim.
If you don't commit insurance fraud — you don't have to worry, because none of these penalties will ever apply to you.
If you know or suspect potential insurance fraud, you can contact the Delaware Department of Insurance Fraud Prevention Division hotline at (800) 632-5154. You can also contact the fraud division in the following ways:
Sending an email to [email protected]
Submitting a report via mail to

Fraud Prevention, 841 Silver Lake Blvd., Dover, DE 19904
Statute of Limitations
A statute of limitations is the state-mandated time limit you have to file a lawsuit. A case's statute of limitations depends on the type of damages incurred and the type of lawsuit.
A statute of limitations is not the same as the time in which you should file an insurance claim with your Delaware auto insurance carrier in the event of a rash. Most insurers require that you file a claim within days, or at the most, weeks following a collision.
In the state of Delaware, the personal injury statute of limitations applies to auto accident lawsuits, which means you have two years from the date of the accident to file with the courts. So, if you are involved in a car accident in Delaware and sustain injuries or vehicle damages in the crash, you have a two-year time limit set to file suit.
If the deadline passes and you attempt to file suit anyway, the case will almost certainly be dismissed.
This two-year statute of limitations also applies to wrongful death claims that a family member or estate representative can file when they lose a loved one in an auto accident due to a motorist's negligence.
In the case of wrongful death lawsuits, the statute of limitations commences on the day of the victim's death, which could potentially be after the date of the actual collision.
Delaware Modified Comparative Negligence in Auto Accidents
Under Delaware Code Title 10 Section 8132, you can still recover damages in a personal injury lawsuit even if you bear a portion of fault for the collision. However, your total awarded damages will be reduced by the portion of fault allotted to you in the accident.
In addition, you will not be able to recover any damages if you are found to be more than 50 percent at fault for the collision. Delaware's Modified Comparative Negligence rule governs a jury or judge awarding damages in a lawsuit if the case goes to trial.
An insurance adjuster will also keep these statutes in mind when engaging in any settlement proceedings. There is not a single, set approach to assign fault in an accident, and it really comes down to you and/or your attorney's ability to engage in negotiations with the adjuster or build a compelling case for the jury or judge.
Let's look at an example of the modified comparative negligence rule in action.
Suppose you were driving a few miles over the posted speed limit when the other driver turned in front of you, at which point your vehicles collided because you didn't have sufficient time to brake and stop.
The other motorist is found to bear 70 percent of the fault for the collision, but your speeding means you are assigned the remaining 30 percent of the fault. So, if you are awarded $20,000 in damages, that amount will be reduced by 30 percent or $6,000, leaving you with a $14,000 settlement.
Delaware's Vehicle Licensing Laws
The REAL ID Act enforces specific security standards for license issuance, impeding Federal agencies from accepting non-compliant IDs for certain purposes. Examples of such purposes include entering a federal building or boarding a domestic flight.
Delaware is compliant with the REAL ID standards, so Federal agencies can accept Delaware drivers licenses and IDs at Federal facilities such as nuclear power plants.
While the Department of Homeland Security started to enforce REAL ID as of January 2018, all individuals wishing to fly domestically will need a compliant license, ID, or accepted form of ID such as a passport by October 1, 2020.
Let's dive right into Delaware's vehicle licensing laws.
Penalties for Driving Without Insurance
Don't get behind the wheel in Delaware without auto insurance. Penalties for driving in Delaware without insurance are severe, and include:
A minimum $1,500 fine for first-time offenders
A minimum of $3,000 in fines for subsequent offenses occurring within three years of the former
Six month's suspension of driving privileges and/or license
You can provide proof of insurance in the form of:
An electronic copy of your insurance card on your mobile device
Carrier-issued insurance card
The auto insurance declarations page
Insurance policy binder
Remember, the Delaware Division of Motor Vehicles conducts a randomized audit each year on at least 10 percent of all cars registered statewide and requires the vehicle owners to submit proof of insurance.
If your vehicle or vehicles are chosen, you must have your auto insurance carrier submit Form FR-19 to the DMV to confirm that you are insured and your policy is active. 
You can also provide proof of financial responsibility in the form of cash, securities, or a surety bond, but the costly nature of these options make carrying Delaware auto insurance in at least the minimum required amounts the most common choice.
Teen Driver Laws
Here's a breakdown of teen driver laws in the state of Delaware.
For the learner's license stage:
You must be at least 16 years old to obtain your learner's permit
You must hold the permit for a minimum of six months
You must complete a minimum of 50 hours of supervised driving time, and 10 of these must be at night
To graduate to the intermediate driving stage, you must be at least 16.5 years old. Restrictions during this period include:
You cannot drive unsupervised between the hours of 10 P.M. and 6 A.M.
You cannot carry more than one passenger (not including family members)
Nighttime and passenger restrictions can be lifted after an additional six months or once the teen driver is issued a Class D license. The teen driver must also be at least 17 years of age to obtain a Class D license.
Older Driver and General Population License Renewal Procedure
In the state of Delaware, license renewal procedures both for older drivers and the general driving population are as follows:
Renew once every eight years
Provide proof of adequate vision at each renewal
Online or mail renewal is not permitted
New Residents
If you recently relocated to The First State, here's what you need to know about licensure procedures for new residents.
You must apply for your new Delaware license within a period of 60 days from when you begin residency
You must turn in your out of state drivers license or provide a certified, current copy of your driving record
You must also furnish the following documents:
Proof of legal presence
Proof of social security number
Two documents showing proof of residency in Delaware
Proof of legal name change (if applicable)
Visit the Acceptable Identification Document List published by the Delaware Divison of Motor Vehicles for additional information.
New residents must also complete the application and pass a vision test. Provided your out of state license is current, the road and written tests will likely be waived.
Negligent Operator Treatment System
Reckless driving is defined as a deliberate disregard for the safety and wellbeing of individuals and property. The penalties for reckless driving in Delaware include:
10 to 30 day's imprisonment and/or fines ranging from $100 to $300 for first-time offenders
For second and additional violations in the three years following the first, 30 to 60 day's imprisonment and/or fines ranging from $300 to $1,000
If convicted of reckless driving, you will also have six demerit points added to your driving record. If you receive 14 or more points in a period of 24 months, you will also face a mandatory suspension of your license.
Delaware's Rules of the Road
They say knowledge is power. Stay informed and safe when you get behind the wheel next and keep on reading for the essential rules of the road every Delaware driver needs to know about.
Fault vs. No-Fault
Delaware is a "fault" state, which means that whoever is responsible for an auto accident is also held responsible to cover the costs of damages incurred by other parties as a result.
From a practical standpoint, the at-fault driver's Delaware auto insurance company will cover the costs of things like medical expenses, lost wages, property damage expenses, and other losses stemming from the accident until policy limits are exhausted.
Once the at-fault driver's policy limits are exhausted, if there are damages still outstanding, the individual could be held personally liable to cover the remainder. Again, this is why it is always recommended to carry coverages above the state-required minimums to protect your assets in the case of an emergency.
Keep Right and Move Over Laws
Delaware's Keep Right Law falls under Delaware Code Title 21 Chapter 41, requires drivers to stay on the right side of the road unless:
Passing another vehicle driving in the same direction.
Driving on a roadway divided into three traffic lanes.
Driving on a roadway designated for one-way traffi.c
If an obstruction is in the roadway that makes it necessary to migrate to the left side of the center of the highway, provided you yield the right-of-way to vehicles traveling in the right direction in the unobstructed part of the roadway that is within close enough proximity to present a hazard.
Read more: Does my car insurance cover damage caused by a road hazard?
The state's Move Over law requires drivers to migrate to a lane not adjacent to and lower their speed if approaching a public utility vehicle, a tow truck with flashing lights, or stationary emergency vehicle.
Speed Limits
The speed limits in The First State are as follows:
65 mph on rural interstates and other limited access roads
55 mph on urban interstates and other roads
Seat Belt and Carseat Laws
Delaware's Seat Belt Law applies to individuals 16 years of age and up in all seats, with first-time violations incurring a maximum base fine of $25. Children seven years of age and younger who weigh under 66 pounds must be secured in a child safety seat.
Children who are between the ages of 8-15 or weight 66 pounds or more are permitted to wear an adult belt.
Violations incur a maximum base fine of $25.
If the passenger seat airbag is active, children who are 11 years of age or younger and are 65 inches or less in height must be seated in the rear seat.
Currently, Delaware doesn't have any laws in place regarding restrictions for passengers riding in the cargo areas of pickup trucks.
Ridesharing
Rideshare companies such as Uber and Lyft mandate that their drivers maintain insurance policies that at a minimum fulfill the state requirements for Delaware auto insurance coverage.
Few rideshare drivers carry their own coverage but are instead covered by their provider's commercial policy that safeguards all occupants including the driver and passengers.
Automation on the Road
Delaware does not currently have any autonomous vehicle laws in place, nor has the state authorized testing or deployment.
However, as of 2017, Governor John Carney signed the Executive Order 14, creating an Advisory Council on Connected and Autonomous Vehicles to investigate strategies, methodology, and tools to prepare the state's transportation system for the advent of autonomous vehicles.
Keep an eye on current and new developments as driverless cars could be just around the corner for The First State. Check out the video above to see how autonomous vehicles could affect motorists on Delaware's streets and roads.
Delaware's Safety Laws
Here's what Delaware motorists need to know about safety laws and penalties in the state.
DUI Laws
Marijuana-Impaired Driving Laws
Delaware currently has a zero tolerance law for THC and metabolites. However, as of June 2019, a new bill to legalize marijuana usage passed the Delaware House Committee, so stay tuned for further developments on that front.
As it stands now though, marijuana drugged driving is still a crime, so you shouldn't be getting behind the wheel with the drug in your system.
Distracted Driving Laws
Delaware imposes a ban on handheld devices for all drivers. All learner's permit and intermediate license holders are barred from using any cellphone will behind the wheel. There is also a texting ban in force for all motorists.
Delaware Fascinating Facts All Drivers Need to Know
Before you head out on the open road, it's vital to know just how safe the roads are in The First State for motorists.
For vehicle theft rates, driving fatalities, crash trends, and more — keep reading.
Vehicle Theft in Delaware
The table above reveals the most recent data released by the National Insurance Crime Bureau (NICB) regarding the top 10 stolen vehicles in Delaware as of 2016, and the most popular model year stolen of each.
A study the same year by the FBI's UCR division also revealed that there were 500 motor vehicle thefts in Wilmington in 2016 alone.
Risky/Harmful Driving Behavior
The tables below illustrate the most up to date driving statistics released by the National Highway Traffic Safety Administration (NHTSA), indicating the primary road dangers motorists in Delaware face daily.
Traffic Fatalities by Weather Condition and Light Condition
Fatalities by County
2017 Traffic Fatalities
Fatalities by Person Type
Fatalities by Crash Type
Five-Year Trend for the Top 10 Counties
Fatalities Involving Speeding by County
Fatalities in Crashes Involving an Alcohol-Impaired Driver by County
Teen Drinking and Driving
EMS Response Time
Transportation
The average Delaware worker spends approximately 25.1 minutes in commute time, which is just under the national median commute for the average U.S. worker of 25.5 minutes. Just 2.52 percent of workers in The First State has what is called a super commute over 90 minutes in duration.
Car Ownership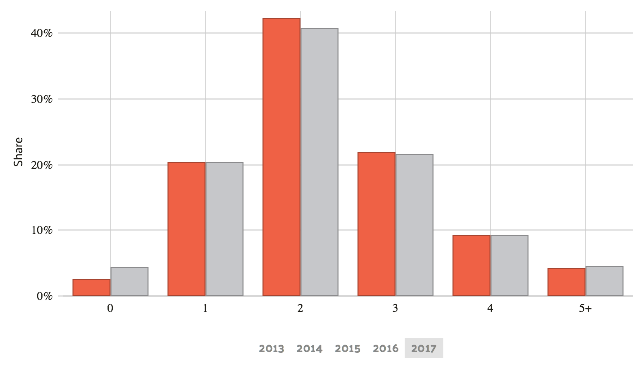 Commute Time
Commuter Transportation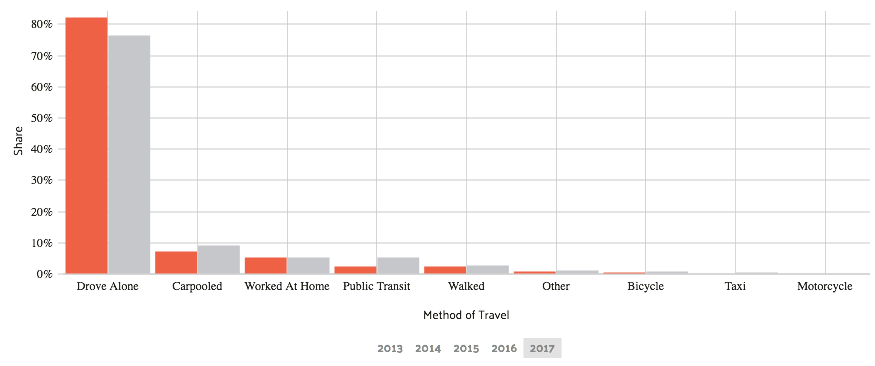 Whether your commute is an hour away, down the street, or just a few steps from your bedroom to your home office, don't spend another second wondering how you'll find the right Delaware auto insurance policy to cover all the drivers in your household.
Want to do your comparison shopping the quick and easy way? Get quotes for multiple Delaware auto insurance providers in seconds with our FREE online tool. Enter your zip code to get started!