The GEICO Mobile app is perhaps one of the most popular insurance-related smartphone applications on the market, due in large part to GEICO's huge advertising push starring Maxwell the Pig. While many other insurance companies have dipped their toes into the smartphone mobile app pool, GEICO remains the standard which the other apps are graded against.
Device Availability
The GEICO Mobile app is available on just about every mobile device that has hit the mainstream market. That includes iPhone, iPad, Android smartphones and tablets, and even the lesser used device, Kindle Fire.
The experience across each device is going to be fairly similar, since they are based on the same software. This also holds true for the features available, with new ones being added across all the devices (generally) at or around the same time.
App Features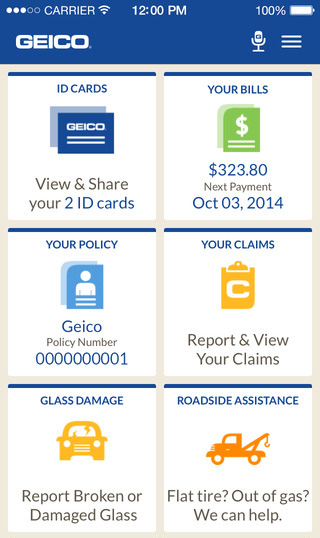 Unlike many other insurance company smartphone apps, the GEICO Mobile app can practically serve as a replacement for their website. In our research we uncovered nothing of importance that you can do on the full website that is unattainable on the mobile app.
The features available on the app include:
Get a new quote
View claims status
Update claims information
Pay your premium bill
Display mobile ID cards
Check your insurance coverage limits
View the discounts you qualify for
Call for roadside assistance (if your policy includes it)
Change personal information, including cars and drivers
Google Play / iTunes / Amazon Reviews
The GEICO Mobile app has surprisingly high star ratings on Google Play, the iTunes Store and Amazon.
At the time of this writing, there are over 18,000 reviews in the iTunes Store with a 4 star average. Google play shows a 4.5 star average with nearly 60,000 reviews.
It should be noted that Google Play has a much easier reviewing process, so there are generally many more reviews for popular apps like this one. The reviews are also easier to manipulate than on iTunes, so they often result in a better star rating.
Even the GEICO Mobile download page on Amazon shows an overwhelming number of positive reviews. Of the 28 current reviews, 16 are 5 stars and the average is 4 out of 5.
Pros and Cons
Pros
Easy to use
Allows changes to policies
Offers quotes for new policies
Digital ID Cards right on your phone
Cons
Reports of app not working on certain devices
Bottom Line
Often times when large organizations that are not really centered around technology we see feeble attempts at creating apps because the new craze is all about mobile. Their apps are generally very poor in quality and offer no real usable features.
The GEICO app is different.
The entire app was designed to take the place of the GEICO website, and nearly every feature you would possibly use is included. For all intents and purposes, an individual can manage their entire insurance portfolio, make claims and update account information all from their phone or tablet.

For a list of companies that we recommend, visit our Best Insurance Companies page.
Review Information
Summary
Reviewer
Review Date
Reviewed
Author Rating