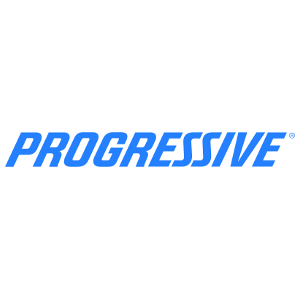 Key Info
Provider Specifics
Year Founded
1937
Current Executives
CEO: Tricia Griffith
CMO: Jeff Charney

Numbers of Employees
30,000
Total Sales
Total Assets (2018)
$32 billion
$46.575 billion
HQ Address
6300 Wilson Mills Road, Mayfield Village, OH 44143
Phone Number
(800) 776-4737
Company Website
https://www.progressive.com/
Direct Premiums Written (2017)
$27 billion
Loss Ratio
64.49%
Best For
Car Insurance
Think of any type of vehicle – boats, RVs, motorcycles, travel trailer, commercial vehicles – and Progressive would most probably offer insurance coverage for that. Progressive is one of the largest auto insurance companies in America, though the provider does offer home & property insurance and other lines of insurance as well.
Progressive was founded in 1937 but don't let yourself into believing that their ways are old – they were the pioneers of drive-in claims offices and redefined the insurance shopping experience.
If you want to buy a policy from Progressive, you can do so by phone, online, or through insurance agents and they claim to offer you a quote in just six minutes.
Progressive also offers a range of discounts for safe driving, good grades, making full payments in advance, electronic payments, etc. On that note, their famous Snapshot program – which is basically pay-as-you-drive – rewards drivers for being safe on the road.
In this insurance company guide, we will cover everything from rates to the ease of filing a claim at Progressive.
Ratings Agency
What factors influence you to buy car insurance coverage? Premium rates, maybe?
As most consumers compare insurance companies on the basis of quotes being offered, the financial strength of insurers is almost always ignored in the purchasing decision.
Checking the financial ratings of your insurance company would help you to know how well placed the insurer is in meeting its long-term insurance obligations.
To make it easier for consumers, independent financial rating agencies regularly assess the financial statements of insurance carriers for long-term business viability and utilize their in-house scale to assign a rating.
For Progressive, we would look at the ratings assigned by three noteworthy agencies i.e. A.M.Best, Moody's, and Standard and Poor's.
It's important to check the ratings from multiple agencies as the criteria and scale vary widely.
– A.M.Best Ratings
A.M. Best reports the financial strength of insurance companies across the world with ratings issued to more than 3,500 companies in over 90 countries. For more than 100 years, A.M.Best has been the trusted source for ratings amongst consumers.
What's the rating scale of A.M.Best?
Let's look at what ratings are assigned to insurers and what those ratings mean.
A++ and A+ Assigned to companies with a superior ability to meet their future insurance obligations
A and A-  Assigned to companies with an excellent ability to meet their future insurance obligations.
B++ and B+ Assigned to companies with a good ability to meet their future insurance obligations.
Any rating below B+ (from B to D) means that the insurance company has a fair to poor ability in meeting its contractual obligations. If you plan to buy from an insurer with a rating below B+, you should be prepared for the worst in future.
In 2018, A.M.Best assigned a Financial Strength Rating (FSR) of "A+" to the Progressive Group which means that the insurer has a superior ability to meet its future obligations.
– Moody's Ratings
Moody's Corporation is a leading business and financial services company with an exclusive focus on credit ratings through its subsidiary, Moody's Investor Services.
The rating agent focuses on both short-term and long-term ability of companies to meet their financial obligations. For the purpose of this guide, we would look at the rating scale of their long-term obligations only.
Aaa: Assigned to companies which are of the highest quality where the risk involved in minimum
Aa: Assigned to companies which are considered high-quality with a low-level of credit risk
A: Assigned to companies which are upper-medium-grade with a low-level of credit risk
Baa: Assigned to companies of the medium-grade with a moderate level of credit risk
Ratings beyond Baa (from Ba to C) mean that there's a high level of credit risk involved. Usually, you should stay away from companies which are assigned Caa, Ca, or C as these companies are either in default or are very close to a default.
Please note that Moody's assigns numerical modifiers (1, 2, & 3) to all the rating classifications to indicate the ranking for the generic categories, wherein 1 is the highest.
Progressive was assigned a rating of "A2" by Moody's indicating a strong ability to meet its contractual obligations
– Standard and Poor's
Better known as S&P, Standard and Poor's is a well-known index provider which also offers credit rating for investments, companies, and countries.
For your understanding, we would explain the long-term credit rating scale of S&P.
AAA: Assigned to companies whose capacity to meet its financial obligations is extremely strong
AA: Assigned to companies whose capacity to meet its financial obligations is very strong
A: Assigned to companies whose capacity to meet its financial obligations is strong, however, it's more prone to be affected by changes in the economic environment than the higher ratings
BBB: Assigned to companies who have an adequate capacity to meet its obligations
BB, B, CCC, CC, and C: These ratings signify that the obligations might be subject to significant speculations if the economic condition changes drastically, and the level of protection is quite low
S&P assigned a rating of "A" to the Progressive Corporation which means a stable credit outlook.
– J.D. Power
Financial ratings are vital to know if your insurance provider possesses the ability to settle your claims when required, but how do they actually serve customers when they are involved in an accident?
An insurer might have the financial strength to pay claims, but what leads to high customer satisfaction is their promptness in claims settlement after an accident is reported.
Is there a way to know whether customers are satisfied with Progressive?
To start with, there's the word-of-mouth way through which you can ask your colleagues or friends for their experience with Progressive. If you want more detailed research that's backed by facts, you should review the surveys conducted by J.D.Power.
J.D. Power's annual U.S. Auto Claims Satisfaction Study analyses satisfaction amongst consumers on multiple factors which includes Overall Satisfaction, First Notice of Loss, Estimation Process, Repair Process, Rental Experience, Claims Servicing, and Settlement.
For all these above-mentioned factors, Progressive was rated about average by customers during the survey. On the 1,000 point scale, Progressive scored 849.
– Better Business Bureau 
Registered as a non-profit organization, Better Business Bureau (BBB) aims to promote ethical business practices and enhance trust in the marketplace. BBB uses a specific criteria to rate businesses on their performance and reliability.
To rate these businesses, BBB assigns ratings in the range of A+ (highest) to F (lowest). Some companies are also assigned a No Rating (NR) because of lack of information or a pending review.
Unlike other ratings agencies, BBB focuses on consumer complaint data to rate a business because of which they use factors like complaint volume, unanswered complaints, unresolved complaints, and delayed complaint resolution to calculate their rating.
BBB rated Progressive an A- for its failure to respond to two consumer complaints.
– Consumer Reports
Another famous nonprofit entity that helps consumers make an informed decision, Consumer Reports, conducts surveys to understand the satisfaction level of consumers with the claims process of different providers.
During the Consumer Reports' 2017 Winter Survey, around 23,609 respondents were asked questions regarding their satisfaction level on several factors including – ease of reaching an agent, simplicity of the process, promptness of response, damage amount, and much more.
Progressive scored an 84 out of the 100-point scale which indicates that consumers were highly satisfied with their claims process. For each of those factors, consumers rated Progressive 'very good'.
– Consumer Affairs
If you need any help with your buying decisions, Consumer Affairs would provide you well-researched guides. This web-based service publishes verified reviews and expert resources so that consumers can make an informed choice.
As per the positive reviews of Progressive, customers are satisfied with their fast claims settlement process and continue renewing their policy because of the low rates.
The reviews also indicate that Progressive offers varied types of discount, some of which are, discounts for students, good drivers, and automatic electronic payments.
Since their website shows verified reviews, it could be really helpful for consumers to know what to expect from an insurer and what can be problematic for them.
For instance, Progressive doesn't offer discounts in all states, so you must check with them before buying a policy else you might end up paying a higher rate.
Problems aside, Progressive is associated with some of these benefits:
Offers discounts to almost all drivers
Outstanding customer service team
Fast claims settlement process
Provides add-ons like gap insurance and roadside assistance
– History – Progressive Corporation
Progressive was conceptualized from the small village of Mayfield in Ohio by a group of young lawyers who saw a profitable business in the auto insurance industry.
Over 50 years back, Progressive introduced monthly installments for payment of premiums to reduce the burden of consumers that comes with full payment.
Over the years, Progressive has invested a lot of effort in improving its claims process.
Progressive was the first insurer to introduce a drive-in service where motorists could come for a claim estimate during the 1940s.
They were also the first ones to bring a 24/7 claims service to help consumers report accidents at any time in 1990.
Four years later, the auto insurer added the Immediate Response® Vehicle which took claims expert to wherever the customers needed them.
They also have a concierge level service for claims available to personal auto insurance consumers and small businesses.
With such a deep level of focus in improving the claims service, Progressive really stands out in the auto insurance industry amongst consumers.
Even after all these years in the insurance business, they still specialize in auto insurance majorly and were successful in adding a personal touch to insurance by introducing their Flo ad campaign in 2008.
Here's a look at one of their ad commercials that helped consumers relate to insurance products.
In the year 1987, Progressive was listed on the New York Stock Exchange and trades under the PGR symbol. Today, the auto insurer is etched in the minds of consumers.
In the auto insurance landscape, Progressive is a huge name. Let's look at its market share now.
| Year | Direct Premiums Written | Loss Ratio | Market Share | Cumulative Market Share |
| --- | --- | --- | --- | --- |
| 2015 | $21 billion | 61.39% | 3.59% | 32.59% |
| 2016 | $23 billion | 65.87% | 3.88% | 29.40% |
| 2017 | $27 billion | 64.49% | 4.31% | 30.43% |
The market share of Progressive has increased over the three year period from 2015 to 2017, as reported by the National Association of Insurance Commissioners.
In 2015, Progressive was the sixth largest auto insurance provider in America, while in 2016 and 2017, it jumped up to the fifth rank.
Progressive' market share of 4.31 percent might seem meager, however, the largest insurance company, State Farm, holds 10 percent of the market.
How can you buy car insurance from Progressive?
You can get a quote from Progressive either online, by phone, or from an independent insurance agent. The insurance agent network of Progressive includes more than 38,000 agents and brokers.
The auto insurer gained a lot of fame when it introduced the Name Your Price tool to get an online quote. The tool allows motorists to feed the price they are willing to pay for coverage and calculates their quote accordingly.
Though motorists can name their price, the tool usually reduces coverage and increases deductibles to match the price. At times, you might get a quote within your budget through discounts that's applied throughout the process.
– Commercials
Usually, buying insurance isn't as fun as other shopping experiences. Because let's face the truth – insurance is a service that may or may not reap any benefits for you in the future, unless you get involved in an accident.
By understanding this mindset of consumers, Progressive ideated the superstore concept for insurance solutions in its ads wherein it boxed auto, home, and other coverages to show neat shelves that people can buy from.
Progressive's brand icon – Flo – is still fondly remembered and adored by consumers across the country after 10 years of its launch. Flo is someone who made the insurance shopping experience desirable for people.
Flo is not only used in TV commercials but also on Facebook and Twitter campaigns where people engage with the brand in huge numbers. If you browse through the YouTube channel of Progressive, the first thing that you would notice on the page is their mascot, Flo.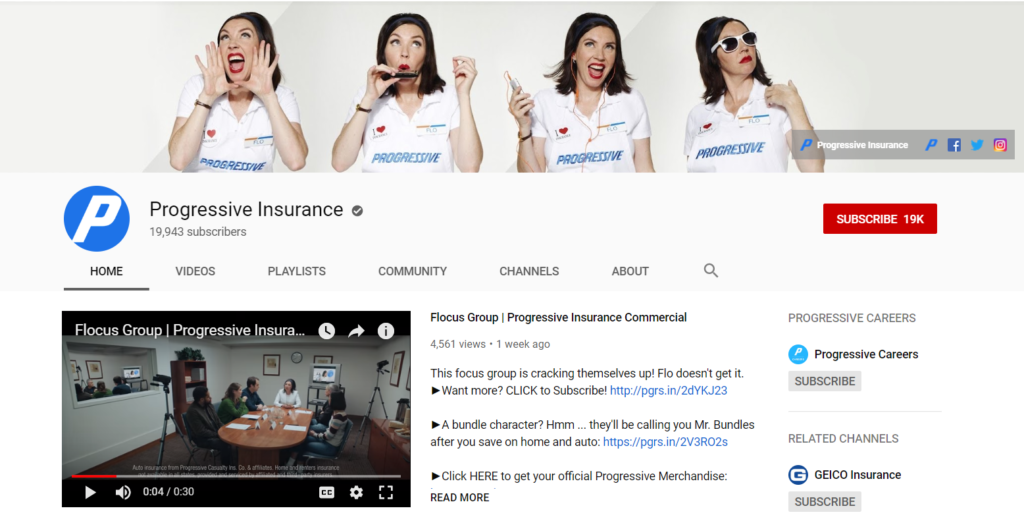 With its ad commercials, Progressive always manages to make a connection with consumers by talking about the new happenings in the world around us. Just like this ad below where a teenager is talking to technology for all his needs.
– Community Service
Progressive actively designs programs and encourages its employees to participate in volunteer opportunities at their local community. To make it easier for employees to get volunteer opportunities, they have started The Progressive Insurance Foundation.
Through their STEM Progress Program, they also introduce concepts and skills that would help young people become market ready in local schools.
Specific social responsibility acts undertaken by Progressive:
During the 2017 Atlantic hurricane season, Progressive not only responded promptly to claim requests from people who lost their belongings but also encouraged their employees to help colleagues who were affected by the damage.
Through its Keys to Progress program, Progressive organizes a one-day giveaway event around the country where refurbished vehicles are donated to veterans who are facing hardships in life.
Future Outlook
In the last three years, Progressive has registered a growth in its revenues, market share, and direct written premiums.
On average, Progressive was able to consistently increase its earnings in the last five years. With its specific focus on auto insurance, Progressive is well-placed in the insurance industry.
In addition, the insurer invests on using the latest technology to make payments & claims reporting simpler for consumers and keeps the brand identity intact with its Flo commercials.
– Age of Employees
The median age of employees at Progressive is 34 and the average tenure is 4.7 years.
– Employee Experience
Around 91 percent of employees find the work environment at Progressive great. The satisfaction of employees at Progressive is also evident from the fact that it featured on the 'Fortune 100 Best Companies to Work For' in 2018 and 2019.
Some of the reasons that make employees content at Progressive are – the welcoming environment for new employees, honest and ethical management, adequate resources, and the number of responsibilities assigned.
– Cheap Car Insurance Rates
One thing that Progressive is famous for is the variety of discounts it offers. Who else offers discounts if you pay the full amount in advance or set-up a monthly electronic payment?
Though Progressive wouldn't always offer you the cheapest rates across all the states, its highly transparent with the discounts it offers. You can also use their online tool to find a policy suitable for your needs at a price that fits your budget.
Let's look at their rates and compare it with other insurers.
– Car Insurance Rates by State
For your auto insurance rate research, we have collated data of the average annual premiums charged by Progressive in all the states. You can see the rates in your state and assess how much the rates deviate from the overall average.
| State | Annual Premiums | Compared to State Average (+/-) | Percentage Change (+/-) |
| --- | --- | --- | --- |
| Alaska | $3,062.85 | -$358.66 | -11.71% |
| Alabama | $4,450.52 | $883.56 | 19.85% |
| Arkansas | $5,312.09 | $1,187.11 | 22.35% |
| Arizona | $3,577.50 | -$193.47 | -5.41% |
| California | $2,849.67 | -$839.26 | -29.45% |
| Colorado | $4,231.92 | $355.53 | 8.40% |
| Connecticut | $4,920.35 | $301.43 | 6.13% |
| District of Columbia | $4,970.26 | $531.02 | 10.68% |
| Delaware | $4,181.83 | -$1,804.49 | -43.15% |
| Florida | $5,583.30 | $902.84 | 16.17% |
| Georgia | $4,499.22 | -$467.61 | -10.39% |
| Hawaii | $2,177.93 | -$377.71 | -17.34% |
| Iowa | $2,395.50 | -$585.78 | -24.45% |
| Idaho | NA in State | | |
| Illinois | $3,536.65 | $231.17 | 6.54% |
| Indiana | $3,898.00 | $483.03 | 12.39% |
| Kansas | $4,144.38 | $864.76 | 20.87% |
| Kentucky | $5,547.63 | $352.23 | 6.35% |
| Louisiana | $7,471.10 | $1,759.76 | 23.55% |
| Maine | $3,643.59 | $690.32 | 18.95% |
| Maryland | $4,094.86 | -$487.84 | -11.91% |
| Massachusetts | $3,835.11 | $1,156.26 | 30.15% |
| Michigan | $5,364.55 | -$5,134.09 | -95.70% |
| Minnesota | NA in State | | |
| Missouri | $3,419.14 | $90.21 | 2.64% |
| Mississippi | $4,308.85 | $644.28 | 14.95% |
| Montana | $4,330.76 | $1,109.92 | 25.63% |
| North Carolina | $2,382.61 | -$1,010.50 | -42.41% |
| North Dakota | $3,623.06 | -$542.78 | -14.98% |
| Nebraska | $3,758.01 | $474.33 | 12.62% |
| New Hampshire | $2,694.45 | -$457.32 | -16.97% |
| New Jersey | $3,972.72 | -$1,542.49 | -38.83% |
| New Mexico | $3,119.18 | -$344.46 | -11.04% |
| Nevada | $4,062.57 | -$799.13 | -19.67% |
| New York | $3,771.15 | -$518.73 | -13.76% |
| Ohio | $3,436.96 | $727.25 | 21.16% |
| Oklahoma | $4,832.35 | $690.03 | 14.28% |
| Oregon | $3,629.13 | $161.36 | 4.45% |
| Pennsylvania | $4,451.00 | $416.51 | 9.36% |
| Rhode Island | $5,231.09 | $227.73 | 4.35% |
| South Carolina | $4,573.08 | $791.94 | 17.32% |
| South Dakota | $3,752.81 | -$229.46 | -6.11% |
| Tennessee | $3,656.91 | -$3.98 | -0.11% |
| Texas | $4,664.69 | $621.41 | 13.32% |
| Utah | $3,830.10 | $218.21 | 5.70% |
| Virginia | $2,498.58 | $140.71 | 5.63% |
| Vermont | $5,217.14 | $1,983.01 | 38.01% |
| Washington | $3,209.52 | $150.20 | 4.68% |
| West Virginia | NA in State | | |
| Wisconsin | $3,128.91 | -$477.15 | -15.25% |
| Wyoming | $4,401.17 | $1,201.09 | 27.29% |
| Median | $3,935.36 | $274.47 | 6.97% |
In Delaware, North Carolina, New Jersey, the rate charged by Progressive is significantly lower than the state average. If you're in Michigan, you would save a lot in auto insurance premiums as the rate for Progressive is almost $5,000 lower than the average of $10,499.
– Car Insurance Rates by Provider
Everyone compares rates across different providers before making the buying decision. It goes without saying that you must consider other factors apart from the price, however, you must analyze what each insurer offers for the rate they are charging.
For instance, a particular insurance provider might offer great rates for above 30-year-old motorists but charges exorbitant rates for teenagers. In this situation, if you have to add a child to your policy, the total premiums might shoot through the roof.
While selecting a provider, you must see the quotes in light of your specific needs, rather than going for the cheapest provider at the moment.
| Insurance Group | Single 17-year old female | Single 17-year old male | Single 25-year old female | Single 25-year old male | Married 35-year old female | Married 35-year old male | Married 60-year old female | Married 60-year old male |
| --- | --- | --- | --- | --- | --- | --- | --- | --- |
| Allstate | $9,282.19 | $10,642.53 | $3,424.87 | $3,570.93 | $3,156.09 | $3,123.01 | $2,913.37 | $2,990.64 |
| American Family | $5,996.50 | $8,130.50 | $2,288.65 | $2,694.72 | $2,202.70 | $2,224.31 | $1,992.92 | $2,014.38 |
| Farmers | $8,521.97 | $9,144.04 | $2,946.80 | $3,041.44 | $2,556.98 | $2,557.75 | $2,336.80 | $2,448.39 |
| GEICO | $5,653.55 | $6,278.96 | $2,378.89 | $2,262.87 | $2,302.89 | $2,312.38 | $2,240.60 | $2,283.45 |
| Liberty Mutual | $11,621.01 | $13,718.69 | $3,959.67 | $4,503.13 | $3,802.77 | $3,856.84 | $3,445.00 | $3,680.53 |
| Nationwide | $5,756.37 | $7,175.31 | $2,686.48 | $2,889.04 | $2,360.49 | $2,387.43 | $2,130.26 | $2,214.62 |
| Progressive | $8,689.95 | $9,625.49 | $2,697.73 | $2,758.66 | $2,296.90 | $2,175.27 | $1,991.49 | $2,048.63 |
| State Farm | $5,953.88 | $7,324.34 | $2,335.96 | $2,554.56 | $2,081.72 | $2,081.72 | $1,873.89 | $1,873.89 |
| Travelers | $9,307.32 | $12,850.91 | $2,325.25 | $2,491.21 | $2,178.66 | $2,199.51 | $2,051.98 | $2,074.41 |
| USAA | $4,807.54 | $5,385.61 | $1,988.52 | $2,126.14 | $1,551.43 | $1,540.32 | $1,449.85 | $1,448.98 |
As illustrated in the table, Progressive wouldn't be a cheap option for single 17-year-old motorists. For married 35 and 60-year-olds, Progressive offers competitive rates which can be used as a base to start your research for the best provider.
– Car Insurance Rates by Annual Mileage
Your annual mileage also impacts your premium rates and different auto insurers make their own calculations to offer discounts for low annual mileage.
| Insurance Group | 10 miles commute/6000 Annual mileage. | 25 miles commute/12000 Annual mileage |
| --- | --- | --- |
| Allstate | $4,841.71 | $4,934.20 |
| American Family | $3,401.30 | $3,484.88 |
| Farmers | $4,179.32 | $4,209.22 |
| GEICO | $3,162.64 | $3,267.37 |
| Liberty Mutual | $5,995.27 | $6,151.63 |
| Nationwide | $3,437.33 | $3,462.67 |
| Progressive | $4,030.02 | $4,041.01 |
| State Farm | $3,175.98 | $3,344.01 |
| Travelers | $4,399.85 | $4,469.96 |
| USAA | $2,482.69 | $2,591.91 |
Insurance agents usually ask for an estimate of how many miles you drive on an average so that they can account for discounts, if any. As per the national average, there's a slight difference in the premium rates between those who drive 10 miles/day and 25 miles/day.
– Car Insurance Rates by Coverage Level
When motorists buy the state minimum insurance, they can get a cheap quote, however, low coverage isn't sufficient if you're involved in a massive accident.
Still, if you are on a budget, you have the option to lower your coverage level. Do remember that your personal assets might be at risk if your policy doesn't have coverage to pay-off damages in an accident.
| Insurance Provider | Low | Medium | High |
| --- | --- | --- | --- |
| Allstate | $4,628.03 | $4,896.81 | $5,139.02 |
| American Family | $3,368.49 | $3,544.37 | $3,416.40 |
| Farmers | $3,922.47 | $4,166.22 | $4,494.13 |
| GEICO | $3,001.91 | $3,213.97 | $3,429.14 |
| Liberty Mutual | $5,805.75 | $6,058.57 | $6,356.04 |
| Nationwide | $3,394.83 | $3,449.80 | $3,505.37 |
| Progressive | $3,737.13 | $4,018.46 | $4,350.96 |
| State Farm | $3,055.40 | $3,269.80 | $3,454.80 |
| Travelers | $4,223.63 | $4,462.02 | $4,619.07 |
| USAA | $2,404.11 | $2,539.87 | $2,667.92 |
– Car Insurance Rates by Credit History
Credit scores determine your ability to meet your future payment obligations and a poor credit score doesn't portray a profitable picture for insurance companies.
If you have defaulted on payments earlier, auto insurers would raise your premium rates to cover any losses that may arise in future due to non-payment of premiums.
| Insurance Group | Poor | Fair | Good |
| --- | --- | --- | --- |
| Allstate | $6,490.65 | $4,581.16 | $3,859.66 |
| American Family | $4,467.98 | $3,169.53 | $2,691.74 |
| Farmers | $4,864.14 | $3,899.41 | $3,677.12 |
| GEICO | $4,259.50 | $2,986.79 | $2,434.82 |
| Liberty Mutual | $8,802.22 | $5,604.24 | $4,388.18 |
| Nationwide | $4,083.29 | $3,254.83 | $2,925.94 |
| Progressive | $4,737.64 | $3,956.31 | $3,628.85 |
| State Farm | $4,951.20 | $2,853.00 | $2,174.26 |
| Travelers | $5,160.22 | $4,344.10 | $4,058.97 |
| USAA | $3,690.73 | $2,219.83 | $1,821.20 |
Most auto insurers are charging higher premiums from those who have a poor credit record so you can compare rates amongst insurers who don't penalize significantly on the basis of credit score.
– Car Insurance Rates by Driving Record
Since car insurance exists as a product to protect people from risky drivers, your driving record is a major factor in determining your rates. Depending on the type of record on your driving history, premium rates are calculated.
| Insurance Group | Clean record | With 1 accident | With 1 DUI | With 1 speeding violation |
| --- | --- | --- | --- | --- |
| Allstate | $3,819.90 | $4,987.68 | $6,260.73 | $4,483.51 |
| American Family | $2,693.61 | $3,722.75 | $4,330.24 | $3,025.74 |
| Farmers | $3,460.60 | $4,518.73 | $4,718.75 | $4,079.01 |
| GEICO | $2,145.96 | $3,192.77 | $4,875.87 | $2,645.43 |
| Liberty Mutual | $4,774.30 | $6,204.78 | $7,613.48 | $5,701.26 |
| Nationwide | $2,746.18 | $3,396.95 | $4,543.20 | $3,113.68 |
| Progressive | $3,393.09 | $4,777.04 | $3,969.65 | $4,002.28 |
| State Farm | $2,821.18 | $3,396.01 | $3,636.80 | $3,186.01 |
| Travelers | $3,447.69 | $4,289.74 | $5,741.40 | $4,260.80 |
| USAA | $1,933.68 | $2,516.24 | $3,506.03 | $2,193.25 |
Speeding violations and accidents do impact your rates, however, most auto insurers severely penalize those with a DUI (driving under the influence) record.
Unlike others, Progressive charges higher rates from those who have a speeding violation or accident record than DUI. For those with a DUI record, Progressive seems like a reasonable option.
Insurance Coverage
Most of the car accidents happen because of an error in judgment or reasons out of a motorists' control that might lead to medical injuries and property damage.
Which party pays for these damages in an accident?
What happens if you're hit by a motorist who is uninsured/underinsured?
Does your basic coverage pay for damages to the car from a flood?
Due to the multiple factors involved, car insurers understand the different scenarios that car owners might have to face while driving. These scenarios are grouped together to offer varied types of coverage that suits the specific situation of a motorist.
Let's see these groups for insurance coverage and what types of insurance Progressive offers.
– Injuries and Damage You Cause to Others
When you go out to buy auto insurance, liability coverage is the basic minimum that you must include in your policy. That's not just something good to have but is mandated by the state laws.
If you're the at-fault party in an accident, your liability coverage pays for the injuries and damages sustained by the third party.
Usually, liability covers bodily injury and property damage.
Bodily Injury Liability: Covers medical expenses and lost wages from an accident for all the parties injured by you.
Property Damage Liability: Covers damages of the car hit by you.
– Injuries and Damages Sustained By You
If you just buy the minimum state-mandated liability car insurance, your injuries or damages wouldn't be covered. For that, you will have to consider buying other coverage options.
Medical Payments: When you sustain injuries in an accident, your medical payments coverage would pay for the expenses, irrespective of fault.
Comprehensive Coverage: This covers damages to your vehicle from fire, theft, vandalism, hurricanes, or factors beyond your control.
Collision Coverage: In accidents, you end up hitting either another car or an object which results in damages to your car as well. Collision covers the cost of repair or replacement of your car.
Uninsured/Underinsured Coverage: Every motorist doesn't buy coverage (despite the law), hence you must protect yourself by buying uninsured coverage that would pay for damages if you're hit by an uninsured motorist.
– Bundling
Everyone tries to find ways to reduce their auto insurance premiums.
One sure shot trick to get a discounted rate is – bundling. When you buy more than one policy from Progressive, they offer bundling discounts.
Buying auto and homeowner's insurance together is quite common, but Progressive encourages people to try bundling auto and motorcycle, homeowners and RV, auto and boat, etc.
As per a survey of new policyholders in 2017, motorists saved around $1,029 annually when they bought an auto and home insurance through Progressive.
You can make any combination of more than one policy to get discounts at Progressive, however, these bundling discounts aren't available in all states.
What if you already have an auto insurance policy with Progressive and want to buy a homeowner's policy?
Progressive makes bundling very simple for motorists and allows them to bundle policies anytime during the policy period. If you have an existing policy with them, you can certainly add a new policy and enjoy discounts on your current coverage.
– Locations Where Progressive Operates
Progressive operates in all 50 states of the US and District of Columbia.
Remember that the discounts and rates at Progressive vary across states and certain offers aren't available in some states.
Additional Options
Though Progressive is famous for auto insurance mainly, they also provide other coverage options such as ridesharing, life, health, pet insurance, etc.
These additional options might save you some money or protect you from certain risks that you face in day-to-day life.
Pay-as-you-drive or Usage-based insurance: When your rates are determined by your driving behavior, it's known as usage-based insurance.
How exactly does Progressive check your driving behavior?
Under their Snapshot program, Progressive tracks your driving pattern through a mobile app or a plug-in device. After installing either, you need to drive for six months during which your braking habits, speed limits, mileage driven, etc. are tracked.
You can check the progress on your mobile app or online to see whether you qualify for a discount or not. Be aware that risky driving behavior can raise your rates.
On program sign-up, motorists get an average discount of $26. After the program completion (usually six months), motorists usually save around $145.
Please note, usage-based discounts aren't available in Alaska, California, Hawaii, North Carolina, and New York.
Progressive also suggests driving behavior that can save you money under the program:
Avoid hard braking and acceleration
Limit driving between 12 a.m.-4 a.m.
Clock low mileage overall
Stay away from your phone while driving
– Ridesharing Coverage
With the ever-rising proliferation of ridesharing services across America, state legislators realized the need for special insurance coverage to protect the riders.
We are talking about Uber and Lyft.
Did you know that state laws mandate ridesharing companies to provide insurance coverage on these vehicles?
Around 46 states and territories in the US have laws pertaining to insurance coverage to protect riders between the time they are picked and dropped-off. These laws also aim to cover any damages to property or personal injuries to anyone while the driver is reaching the pick-up point.
At Progressive, auto drivers get two options for ridesharing coverage:
Personal auto policy endorsement: Progressive offers the option to include a ridesharing endorsement in the personal auto policy.
Commercial for-hire livery policy: Available in 38 states, the for-hire livery policy is more expensive than the ridesharing endorsement, but it covers the vehicle for both personal and commercial use.
– Commercial Insurance
Progressive provides insurance coverage for commercial auto as well as business owners.
Under commercial auto insurance, cars, trucks, vans, etc. are covered for liability and physical damage expenses. Progressive customizes commercial auto policies to meet the needs of all types of businesses taking into account seasonal changes.
– Discounts Offered
Progressive is known to offer a variety of discounts that can be availed by all kinds of motorists. Also, if you keep renewing your policy with Progressive consecutively for a couple of years, they might not even raise your premium rates after an accident.
Want to know how much you can save with Progressive?
| Type of Program | Average Discount (Percentage/Amount) |
| --- | --- |
| Multi-policy discount | 5% |
| Snapshot | $130 |
| Safe driver discount | 31% |
| Multi-car discount | 10% |
| Homeowner | 10% |
| Sign online | 8% |
| Online quote | 7% |
Multi-Policy Discount: When you buy two or more policies with Progressive, you will get a discounted rate on one of those policies. Bonus news for those who plan to buy both auto and home insurance in the near future – Progressive offer discounts on both if you bundle these two policies.
On average, you can expect to save 5 percent through bundling.
Snapshot Progam: This is simple – drive safe, and get discounts. Motorists have saved $130 on average with this program.
Safe Driver Discount: Progressive is really big on promoting safe driving behavior and if you don't have any accidents or violations in your record in the last three years, you can get discounts.
In 2016, motorists paid 31 percent less for coverage from Progressive than those who were involved in accidents or violated the traffic rules.
Multi-Car Discount: Insuring multiple cars with Progressive can also save you around 10 percent on premium rates. As long as the cars are parked at your address, you can add as many cars to the policy as you want.
Homeowner: When someone owns a home, they're considered more responsible and stable, hence the discounts. You can save nearly 10 percent if you own a home, even if it's not insured with Progressive.
Electronic Signatures: Signing your documents online can get you discounts of around 8 percent.
Get Online Quotes: This is the easiest of all, just get a quote online to save around 7 percent. Even when you involve a Progressive agent after getting a quote, your discount would still be applicable.
Paperless Transactions: Being environment-friendly can also save you some money, just order your statements and documents by e-mail.
Continuous Insurance: Discounts for longevity depends on the number of years you were continuously insured. Progressive would offer discounts irrespective of whoever you were insured with.
Teen Driver: Adding teen drivers to your policy can dwindle your monthly budget, however, with Progressive, you can get some discounts for teen drivers.
Good Student Discount: Getting good grades in school has its benefits. If you add a student who has maintained a grade of B or above, you can get discounts.
Pay in Full and Automatic Payments: Progressive offers discounts if you pay the six-months premium in advance or set-up automatic monthly payments from your checking account. Nothing can get better than this.
Apart from these discounts, you are also protected from rate hikes if you're involved in an accident where the claim amount is less than $500.

Long-term Progressive customers – more than five years – wouldn't be penalized with a rate hike if they are involved in an accident, provided they don't have any accident record in the past three years.
– How to Make a Claim at Progressive
Progressive works with customers to make the auto insurance claim process seamless for them. Here's how you can report a claim through Progressive:
Call on their number 1-800-776-4737
Report it online using your login credentials
After you report an accident, claims representative at Progressive get in touch with you within 24 hours to schedule a vehicle inspection, estimate the cost of repair, and also help you with repairs/towing.
If your policy offers a rental vehicle, you can also avail that service till the time your vehicle is being repaired.
An auto insurance coverage makes sense only when the claims process is smooth and your cost of repairs or medical expenses are settled by the insurance provider in time.
So, how can we know that for an insurer?
The written premiums data of an insurer tells us about what share of the market it holds, while the loss ratio tells us how many claims were settled from those premiums.
| Particulars | 2015 | 2016 | 2017 |
| --- | --- | --- | --- |
| Direct Premiums Written | 21,346,246 | 23,951,690 | 27,862,882 |
| Loss Ratio | 61.39% | 65.87% | 64.49% |
Progressive has registered a growth in direct written premiums from 2015 to 2017. When it comes to loss ratio, the auto insurer saw a slight decline in the year 2017 as compared to the previous year.
A loss ratio is the ratio of claims settled to premiums earned. If an insurer has a loss ratio of 64 percent and the premiums earned are $100, then the insurer paid $64 in premiums.
– Ease of Making a Claim at Progressive
Since Progressive was a pioneer of drive-in claims offices and offers 24/7 claims reporting service now, you needn't worry about what will happen if you're involved in an accident. Because Progressive would make everything smooth for you.
In the U.S. News & World Report study, around 60 percent of the respondents communicated about the ease of filing a claim with Progressive.
– How to Get a Quote Online at Progressive
Progressive offers discounts if you get a quote line – and, that's why this feature is quite popular amongst motorists.
If you need an auto insurance quote, you can simply visit their website which is quite informative and user-friendly. From there, you will be asked a set of questions that would help them calculate your rates.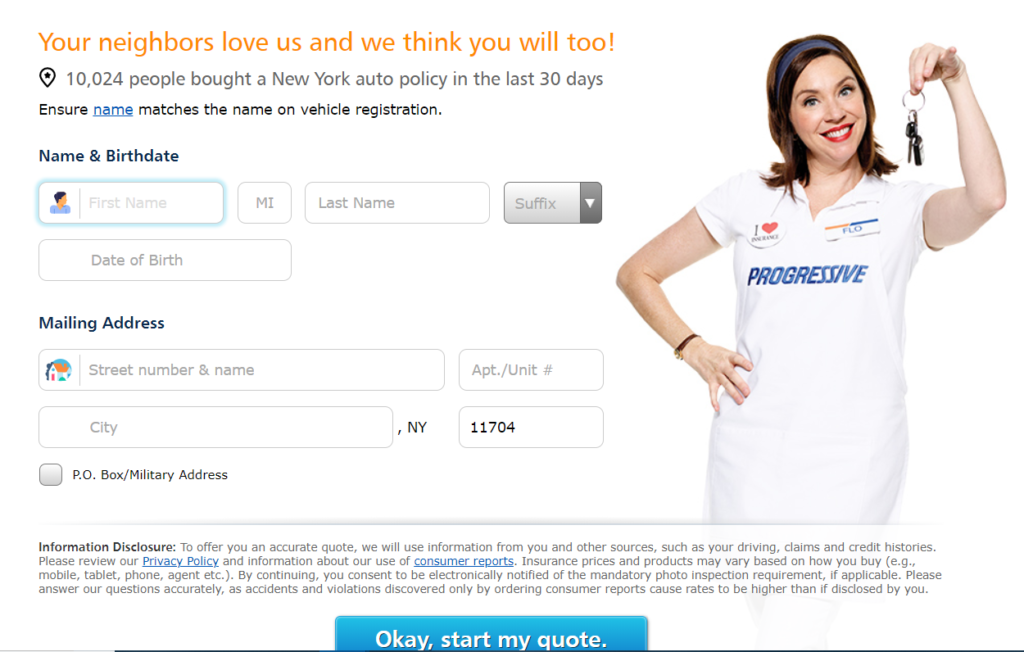 Once you enter details about your address, you will be asked about the type of vehicle you drive.
Apart from the make and model of the car, you will also be asked about the use of your car, whether you own it or lease it, and what type of security alarm is installed.
Your marital status, driving history, records of accidents or violations also make an impact on your premium rates, hence these details are always asked before the rate is determined.
Progressive also asks questions related to your existing insurance policies, your history with them, or any other policies that you have bought with them.
In case you don't forget about their Snapshot program, Progressive reminds customers to sign-up free for this program. In the next step, the online calculator also asks about adding other policies i.e. home, renters, or condo.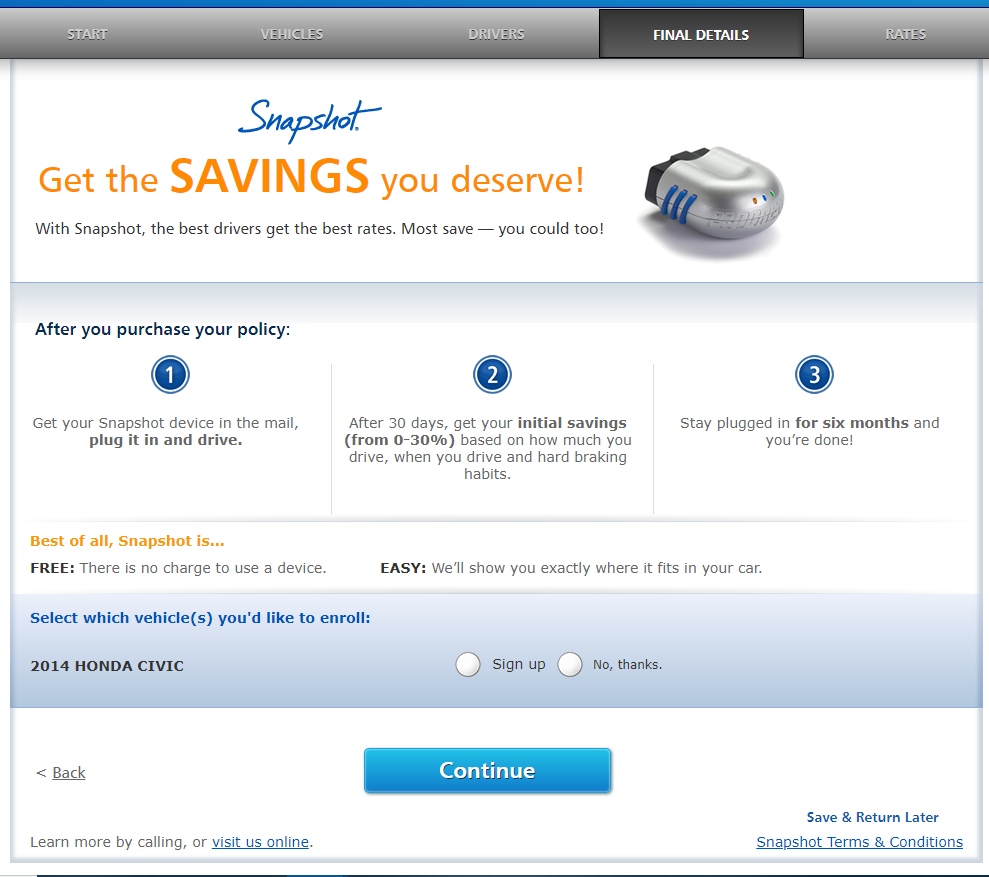 Depending on your choices, you would get a quote in the end which would clearly mention the discounts that were applied and options to save more money on the quote.
With the quote, you would also get a Name Your Price toolbox wherein you can enter the price you want to pay and the calculator would adjust your coverage accordingly or offer the lowest that you can pay for the policy.
The only personal identification information that you need to get a quote is your e-mail ID.
– Design of Progressive Website/Mobile App
When users access the website of Progressive, the first thing they see is an image of Flo. Placing Flo on the left side of the screen space ensures that users immediately connect with the brand through their famous icon.
How is the user experience?
To make the user experience seamless and smooth, Progressive enables users to get quotes on whichever coverage they wish to buy on the home page itself.
All the important elements that users look for when they visit an insurance company' website – products, quotes, claims, hotline number, and login option – can be found here.
Interestingly, Progressive keeps their website simple by avoiding any sliders or in-your-face banners that push products. They also want to educate customers through a separate section, Progressive Answers, which includes in-depth guides on insurance.
If their website has all the information, should you download their mobile app?
Progressive released its first app for car insurance in 2010 and has since made updates to the original app about two times per year. Since then, it has also developed the heralded SnapShot device that plugs into a vehicle's OBD-II port to gather information about driving habits with the intention of lowering insurance costs for consumers. The Progressive Mobile app, however, is in no way related to its more famous relative.
Device Availability
Android — Requires Android 2.3.3 or newer.
Apple — Requires iOS 6.0 or later, but compatible with iPhone, iPad, and iPod touch. Optimized for iPhone 5.
App Features
Like most insurance apps, Progressive's app will let you do a number of things from your smartphone or tablet.
Here is the basic list:
View coverage, ID cards and policy details for vehicles insured with Progressive.
Make a claim.
Support a claim with photos taken with your device.
Contact your agent or claims representative.
Pay a bill with credit or debit card, or set up payment from a checking account.
Limited access to policy documents.
Contact roadside assistance.
Find an authorized service center and have Progressive manage repairs.
Get an auto insurance quote.
What it can't do:
Although the app will get you a quote, you will still need to go online to buy the insurance.
Progressive has designed their app specifically to support auto insurance customers although the company does cover other types of vehicles such as motorcycles and RVs. Non-auto insurance coverage cannot be accessed from the app, although that is a feature being considered.
The app is only for individual policyholders.
Accounts with commercial auto coverage will still need to access the website for information and to obtain ID cards, make payments, etc. Look for a future development on this front, but very likely it will be its own unique app.
Some insurance apps covering vehicles offer local searches for gas, restaurants or shops. This feature is not available on the Progressive app, but has been requested by a large number of reviewers. Progressive has been responsive to its reviewers request, so this is a feature that may be under development.
Probably the biggest disappointment with the app is that it has no interactivity with the popular SnapShot program at Progressive.
Other mobile insurance apps are beginning to feature components in their app to track driving habits (like MetroMile), so it is not unreasonable to expect Progressive to make a move in the future to develop some interactivity such as being able to call up the statistics and patterns that SnapShot produces. SnapShot has been in the forefront of quantifying safe driving practices and rewarding them, but Progressive seems to be behind the curve in giving drivers access to the information.
Google Play / iTunes Reviews
Google Play — Rated 3.9 stars based on more than 7,000 reviews.
iTunes — Rated 2.5 stars based on 3,726 reviews.
The Progressive Mobile app is simple to use, comparatively reliable (based on reviews), and can give customers the most important element in an insurance mobile app: The ability to file a claim and substantiate it with photos and other information. We recommend it if you have an individual Progressive auto policy.
– Pros and Cons
We have now gathered quite a bit of insight on Progressive. Now, let's look at what works for customers and what doesn't.
| Pros | Cons |
| --- | --- |
| Offers tools and apps to help customers | Average customer ratings |
| Provides varied discounts | Discounts aren't available in all states |
Frequently Asked Questions (FAQs)
Can you buy a policy from Progressive online?
Progressive was one of the first companies that allowed customers to compare quotes online and was quick to offer the option of buying a policy online. The auto insurer encourages motorists by offering discounts on online purchase.
Is Progressive auto insurance good?
As a leading provider of auto insurance in the country, Progressive does have a large fan base, however, whether an insurer is good or bad would depend on your coverage needs. Most positive reviews about the company rave about their fast claims service and low rates.
Can the Snapshot program raise your insurance premiums?
The Snapshot program was designed to reward good driving behavior, however, if you're an extremely risky driver, your premiums might increase. Progressive claims on their website that only two out of 10 motorists are penalized with a rate hike.

For a list of companies that we recommend, visit our Best Insurance Companies page.
Review Information
Summary
Reviewer
Review Date
Reviewed
Author Rating