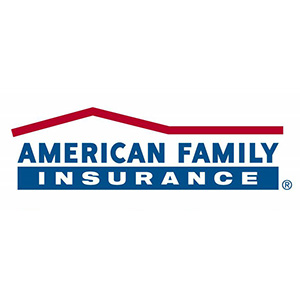 This nearly 100-year-old mutual company is a homegrown insurer focused mainly on just what the name implies – the needs of American families. American Family Insurance's marketing promises to protect you while you pursue your dreams, and provides a full range of products to help do that.
American Family Summary
American Family Insurance (also referred to as AmFam) was founded in 1927 as Farmers Mutual Insurance Company (no connection to Farmer's Insurance). Similar to several other insurance companies that started around this era, the mutual company was designed to serve the needs of farmers, providing them with auto insurance.
As the company grew and expanded to offer new products and open beyond the farm market, they changed their name. In 1963 Farmer's Mutual became American Family Mutual Insurance Company. They have made numerous acquisitions of other companies over the years and expanded their service area. Their most recent expansion was into Georgia in 2009.
Today, American Family offers a long list of personal products including the big three – auto, home, and life – as well as specialty products ranging from recreational vehicles to snowmobiles. They write policies directly as well as through a list of subsidiary companies:
American Family Mutual Insurance Company
American Standard Insurance Company
American Family Life Insurance Company
American Family Brokerage, Inc.
American Family Insurance Company of Ohio
American Standard Insurance Company of Ohio
American Family Securities, LLC
Amfam.com Inc.
PGC Holdings Corporation (General Insurance Companies "The General")
Homesite Insurance
The two most recent acquisitions are The General – a discount auto insurance company – in 2012, and Homesite Insurance in 2013.
American Family's headquarters is in Madison, WI. At one point, the company had 12 regional offices, but reduced the number to four in 2011. They serve 19 states: Arizona, Colorado, Georgia, Idaho, Illinois, Indiana, Iowa, Kansas, Minnesota, Missouri, Nebraska, Nevada, North Dakota, Ohio, Oregon, South Dakota, Utah, Washington and Wisconsin, although products offerings differ from state to state.
American Family policies are sold through independent agents, more than 3500 across the operating states. Quoting for some policy types is available online, although the quoting system is clunky and requires a lot of information.

American Family Products
The product lineup from American Family is comprehensive, especially when it comes to their main focus, personal lines. They do offer business insurance as well, and a variety of other coverage including farm & ranch insurance, travel, and even access to health insurance through partners.
Auto Insurance
American Family's first product offering is still their biggest line of business, and they write all of the basic coverage you would expect on a standard auto policy. There are a few options that are a little less common, such as Accidental Death & Dismemberment coverage.
American Family car insurance discounts are somewhat limited, leaving off some of the more specific discounts many large insurers offer. Available discounts include:
Auto/Home
Auto/Life
Multi-Vehicle
Good Student
Accident-Free
Defensive Driving Course
American Family has an award-winning program for young drivers called the Teen Safe Driver Program. It uses in-car technology called the DriveCam system to record driving behavior and provide feedback that helps teens improve. Studies of the program have shown large reductions in dangerous driving behavior, up to 70%. The National Safety Council gave the program its Teen Driving Safety Leadership Award in 2010.
American Family also has a usage-based insurance program, which most major insurers have introduced in recent years. Their version is called mySafetyValet, and it's advertised to policyholders as a method of becoming a better driver. American Family offers a 5% discount just for signing up for the program, which involves placing a small device in your car to monitor your driving behavior and earn you even more discounts. Currently, the majority of these systems can only be beneficial to the user, as there is not penalty if the device records poor driving habits, just a reward for good driving. However, some insurance companies are moving towards penalizing unsafe driving habits, so it is something important to be aware of for the future.
Homeowner's Insurance
American Family's homeowner's insurance covers all of the basics – replacement cost for the structure itself, personal property, and liability. American Family also offers a list of optional add-ons and upgrades for homeowner's, including:
Personal property replacement cost
Scheduled Personal Property
Identity Theft
Personal Injury
Home Day Care
Home Office and Studio
Vacant Home
Sewer and Sump Pump Backup
Auto and home bundling are available along with other discounts to bring down rates. In addition to covering standard single-family homes, there are also policies for:
Condo Insurance
Mobile and Manufactured Home
Renter's Insurance to cover personal property for tenants
Life Insurance
Both standard term with various lengths and whole life are available from American Family, along with two other options. These are a simple term and a more flexible option to round out the offerings.
The SimplyProtected Term Life is an easy to obtain policy good for those who need quick, basic coverage. These policies are affordable and a good place to start if you haven't purchased life insurance before.
MyLife is a flexible policy with two options. The Freedom option has higher coverage during the years when you need it most, and continuing protection into the later years of life. With this plan no premiums are necessary with reduced coverage in retirement. The Legacy option maximizes both coverage and cash accumulation over the years in order to provide for your family in the future.
Motorcycle Insurance
American Family offers two levels of motorcycle insurance, the Basic Plan and the Basic Plan Plus. They insure a variety of different types of bikes, from cruisers to sport bikes.
At the Basic level, you get liability, comprehensive, and collision coverage among other basic coverage. The Plus level also adds coverage for a wide variety of accessories from trailers to saddlebags. There are also a variety of discounts available for motorcycle insurance, including one for riders over 50, and multiple cycle discount.
Recreational and Off-Road Vehicles
Policies are available for recreational vehicles including motor homes and travel trailers, as well as for off-road vehicles such as snowmobiles and ATVs.
Damage and liability coverage specific to the needs of each type of vehicle are included in the policy. Recreational vehicle policies include extended personal property and roadside assistance, while trailer coverage is added for off-road vehicles. American Family has full-time policies for those who live on the road in their RV full-time, providing the extra coverage you need when spending most of your time traveling.
Boats and Watercraft
American Family covers a wide variety of watercraft, including sailboats, kayaks, and motorboats. Their policies include coverage for boats while on the water as well as on the trailer – and coverage for the trailer itself.
Sails, spars, and rigging are covered for sailboats, while motorized craft are covered for outboard motors and other manufacturer-installed equipment.
Business Insurance
American Family writes coverage for a variety of different small and mid-sized businesses including offices, medical and dental, janitorial, garage and auto repair.
Their small business package policies include general liability, employment practices liability, business property, and a variety of other coverage specific to the type of business. Some options are available as individual policies; while others come in packages so you can select the coverage you need most.
Farm and Ranch
American Family was started to serve farmers and it continues to serve them today with Farm and Ranch insurance policies. Coverage is provided for farm equipment, liability, dwelling, and personal property among other farm-specific needs.
These policies are specifically aimed at family-run farms that include a dwelling and personal property, and not at commercial operations.
Travel Insurance
American Family offers basic options for travel insurance including travel medical, trip cancellation, and both auto and boat coverage for trips into Mexico. The Mexican auto insurance is a convenient option, since many people wind up purchasing it from a random company just before crossing the border – buying from a trusted company provides more peace of mind.
Health Insurance
American Family offers health insurance products through Time Insurance Company, a subsidiary of Assurant Health. Plans include:
Major Medical
Dental
Medicare Supplemental
Other Products
There are several other products available from American Family, including flood insurance through the National Flood Insurance Plan and umbrella policies to cover excess liability above and beyond underlying policy limits.
Prices and Premiums
Our auto insurance rate test shows AmFam at 12% above average.
It should be noted that we were unable to obtain a quote for our usual test state, California, so we have used a comparable market for this analysis. All other details remain the same. Because of any discrepancy in price due to different underwriting, AmFam is given an additional 0.25 stars in the rating at the top of the page to cover any inconsistency.
American Family does offer discounts for bundling, so it is possible that better savings on premiums would be seen when you choose to cover both home and auto – if not life insurance as well, since there is a discount for that too. With a good list of discounts, American Family's auto premiums could probably come out closer to average if keeping everything under one roof. They will never be seen as a discount insurer, however, and that's not how they position themselves.
In order to justify higher rates, an insurance company has to offer service and products to match that rate. We'll take a look at how American Family stacks up in the service department a little further down, especially when it comes to claims.
Advertising and Media
American Family Insurance has somewhat of an old-school feel to their advertisements due to the use of a catchy song presentation of their company name – anyone who has heard it will instantly remember it when they hear the company name.
The logo is the roof of a house, hinting at the protection of a roof over you and yours, a strong connection to the company's usual message of covering you while you pursue the American Dream. Campaigns have leaned heavily on the idea of pursuing dreams as well, placing insurance as the backup plan that lets you go after whatever your dream might be without worry.
A 2015 Super Bowl spot featuring American Idol finalist and Academy Award winner Jennifer Hudson fits right into the concept of pursuing dreams. The star's appearance is a pretty big coup for a regional insurer, and the ad ran in the company's areas of operation. The ad launched to new tagline "Insure Carefully. Dream Fearlessly," a more inspirational version of the previous marketing position.
American Family has also put a lot of money and effort into support and sponsorship of charities, most notably a $10 million donation to fund the American Family Children's Hospital at the University of Wisconsin. They've also supported the United Way, Children's Miracle Network, and many other smaller charities throughout the states they work in.
The company also sponsors a variety of sports and athletic events, and uses them to tie in with charitable programs and donations as well as part of their concept of being a part of the communities they serve.
Claims
Claims are an important part of any insurance company's reputation, and the place where many insurance companies fail the test. For a company like AmFam, that sells the idea of protecting your dreams, claims are a very important part of the picture, especially since they are not offering the lowest rates around.
American Family has a number of ways of filing a claim, depending on the type of policy. Any claim can be filed by contacting the insurance agent of record, who can help determine how to proceed. The insurance agent is always a good place to start if you are not certain whether or not to file a claim or how your coverage will work – that's one of the upsides to choosing agent-sold insurance policies.
Auto, Home, Life and Business Insurance policyholders can call in their claims to the 24-hour claims line at 1-888-MY-AMFAM. Life insurance claims go through extension 78080.
The above mentioned policies (with the exception of life insurance) can also be filed online that takes customers through a four-step process. Life insurance must be filed over the phone or your agent.
Health Insurance claims are filed through a different toll-free number, at 1-888-755-3064.
The online system also allows policyholders to follow the claims process through the customer portal, keeping up on the status of a claim quickly and easily. Claims can also be followed over the phone or through an agent.
The website has a clear and easy to understand four-step outline of how claims are handled, which is very similar to the process seen at most insurance companies. Claims are reported, and then the policyholder can expect to be contacted within one business day by a representative. The claim is reviewed and investigated to determine what happened and how your coverage applies. American Family promises timely completion of the process and benefits available as soon as possible.
When it comes to claims satisfaction, American Family is coming out ahead of most of its competitors. The J.D. Power study of claims satisfaction for 2016 ranked American Family a 4 out of 5 overall, which places it above average and above most of the companies that were surveyed.
The are three areas on the survey where American Family had lower rankings of 3 out of five were on appraisal, repair process, and settlement.
While reviews from customers out there show much of the common negativity that we usually see, there are also some very positive reviews of the claims department. That is significant because happy people do not usually write reviews, while unhappy people do. The fact that American Family impressed some people enough write a positive review is a good sign.
Consumer Feedback and Reviews
American Family ranks similar in the 2016 J.D. Power Insurance Shopping Study . They received a 4 out of 5 here overall, getting as low as 4 out of 5 in each category rated.
Out of 95 ratings on ConsumerAffairs.com, 72 are 1-star reviews and 7 are 2-star reviews, and ten are 5-star reviews. This is pretty typical for this particular site, which is generally a forum for complaints against insurance companies rather than the type of place a customer might go to report how pleased they are. The number of reviews overall is fairly low, which suggests there are plenty of happy customers who didn't bother to write a review.
American Family Insurance is not BBB accredited, and they currently have a A rating. Our previous review of the company showed a B rating, therefore there has been an update on the BBB site which is a good sign.
Overall, the BBB has 271 complaints in the past three years against American Family on record. Ninety-five of those were closed in the last 12 months. There are also some negative reviews that have been left on the BBB website; not many, but there are rarely a large number of reviews found on this particular site. The number of complaints isn't terribly high for the size of the company, but the unresolved ones are fairly unusual, as most large insurers are quick to respond and handle this type of complaint.
There are not any major controversies or lawsuits to report, and no government actions against the company. It is fairly common to see a lot of negative reviews of insurance companies, usually due to the fact that many people misunderstand how their policies work or are simply angry for a variety of reasons. That does not mean we should overlook the negative reviews, but in this case the actual number of reviews overall, even if most are negative, is not very concerning.
Bottom Line
American Family Insurance is one of the larger regional insurers, offering policies in 19 states. Their rates are a little on the high side, but it is possible that they could become more reasonable given the right combination of discounts. They have a good range of products and can provide a one-stop shopping experience for most personal lines customers, as well as small business options.
A strong, reputable claims department puts this company ahead of the pack. Claims are the time when an insurance company is truly put to the test and it's fairly safe to say it's this experience that matters most in the end to anyone who actually has to use their insurance. Overall, this company comes out with a pretty good reputation.
American Family is a good choice for those who want to bundle insurance policies such as auto, home, and life and can benefit from the available discounts. Rates are likely to be best for people with a good driving record and generally low-risk insurance needs. Unfortunately, there are a lot of states for which American Family is not yet an option; however, for those who do have access it is worth checking out.

For a list of companies that we recommend, visit our Best Insurance Companies page.
Review Information
Summary
Reviewer
Review Date
Reviewed
American Family Insurance
Author Rating