The General Auto Insurance Review & Complaints: Car Insurance
The General Auto Insurance review shows the company promises affordable rates to drivers that are high-risk. Writing mainly non-standard auto coverage, The General Auto Insurance Company rates are higher that standard companies like Progressive as they offers policies to drivers with traffic tickets, accidents, and credit issues. One DUI will raise your rates to about $410 a month. Although The General quotes aren't available online, you can compare rates here.
Are you looking for free insurance quotes?
Secured with SHA-256 Encryption
UPDATED: Apr 19, 2021
It's all about you. We want to help you make the right coverage choices.
Advertiser Disclosure: We strive to help you make confident insurance decisions. Comparison shopping should be easy. We are not affiliated with any one insurance provider and cannot guarantee quotes from any single provider.
Our insurance industry partnerships don't influence our content. Our opinions are our own. To compare quotes from many different insurance companies please enter your ZIP code on this page to use the free quote tool. The more quotes you compare, the more chances to save.
Editorial Guidelines: We are a free online resource for anyone interested in learning more about insurance. Our goal is to be an objective, third-party resource for everything insurance related. We update our site regularly, and all content is reviewed by insurance experts.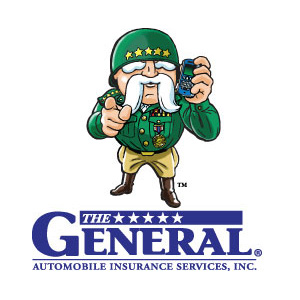 What are the highlights?

The General offers auto insurance to high-risk drivers
Car insurance for high-risk category drivers is much more expensive
One DUI can raise your rates to about $410 a month for an SR 22 policy
It is difficult to get a complete online quote from The General
The General insurance reviews for customer service are mixed
 It can be hard to find the best insurance companies when you don't have the best driving record, but there are some good options out there. Our The General auto insurance review can help you decide if it's the right choice for you.
The General should not be confused with Lamar General Agency Insurance. Both The General and the Lamar General agency specializes in high-risk drivers while promising affordable rates, a combination that can be difficult to find.
The General's memorable mascot and lively commercials make them a recognizable brand among non-standard insurers.
Looking for cheap high-risk insurance or other types of coverage like that offered by The General? Enter your ZIP and start comparing quotes right away.
What is The General Automobile Insurance Services, Inc.?
The General was founded in 1963 as Permanent General Agency, and later sold products as Permanent General Assurance Corporation (PGAC). In 1997, the name The General came into use, although the company remains officially PGAC.
The following year, American Family Insurance acquired The General, although they continue to operate as a separate company. The company is currently headquartered out of Nashville, Tennessee.
Policies are sold directly over the phone and online, as well as through independent insurance agents across the country. There are several service centers in other states, but not in all covered areas.
The General writes mainly non-standard car coverage and offers policies to drivers who have had trouble obtaining coverage elsewhere, due to matters such as:
Traffic tickets
Accidents
Credit issues
For those seeking the best insurance for an SR-22, The General might be on your list. The company also markets itself towards budget policy shoppers, offering low down payments and affordable billing options.
Your one-stop online insurance guide. Get free quotes now!
Secured with SHA-256 Encryption
What Types of Insurance Products Are Offered?
The General's rates are designed for those who are considered high-risk drivers, and as a result, insurance premiums are not necessarily meant to be competitive with major standard insurers.
Rates are likely to be on the high side for a driver with a clean record, but for those seeking non-standard insurance and still want comprehensive coverage, they may be more competitive.
The General does offer low down payments – slightly more than one monthly payment, likely due to a small new policy fee. That is less than some companies require to get a policy started.
The online quoting system is simple and straightforward, however, it does not provide any information in terms of what level of coverage is being quoted. This makes it difficult to compare their rate quotes and coverage options to other companies.
Without knowing what level of coverage and what coverage options might be included in the quote, it is impossible to make an apples-to-apples comparison with other companies. More detailed auto insurance quotes are likely available over the phone, or through an agent.
What Types of Car Policies Does The General Offer?
The General writes a lot of basic car policies, including liability-only. This is due to the fact that their target markets are high-risk drivers who are generally in need of basic coverage they can afford.
Your driving record is the number one factor car insurance companies look at when determining rates. Standard companies may be less lenient when it comes to your driving history and charge more for car insurance.
Check out this table to see just how much of an impact one traffic ticket, accident, or DUI can affect your car insurance rates with standard car insurers.
Average Annual Car Insurance Rates Based on Driving History
| Companies | Average Annual Rates with a Clean Record | Average Annual Rates with One Accident | Average Annual Rates with One DUI | Average Annual Rates with One Speeding Violation |
| --- | --- | --- | --- | --- |
| USAA | $1,933.68 | $2,516.24 | $3,506.03 | $2,193.25 |
| GEICO | $2,145.96 | $3,192.77 | $4,875.87 | $2,645.43 |
| American Family | $2,693.61 | $3,722.75 | $4,330.24 | $3,025.74 |
| Nationwide | $2,746.18 | $3,396.95 | $4,543.20 | $3,113.68 |
| State Farm | $2,821.18 | $3,396.01 | $3,636.80 | $3,186.01 |
| Progressive | $3,393.09 | $4,777.04 | $3,969.65 | $4,002.28 |
| Travelers | $3,447.69 | $4,289.74 | $5,741.40 | $4,260.80 |
| Farmers | $3,460.60 | $4,518.73 | $4,718.75 | $4,079.01 |
| Allstate | $3,819.90 | $4,987.68 | $6,260.73 | $4,483.51 |
| Liberty Mutual | $4,774.30 | $6,204.78 | $7,613.48 | $5,701.26 |
| | #blank# | #blank# | #blank# | #blank# |
If you have a clean driving record, you'll pay about $260 a month for car coverage. One accident will cause those rates to jump to around $340 a month. A DUI will skyrocket that rate to an average of $410 a month for SR 22 coverage.
Driving safely will save you over a hundred dollars a month.
Your rates are affected by many different factors, including age and where you live.
The General does also offers full coverage policies with comprehensive and collision. There is very little detail on the website in regards to policy options, and the company does not appear to offer much in the way of add-ons or added features.
The website also lacks information regarding available auto insurance discounts, although it does state that there is a paid in full discount.
There is no sign of any of the more common trends in car insurance such as accident forgiveness, although again, that's not surprising considering the target market for The General.
Are you looking for free insurance quotes?
Your one-stop online insurance guide. Get free quotes now!
Secured with SHA-256 Encryption
What Renters Insurance from The General is Available?
The General offers renter's insurance as a named perils policy – meaning it covers losses only from a specific list of causes.
Coverage includes personal property and liability, and there are optional riders available for high-value items and other options. Personal property coverage ranges from $15,000 to $100,000. Liability starts at $100,000. $1,000 in medical payments coverage is also included in the basic policy.
The company's website does not state whether or not The General offers a bundling discount for auto and renters.
Your one-stop online insurance guide. Get free quotes now!
Secured with SHA-256 Encryption
Can I File a Claim Online?
What is The General car insurance customer service line to start the insurance claims process?
The General phone number is a 24-hour toll-free line: 1-800-280-1466 for claims reporting, and also offers an app that can be used to submit a claim or check on the status of a pending claim.
The website is once again lacking in any sort of detailed information when it comes to claims. There is nothing about the process, although the site does provide a list of things policyholders should do in the event of an accident.
The General's customer portal, which can be used for policy management, does not appear to offer any claims status updates, but it appears that their mobile app provides access to this information.
Are There any Consumer Complaints Against the Company?
Is The General good to work with as a customer? The General car insurance reviews are mixed.
The General, under Permanent General Companies, Inc., is Better Business Bureau (BBB) accredited and has been since 2005. The BBB gives the company an A+ rating.
There are a total of 209 complaints against the company in the past three years. This may seem a little high, but not alarming for a company of this size. There are no government actions or other major problems listed.
When it comes to car insurance, customer service ratings are very important.
ConsumerAffairs.com has a total of 245 reviews of The General, with 56 star ratings, all of which are one-star reviews. Most of the complaints are related to claims and billing issues, with many stating that the company is unresponsive and has poor customer service.
What is the Company's Financial Strength Rating?
The General reviews for financial strength are promising.
The A.M. Best rating service gives Permanent General Assurance Companies, The General's parent company, a grade of A/Excellent, indicating their opinion that the company has an excellent ability to meet their ongoing obligations.
A.M. Best additionally classifies PGAC's financial outlook as stable.
Your one-stop online insurance guide. Get free quotes now!
Secured with SHA-256 Encryption
What's the Bottom Line?
The General is not worth considering for drivers without high-risk issues, as their rates are not intended to be competitive for the general market and are geared more toward drivers who need high-risk car insurance.
With a less than informative website, it is difficult to obtain a clear picture of what their products or services are or really cover.
It is also difficult to determine how competitive rates are, even for non-standard drivers. This is due to the fact that the quoting system provides no information regarding the coverage and limits being quoted.
Although The General may be difficult to get online quotes with, we can make it easy for you to compare quotes. Just enter your ZIP to get multiple car insurance quotes you can compare.
Here are a few of the most frequently asked questions about The General.
#1 – Is The General an actual insurance company?
Yes, and you can read our guide above to learn more about The General.
#2 – Is Lamar General Agency related to The General?
No, but both companies offer non-standard car insurance policies.
Your one-stop online insurance guide. Get free quotes now!
Secured with SHA-256 Encryption
#3 – Is The General the same as Progressive?
No, but they do have a lot in common. Both companies have very distinctive and recognizable television and other advertising, well-known name recognition, favorable ratings, and low-cost policy options.
While The General focuses on non-standard insurance, Progressive Insurance targets a broader audience. However, both companies are worth looking at more closely as you shop around for an insurance policy and cost that are right for you.
#4 – Does Shaq own The General?
No, but at one time Shaquille O'Neal, the former-athlete-turned-entrepreneur, appeared in one of The General's commercials. As of this writing, Shaq's photo also appears on The General's home page, right alongside The General himself.
References:
https://www.bbb.org/nashville/business-reviews/insurance-auto/permanent-general-companies-in-nashville-tn-10965