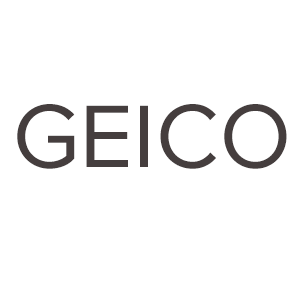 GEICO Overview
Details
Year Founded
1936
Current Executives
Tony Nicely - Executive Chairman
Bill Roberts - President and CEO
Number of Employees
40,000
Total Assets (2017)
$32 billion
HQ Address
5260 Western Avenue
Chevy Chase, MD
20815
Phone Number
1-800-841-3000
Company Website
www.geico.com
Premiums Written (Auto, 2017)
$29,596,404
Loss Ratio
77.14%
Best For
Budget shoppers
GEICO is one of the biggest names in car insurance and has been growing steadily thanks to a reputation for low prices and simplifying the process of buying a policy.
Although the company seems to have exploded onto the insurance scene in the past few decades, they have been around for more than 80 years.
GEICO's direct buy approach to car insurance originally set them apart from the traditional agent-sales method and promises a straightforward process with lower rates thanks to the lack of agent commissions and added overhead.
There's no question that GEICO is a low-cost car insurance company, but are they a good choice for your needs?
Choosing the right car insurance company and policy can be stressful, and it's hard to dig through all of the promises and advertising to get to the bottom line about a company like GEICO. You need straight facts, and you need them all in one place.
This review will do just that for you. We've gathered everything you need to know to decide if GEICO is a good pick for your car insurance – or not.
We'll cover GEICO's history, their ratings from major agencies as well as customer complaints, their rates for a variety of situations, and what kind of coverage they have to offer you.
GEICO Ratings
Let's start with the basics – how does GEICO rate? There are a number of different rating services and agencies out there that grade insurance companies. Take a look at how GEICO stacks up, and then we'll go over what each of these ratings means.
Ratings Agency
Rating
A.M. Best
A++
Better Business Bureau
B+
Moody's
Aa1
S&P
AA+
NAIC Complaint Index
0.80
JD Power
Claims Satisfaction 3/5
Shopping Study 3/5
Consumer Reports
89
You've probably heard of most of these, but might not be sure what each of the scores represents.
First, AM Best, where GEICO has the top score available of A++ (Superior). This is a financial strength rating and means GEICO is very financially stable and unlikely to have any difficulty keeping its promise to customers – paying claims, that is.
The Better Business Bureau (BBB) is a consumer organization that accepts complaints and monitors companies' response.
They rate based on the number of complaints by the size of the business, company response rate, and several other factors. GEICO is currently down a few notches with the BBB due to their failure to respond to one complaint.
In the past three years, 3,129 complaints were filed with the BBB against GEICO. That number looks huge, but considering how big GEICO is, it's not out of line.
Both Moody's and Standard and Poor's (S&P) rate companies for credit-worthiness and financial stability. GEICO has a very good rating with both; again that's a good sign for the company's future ability to handle claims.
The National Association of Insurance Commissioners (NAIC) gathers complaint information from state insurance departments and compiles them for each company.
Since GEICO actually operates as a group of companies (most large insurers do) there is more than one to choose from when looking at the complaints index.
The one shown in our chart is for the largest branch of GEICO's auto insurance market, GEICO General Insurance Company.
The national median is 1.00, which brings GEICO in under the average. That means they have fewer complaints than the average car insurance company.
J.D. Power rates companies in several industries based on consumer satisfaction surveys. In 2018, GEICO earned three out of five on both of the national level surveys. That's a rating of "about average". Nothing to be concerned about, but nothing to write home about either.
When researching for this review, I did some digging for customer complaints. And whew… there are a lot of them.
Finally, Consumer Reports also uses customer surveys to rate insurance companies out of 100. GEICO earned an 89, which is the same rating as State Farm and higher than major competitor Progressive, which earned 87.
If you simply look at the number of complaints filed against GEICO on various online forums, it can give the impression that they are a bad company. So it is important to look at them in comparison to other companies as well as their size.
Remember how GEICO just squeaked past Allstate to become the second largest auto insurer behind State Farm? Good, because that will provide some context for this section.
Allstate is roughly the same size as GEICO in terms of car insurance, with State Farm being almost twice as big. But the complaint totals on ConsumerAffairs.com show a slightly different story. Although not all negative, the majority are as, in our experience, most consumers go on the internet to write a review after a bad experience:
2,930 Complaints – GEICO
2,657 Complaints – State Farm
1,444 Complaints – AllState
The numbers on consumer complaint board Pissed Consumer show a similar pattern :
490 Complaints – Allstate
802 Complaints – GEICO
838 Complaints – State Farm
What complicates the Pissed Consumer numbers is that they do not distinguish between the different channels of insurance each company sells. So the complaints against Allstate include complaints about auto, home, life, etc. Where GEICO complaints are primarily about their auto insurance since that is the primary coverage they actually underwrite.
So a similar-sized company (Allstate) has about half the total complaints about their auto insurance, and a company nearly twice has big (State Farm) has roughly the same number of complaints. So we know on ConsumerAffairs.com that GEICO is about twice as likely to garner a complaint as the other two largest auto insurers.
Overall, GEICO has stellar financial ratings, but customer satisfaction ratings could be improved.
Company History
GEICO stands for Government Employees Insurance Company, and it was founded in 1936 for the purpose its name implies.
They marketed products exclusively to government employees and certain classes of military officers for the first forty years of their existences. In 1974, GEICO opened its products to the general public and shortly thereafter faced financial problems.
The company recovered from the difficulty of the 70s and in 1996 was acquired by Warren Buffet's conglomerate Berkshire Hathaway.
GECIO grew quickly on a national level. In 2000 they introduced the GEICO Gecko (more on that later), a marketing success that made GEICO one of the most recognizable names in insurance.
By 2015, GEICO had reached its current position as the second-largest car insurance company in the country. As growth continues, GEICO continues to sneak up on top insurer State Farm.
In 2015, GEICO held 11.41 percent of the total market share. That number went up to 11.89 percent in 2016 and up again to 12.79 percent.
As of 2017, GEICO is 5.28 percent behind State Farm and climbing, while State Farm lost .19 of its share between 2016 and 2017.
GEICO's parent company, Berkshire Hathaway, sits at number three on the Fortune 500 as of 2018. You'll sometimes see GEICO listed under the Berkshire Hathaway name when looking at ratings and rankings, such as the NAIC's market share list.
– Sales Approach
GEICO is well known for taking a modern approach to selling car insurance.
Their main focus is on sales through their national call center as well as online sales, but they do also have local agents. These agents are captive and can sell only GEICO products as well as products from GEICO-owned companies.
Currently, only a few markets are open to agent sales:
San Francisco, California
Jacksonville, Florida
Chicago, Illinois
St. Paul, Minnesota
Hudson Valley, New York
Philadelphia, Pennsylvania
Houston, Texas
Salt Lake City, Utah
Seattle-Tacoma, Washington
Milwaukee, Wisconsin
– Commercials
GEICO is pretty well known for its commercials; in fact, during the lead-up to the 2019 Super Bowl, they ran a contest asking people to vote on their favorite GEICO ad of all time.
The winner didn't feature either the Gecko or the famous GEICO caveman, but rather a different character altogether, a camel.
GEICO has always stuck to a pattern of lighthearted, funny commercials. The GEICO caveman, from a series of commercials stating "It's so easy even a caveman can do it" (save money with GEICO, that is) even won his own sitcom on ABC.
Although the sitcom didn't last, GEICO's use of their two most famous mascots did. Both appear on and off in new commercials.
GEICO's best-known slogan is the simple "15 minutes could save you 15 percent or more on car insurance", which shows the company's marketing focus on low price as a big draw.
– Community Service
Through the GEICO Cares program, the company is involved in a variety of charitable efforts. These include work with Habitat for Humanity, Paw For a Cause (for homeless animals), and the Game On! program aimed at enrichment programs for underserved youth.
GEICO also supports Children's National Hospital in Washington, D.C., which provides care to children regardless of ability to pay. The insurer has raised $3.4 million for the hospital.
The company also encourages volunteerism among employees and is dedicated to green efforts on a company-wide basis.
– GEICO's Position For The Future
GEICO is looking like the company to bet on for the future, considering its ongoing growth and financial stability.
Although the company's customer satisfaction ratings aren't as high as they could be, that doesn't seem to be affecting their growth. An improvement in that area can only mean bigger things for this company.
It seems likely that they will continue to close the gap on State Farm in the next few years.
– GEICO Employee Demographics and Experience
Thirty-three percent of GEICO's workforce has been with the company for less than two years according to Great Places to Work. An additional 25 percent have been there less than five years.
That doesn't necessarily mean the company isn't holding on to employees; a company that is growing fast hires a lot, which means there are a lot of new employees who haven't yet reached many years of tenure.
That said, only 6 percent of GEICO's workforce has been with the company for more than 20 years.
Great Places to Work has 68 percent of GEICO employees surveyed rating it as a great place to work, although the company performed well in underlying, more specific areas. 86 percent, for example, described it as a friendly place to work.
On Payscale, employees rate GEICO at a 3.4 out of 5 for job satisfaction. That's the same rating as State Farm, but a little lower than Progressive, which earned a 3.8 rating. Employees describe it has a stressful place to work, but also highly flexible.
– Awards and Accolades
GEICO and parent company Berkshire Hathaway have both won a number of awards and made a lot of "best of" lists. There's a full list on the GEICO website, but here are some highlights.
GEICO earned the top spot for customer loyalty on the Brand Keys Customer Loyalty Index in 2017.
They were also rated in the top spot by the Kanbay Research Institute for their customer service and knowledgable staff.
Berkshire Hathaway has been named one of the 100 Most Admired Companies by Fortune for several years running, including appearing at number three on the list behind Apple and Amazon for 2019.
Cheap Car Insurance Rates
GEICO is known for being cheap. It's how the company has positioned itself and how they've been advertising for decades. So how low are their rates really?
Every car insurance company's rates differ depending on a wide variety of factors. Who you are, what you drive, where you live, your driving record, and many more.
So while we can say one company has cheap rates on average, there's no guarantee they'll have the best rates for every possible scenario – in fact, that's unlikely.
We'll look at GEICO's rates from multiple angles; compared to other companies, averages across states, and for several driver-related scenarios.
– Rates By State
Here's a look at GEICO's average rates by state. Right away it's obvious they aren' t the cheapest option in every state, but they do perform pretty well.
| State | Annual Premium | Higher/Lower | % |
| --- | --- | --- | --- |
| Alaska | $2,879.96 | -$541.56 | -18.80% |
| Alabama | $2,866.60 | -$700.36 | -24.43% |
| Arkansas | $3,484.63 | -$640.35 | -18.38% |
| Arizona | $2,264.71 | -$1,506.26 | -66.51% |
| California | $2,885.65 | -$803.28 | -27.84% |
| Colorado | $3,091.69 | -$784.70 | -25.38% |
| Connecticut | $3,073.66 | -$1,545.26 | -50.27% |
| District of Columbia | $3,692.81 | -$746.43 | -20.21% |
| Delaware | $3,727.29 | -$2,259.04 | -60.61% |
| Florida | $3,783.63 | -$896.83 | -23.70% |
| Georgia | $2,977.20 | -$1,989.63 | -66.83% |
| Hawaii | $3,358.86 | $803.22 | 23.91% |
| Iowa | $2,296.16 | -$685.12 | -29.84% |
| Idaho | $2,770.68 | -$208.41 | -7.52% |
| Illinois | $2,779.16 | -$526.33 | -18.94% |
| Indiana | $2,261.07 | -$1,153.90 | -51.03% |
| Kansas | $3,220.65 | -$58.98 | -1.83% |
| Kentucky | $4,633.59 | -$561.81 | -12.12% |
| Louisiana | $6,154.60 | $443.25 | 7.20% |
| Maine | $2,823.05 | -$130.23 | -4.61% |
| Maryland | $3,832.63 | -$750.07 | -19.57% |
| Massachusetts | $1,510.17 | -$1,168.68 | -77.39% |
| Michigan | $6,430.11 | -$4,068.53 | -63.27% |
| Minnesota | $3,498.54 | -$904.72 | -25.86% |
| Missouri | $2,885.33 | -$443.61 | -15.37% |
| Mississippi | $4,087.21 | $422.64 | 10.34% |
| Montana | $3,602.35 | $381.50 | 10.59% |
| North Carolina | $2,936.69 | -$456.42 | -15.54% |
| North Dakota | $2,668.24 | -$1,497.60 | -56.13% |
| Nebraska | $3,837.49 | $553.81 | 14.43% |
| New Hampshire | $1,615.02 | -$1,536.76 | -95.15% |
| New Jersey | $2,754.94 | -$2,760.27 | -100.19% |
| New Mexico | $4,458.30 | $994.66 | 22.31% |
| Nevada | $3,662.09 | -$1,199.61 | -32.76% |
| New York | $2,428.24 | -$1,861.64 | -76.67% |
| Ohio | $1,867.19 | -$842.53 | -45.12% |
| Oklahoma | $3,437.34 | -$704.99 | -20.51% |
| Oregon | $3,220.12 | -$247.65 | -7.69% |
| Pennsylvania | $2,605.22 | -$1,429.28 | -54.86% |
| Rhode Island | $5,602.63 | $599.27 | 10.70% |
| South Carolina | $3,178.01 | -$603.13 | -18.98% |
| South Dakota | $2,940.29 | -$1,041.98 | -35.44% |
| Tennessee | $3,283.42 | -$377.47 | -11.50% |
| Texas | $3,263.28 | -$780.00 | -23.90% |
| Utah | $2,965.57 | -$646.32 | -21.79% |
| Virginia | $2,061.53 | -$296.35 | -14.38% |
| Vermont | $2,195.71 | -$1,038.42 | -47.29% |
| Washington | $2,568.65 | -$490.67 | -19.10% |
| West Virginia | $2,120.80 | -$474.56 | -22.38% |
| Wisconsin | $3,926.20 | $320.13 | 8.15% |
| Wyoming | $3,496.56 | $296.47 | 8.48% |
In 12 states GEICO's rate comes in more than 50 percent below average. In New Jersey, the cheapest state for GEICO, the rate is more than 100 percent below average.
They're only above average in nine states. New Mexico and Hawaii are the most expensive states to have GEICO and the only state where the rates are more than 20 percent above average.
– Rates Compared To Top Companies
This table shows the average rates, state by state, for the top ten companies in the United States, including GEICO.
State
ALLSTATE
AMERICAN
FAMILY
FARMERS
GEICO
LIBERTY
MUTUAL
NATIONWIDE
PROGRESSIVE
STATE FARM
TRAVELERS
USAA
Alaska
$3,145.31
$4,153.07
–
$2,879.96
$5,295.55
–
$3,062.85
$2,228.12
–
$2,454.21
Alabama
$3,311.52
–
$4,185.80
$2,866.60
$4,005.48
$2,662.66
$4,450.52
$4,798.15
$3,697.80
$2,124.09
Arkansas
$5,150.03
–
$4,257.87
$3,484.63
–
$3,861.79
$5,312.09
$2,789.03
$5,973.33
$2,171.06
Arizona
$4,904.10
–
$5,000.08
$2,264.71
–
$3,496.08
$3,577.50
$4,756.25
$3,084.74
$3,084.29
California
$4,532.96
–
$4,998.78
$2,885.65
$3,034.42
$4,653.19
$2,849.67
$4,202.28
$3,349.54
$2,693.87
Colorado
$5,537.17
$3,733.02
$5,290.24
$3,091.69
$2,797.74
$3,739.47
$4,231.92
$3,270.77
–
$3,338.87
Connecticut
$5,831.60
–
–
$3,073.66
$7,282.87
$3,672.34
$4,920.35
$2,976.24
$6,004.29
$3,190.00
District of Columbia
$6,468.92
–
–
$3,692.81
–
$4,848.98
$4,970.26
$4,074.05
–
$2,580.44
Delaware
$6,316.06
–
–
$3,727.29
$18,360.02
$4,330.21
$4,181.83
$4,466.85
$4,182.36
$2,325.98
Florida
$7,440.46
–
–
$3,783.63
$5,368.15
$4,339.60
$5,583.30
$3,397.67
–
$2,850.41
Georgia
$4,210.70
–
–
$2,977.20
$10,053.44
$6,484.90
$4,499.22
$3,384.88
–
$3,157.46
Hawaii
$2,173.49
–
$4,763.82
$3,358.86
$3,189.55
$2,551.83
$2,177.93
$1,040.28
–
$1,189.35
Iowa
$2,965.86
$3,021.81
$2,435.72
$2,296.16
$4,415.28
$2,735.44
$2,395.50
$2,224.51
$5,429.38
$1,852.57
Idaho
$4,088.76
$3,728.79
$3,168.28
$2,770.68
$2,301.51
$3,032.19
–
$1,867.96
$3,226.29
$1,877.61
Illinois
$5,204.41
$3,815.31
$4,605.20
$2,779.16
$2,277.65
$2,711.81
$3,536.65
$2,344.88
$2,499.76
$2,770.21
Indiana
$3,978.81
$3,679.68
$3,437.55
$2,261.07
$5,781.35
–
$3,898.00
$2,408.94
$3,393.75
$1,630.86
Kansas
$4,010.23
$2,146.40
$3,703.77
$3,220.65
$4,784.42
$2,475.59
$4,144.38
$2,720.00
$4,341.43
$2,382.61
Kentucky
$7,143.92
–
–
$4,633.59
$5,930.97
$5,503.23
$5,547.63
$3,354.32
$6,551.68
$2,897.89
Louisiana
$5,998.79
–
–
$6,154.60
–
–
$7,471.10
$4,579.12
–
$4,353.12
Maine
$3,675.59
–
$2,770.15
$2,823.05
$4,331.39
–
$3,643.59
$2,198.68
$2,252.97
$1,930.79
Maryland
$5,233.17
–
–
$3,832.63
$9,297.55
$2,915.69
$4,094.86
$3,960.87
–
$2,744.14
Massachusetts
$2,708.53
–
–
$1,510.17
$4,339.35
–
$3,835.11
$1,361.86
$3,537.94
$1,458.99
Michigan
$22,902.59
–
$8,503.60
$6,430.11
$20,000.04
$6,327.38
$5,364.55
$12,565.52
$8,773.97
$3,620.00
Minnesota
$4,532.01
$3,521.29
$3,137.45
$3,498.54
$13,563.61
$2,926.49
–
$2,066.99
–
$2,861.60
Missouri
$4,096.15
$3,286.90
$4,312.19
$2,885.33
$4,518.67
$2,265.35
$3,419.14
$2,692.91
–
$2,525.78
Mississippi
$4,942.11
–
–
$4,087.21
$4,455.94
$2,756.53
$4,308.85
$2,980.48
$3,729.32
$2,056.13
Montana
$4,672.10
–
$3,907.55
$3,602.35
$1,326.11
$3,478.26
$4,330.76
$2,417.74
–
$2,031.89
North Carolina
$7,190.43
–
–
$2,936.69
$2,182.71
$2,848.03
$2,382.61
$3,078.65
$3,132.66
–
North Dakota
$4,669.31
$3,812.40
$3,092.49
$2,668.24
$12,852.83
$2,560.35
$3,623.06
$2,560.53
–
$2,006.80
Nebraska
$3,198.83
$2,215.13
$3,997.29
$3,837.49
$6,241.52
$2,603.94
$3,758.01
$2,438.71
–
$2,330.78
New Hampshire
$2,725.01
–
–
$1,615.02
$8,444.41
$2,491.10
$2,694.45
$2,185.46
–
$1,906.96
New Jersey
$5,713.58
–
$7,617.00
$2,754.94
$6,766.62
–
$3,972.72
$7,527.16
$4,254.49
–
New Mexico
$4,200.65
–
$4,315.53
$4,458.30
–
$3,514.38
$3,119.18
$2,340.66
–
$2,296.77
Nevada
$5,371.62
$5,441.18
$5,595.56
$3,662.09
$6,201.55
$3,477.14
$4,062.57
$5,796.34
$5,360.41
$3,069.07
New York
$4,740.97
–
–
$2,428.24
$6,540.73
$4,012.93
$3,771.15
$4,484.58
$4,578.79
$3,761.69
Ohio
$3,197.22
$1,515.17
$3,423.01
$1,867.19
$4,429.74
$3,300.89
$3,436.96
$2,507.88
$3,135.16
$1,478.46
Oklahoma
$3,718.62
–
$4,142.40
$3,437.34
$6,874.62
–
$4,832.35
$2,816.80
–
$3,174.15
Oregon
$4,765.95
$3,527.28
$3,753.52
$3,220.12
$4,334.55
$3,176.83
$3,629.13
$2,731.48
$2,892.19
$2,587.15
Pennsylvania
$3,984.12
–
–
$2,605.22
$6,055.20
$2,800.37
$4,451.00
$2,744.23
$7,842.47
$1,793.37
Rhode Island
$4,959.45
–
–
$5,602.63
$6,184.12
$4,409.63
$5,231.09
$2,406.51
$6,909.45
$4,323.98
South Carolina
$3,903.43
–
$4,691.85
$3,178.01
–
$3,625.49
$4,573.08
$3,071.34
–
$3,424.77
South Dakota
$4,723.72
$4,047.47
$3,768.80
$2,940.29
$7,515.99
$2,737.66
$3,752.81
$2,306.23
–
–
Tennessee
$4,828.85
–
$3,430.07
$3,283.42
$6,206.69
$3,424.96
$3,656.91
$2,639.30
$2,738.52
$2,739.28
Texas
$5,485.44
$4,848.72
–
$3,263.28
–
$3,867.55
$4,664.69
$2,879.94
–
$2,487.89
Utah
$3,566.42
$3,698.77
$3,907.99
$2,965.57
$4,327.76
$2,986.57
$3,830.10
$4,645.83
–
$2,491.10
Virginia
$3,386.80
–
–
$2,061.53
–
$2,073.00
$2,498.58
$2,268.95
–
$1,858.38
Vermont
$3,190.38
–
–
$2,195.71
$3,621.08
$2,128.21
$5,217.14
$4,382.84
–
$1,903.55
Washington
$3,540.52
$3,713.02
$2,962.00
$2,568.65
$3,994.73
$2,129.84
$3,209.52
$2,499.78
–
$2,262.16
West Virginia
$3,820.68
–
–
$2,120.80
$2,924.39
–
–
$2,126.32
–
$1,984.62
Wisconsin
$4,854.41
$1,513.27
$3,777.49
$3,926.20
$6,758.85
$5,224.99
$3,128.91
$2,387.53
–
$2,975.74
Wyoming
$4,373.93
–
$3,069.35
$3,496.56
$1,989.36
$3,187.20
$4,401.17
$2,303.55
–
$2,779.53
They don't always have the cheapest rate, but they're usually among the lowest prices. While they often outperform top competitors State Farm and Progressive, there are states where either one of those options, and sometimes both, are cheaper than GEICO.
– Rates By Commute
Commute distance and average annual miles are used by car insurance companies to calculate rates because more time on the road generally equals a higher risk of an accident. Here are GEICO's rates for two different commuters.
| Commute Type | GEICO Average Rate |
| --- | --- |
| 10-mile, 6,000 miles annually | $3,162.64 |
| 25-mile, 12,000 miles annually | $3,267.37 |
On average, GEICO charges a little over a hundred dollars a year more for a driver with a twenty-five-mile commute over one with a ten-mile commute.
– Rates By Coverage Level
It's likely that every insurance professional you have ever spoken with has encouraged you to carry higher levels of coverage.
Although it sounds like a sales pitch to make more money, it does actually protect you a lot better from the financial risks of a serious car accident.
Most people choose a lower level of coverage not because they don't think they need it, but because they think they can't afford it. This next comparison shows GEICO's rates for three different coverage levels.
| Coverage Level | Average GEICO Rate |
| --- | --- |
| Low | $3,001.91 |
| Medium | $3,213.97 |
| High | $3,429.14 |
There's a difference of $437.23 a year between the low level of coverage and the high level. That's a little over $35 a month, which isn't a big difference considering the increase in coverage. About $18 a month will take you from low to medium coverage.
– Rates By Credit History
Credit history is a factor car insurance companies can use in most states to calculate rates. Drivers with poor credit pay higher rates than those with good credit.
| Credit History | GEICO Average Rates |
| --- | --- |
| Poor | $4,259.50 |
| Fair | $2,986.79 |
| Good | $2,434.82 |
GEICO will ding you pretty hard for having poor credit, but the difference between fair and good credit isn't as big.
– Rates By Driving Record
A fender bender where you were found at fault, a speeding ticket, even a DUI – what will these things cost you at GEICO?
Driving record is one of the biggest and best know factors affecting rates, and how each of these scenarios will increase a premium differs from company to company. Here's a look at GEICO's average numbers.
| Driving Record | GEICO Average Rate |
| --- | --- |
| Clean Record | $2,145.96 |
| 1 Speeding Ticket | $2,645.43 |
| 1 Accident | $3,192.77 |
| 1 DUI | $4,875.87 |
DUI is often the most expensive of these three scenarios, and it's the same at GEICO. They'll also raise rates quite a bit for an accident. A speeding ticket, on the other hand, doesn't cause nearly as much of an increase.
Coverages Offered
For now, let us take a quick look at some of their more popular insurance products:
Car Insurance – Definitely GEICO's bread and butter, their policies come with all the standard bells and whistles, with the option to add extended coverage. Pretty standard across most major insurance companies.
Motorcycle Insurance – GEICO is one of the few companies that puts a lot of time and money into advertising their motorcycle insurance, and it has boosted them to one of the top spots in terms of coverage in the United States.
Homeowners Insurance – Whether you are looking for home, condo or renters insurance, you can do it all through GEICO and qualify for multi-policy discounts.
ATV Insurance – If you are looking to protect some of your off road toys, GEICO can help you with that.
Umbrella Insurance – Designed as an extension of car and home insurance liability, an umbrella policy can also fill in gaps that will protect you from things like libel and slander lawsuits.
Life Insurance – Policies available through GEICO are limited compared to some other full service insurance companies, but if you want term life coverage, it can be done.
Boat Insurance – Including other types of personal watercraft, you can protect your water toys through GEICO and in some cases qualify for multi-policy discounts.
Business Insurance – There is a reasonable list of coverages available through GEICO, but probably more suitable for a small business. Things like general liability, business owners policies and professional liability insurance can be obtained over the phone or through an agent.
So here is the deal when it comes to GEICO insurance products – besides auto insurance, almost everything is underwritten by a different insurance company.
– Types of Car Insurance Coverage
GEICO offers full coverage auto insurance policies that meet all of your state's legal requirements as well as offering a number of different options for additional coverage.
Their Coverage Calculator is designed to walk the visitor through the process of selecting coverage for their needs, essentially re-creating what an agent might do for you, but without the actual person.
The basics of each policy start with the liability and/or no-fault coverage required by the state. This will differ from state to state but will include some or all of the coverages listed below. From there coverage levels can be increased and extra coverage added. These basic options are:
Bodily Injury Liability
Property Damage Liability
Personal Injury Protection (PIP)
Medical Payments (MedPay)
Uninsured/Underinsured Motorist Bodily Injury
Uninsured/Underinsured Motorist Property Damage
Optional coverage from GEICO includes protection for your car and other options:
Collision
Comprehensive
Roadside Assistance
Rental Car Reimbursement
Mechanical Breakdown Coverage
– Bundling
GEICO offers bundling discounts for taking out more than one policy with the company or with one of their partner companies. Multi-policy discounts are available if you have more than one vehicle, including a motorcycle, in force with GEICO.
GEICO does not write home insurance policies, but offers bundles with other companies.
It's important to know when getting a quote for both auto and home together that GEICO will not be insuring your home.
The list of affiliated companies that might be underwriting your home is long but includes some well-known names and some lesser-known ones, too. Here's a non-inclusive list of some of the options:
American Modern
Chubb
Homesite
Foremost Insurance
Liberty Mutual
National General
Travelers
Other types of insurance that are sold through the GEICO agency and are underwritten by other companies include:
Boat
Classic Car
Commercial
Condo
General Liability
Life Insurance
Mobile Home
Motorcycle (in some cases)
Pet
Renters
Travel
Bundling can still save you some money, but be sure you have taken a close look at the company actually writing the policy if it's not GEICO. They'll be the one handling any claims, so you need to know who you're trusting to cover you.
– Area of Operation
GEICO writes car insurance in every state as well as in the District of Columbia.
Since they operate as a group of companies, the underlying company writing the policy may vary depending on where you live.
Options include GEICO General Insurance Company, GEICO Casualty Company, and Government Employees Insurance Company. They're all part of GEICO and you can expect service to be the same.
– Additional Options
GEICO doesn't have the long list of options that. Some insurance companies offer, but they do have a good core set of choices that avoid over-complicating things while still providing the extra coverage you might need.
Rideshare Insurance for drivers that work for companies like Uber and Lyft has been available from GEICO since 2015, making them one of the earliest adopters of this coverage.
Accident Forgiveness is available either as a purchased option or as a perk you can earn for free from GEICO for remaining a loyal customer with an accident-free record. The site doesn't say how long it takes to earn it, only that the policyholder will be notified when it's been added to the policy.
The GEICO Car Buying Service, which uses TRUECar, helps the insured to buy a new vehicle after a total loss. The program connects buyers with certified dealers that will offer discounted pricing and other perks to GEICO policyholders.
Umbrella Insurance is available as an additional policy that will provide increased liability above and beyond the limits of your underlying auto insurance.
Auto Repair Xpress is GEICO's preferred repair network system. It provides guaranteed repairs with direct claims service in order to make the process easier on the insured. The program also helps with rental car arrangements.
Prime Time Contract is GEICO's special program for drivers 50 and older. The program gives discounts to drivers who, in addition to being over 50, have no drivers 25 or younger in their household, have had no violations or accidents in the past three years, and don't use their vehicle for business purposes.
GEICO Skill for Alexa is an add-on to your existing Amazon Alexa that allows you to ask questions about your GEICO policy, and get answers from Alexa.
Before we move on to talking about the discounts GEICO offers, we'll start by pointing out something they do not offer.
GEICO is one of the few major insurance companies that does not have any sort of usage-based program.
Unlike the other big names that have all jumped on the usage-based bandwagon and have apps and plug-in devices awarding good drivers discounts, GEICO has so far taken a pass on this big insurance trend. Fortunately, there are a lot of other ways to save with GEICO.
– Discounts
Here's a look at the discounts GEICO lists on their website and the amount you could save if you qualify.
| Discount | Percentage Off (up to) | Details/Requirements |
| --- | --- | --- |
| Anti-lock Brakes | 5% | Vehicles with anti-lock brakes |
| Anti-theft Device | 25% | Vehicles equipped with qualifying anti-theft device |
| Airbags | 25% for driver side only, 40% for entire front seat | Vehicles with factory airbags |
| Seatbelt Use | 15% on Medical or PIP only | Regular use of seatbelts |
| Daytime Running Lights | 1% | For vehicles with daytime running lights |
| Good Student | 15% | Meet grade requirement of B average or better |
| Good Driver | 26% | Five years accident free |
| Multi-vehicle | 25% | Insure more than one vehicle with GEICO |
| Multi-policy | Varies | Have another policy aside from auto with GEICO or an affiliate |
| Defensive Driving Course | Varies | Take an approved defensive driving course |
| Driver Education | Varies | Take an approved driver education course |
| Military | 15% | Members of the military |
| Emergency Deployment | 15% | For military members suddenly deployed |
| Group membership | Varies | Discounts for members of a variety of groups |
| Federal Employee | 8% | Employees of the federal government |
More than 800 different organizations and groups are part of GEICO's discount program. You can search their website to see if any of them apply to you.
The GEICO website doesn't specifically list any discounts for things like signing up early or paying in full, but other sources say those discounts are available.
While most of these discounts are fairly common, GEICO is one of the few companies to have a military discount as well as a federal employee discount.
How To Make a Claim
GEICO claims can be filed in several different ways:
Online through the GEICO website
Via the GEICO mobile app
Calling the 24/7 claims phone number at  1-

800-841-3000
Looking for claims information on GEICO's website makes it clear they steer people towards filing online or using the app; it was more difficult to locate the claims phone number than it was to find the repeated links and mentions of the app as an option. It's likely the phone number is more readily accessible to customers.
That covers how to file a claim, but how is GEICO doing in terms of paying out claims? Loss ratios can give us some insight into the answer to that question.
| GEICO Premiums and Loss Ratio | 2015 | 2016 | 2017 |
| --- | --- | --- | --- |
| Direct Premiums Written | $22,805,195 | $25,531,762 | $29,596,404 |
| Loss Ratio | 74.36% | 74.38% | 77.14% |
A loss ratio should be neither too high nor too low; too high and the company is paying out more than it can afford to, too low and it's not paying out enough. A loss ratio over 100 percent indicates the company is paying more in claims than they are taking in and is in danger of financial problems.
GEICO's loss ratios have been pretty steady, with a slight increase between 2016 and 2017. They've consistently been slightly above the industry total, but they are not high enough to be at any risk of paying out more than they can afford. There's also no sign that they aren't paying claims as they should be.
How To Get a Quote Online
Online quoting has been GEICO marketing point for a long time, which should make them one of the best.
It's easy to find the quoting system, which appears right on the front page of the site.
After you enter your zip code, the site does something a bit unusual; it asks what the purpose is of your quote request. Once you give an answer, the system will ask for your name, followed by your date of birth and your address.
If the system can find vehicles registered at your address, it will ask if you want to add them to the quote; if not, you'll be asked to enter vehicle information.
The next section requires driver information, including your social security number. If you're not comfortable entering it online, you won't be able to continue the quote, but you can call GEICO for a quote instead.
If you decide to go ahead with your quote, you will need to enter your driver's license information; otherwise, you can save the quote and come back to it later.
| Information | Required/Not Required |
| --- | --- |
| Driver's License Number | Not required |
| Social Security Number | Required |
| Phone Number | Required |
| Email Address | Required |
| Vehicle Identification Number | Not required |
In general, we found the quoting system easy if a little long. Each page had only one or two questions, many of which could have been combined into one page to make for fewer steps. Still, it ran smoothly and was quick – within the promised 15 minutes.
GEICO's Website and App
GEICO takes a lot of pride in the ease of using their website and the many functions of their app.
The site itself is clean and well-organized, although we did find that there was a lot of scrolling involved to find some of the information we were seeking – such as coverage details.
All of the main categories are easily accessible, including product information and claims. The site loads quickly and is easy to navigate.
The GEICO Mobile app is perhaps one of the most popular insurance-related smartphone applications on the market, due in large part to GEICO's huge advertising push starring Maxwell the Pig. While many other insurance companies have dipped their toes into the smartphone mobile app pool, GEICO remains the standard which the other apps are graded against.
– Device Availability
The GEICO Mobile app is available on just about every mobile device that has hit the mainstream market. That includes iPhone, iPad, Android smartphones and tablets, and even the lesser used device, Kindle Fire.
The experience across each device is going to be fairly similar, since they are based on the same software. This also holds true for the features available, with new ones being added across all the devices (generally) at or around the same time.
– App Features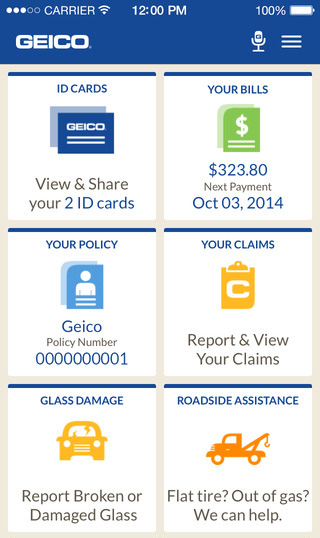 Unlike many other insurance company smartphone apps, the GEICO Mobile app can practically serve as a replacement for their website. In our research we uncovered nothing of importance that you can do on the full website that is unattainable on the mobile app.
The features available on the app include:
Get a new quote
View claims status
Update claims information
Pay your premium bill
Display mobile ID cards
Check your insurance coverage limits
View the discounts you qualify for
Call for roadside assistance (if your policy includes it)
Change personal information, including cars and drivers
Google Play / iTunes / Amazon Reviews
The GEICO Mobile app has surprisingly high star ratings on Google Play, the iTunes Store and Amazon.
At the time of this writing, there are over 18,000 reviews in the iTunes Store with a 4 star average. Google play shows a 4.5 star average with nearly 60,000 reviews.
It should be noted that Google Play has a much easier reviewing process, so there are generally many more reviews for popular apps like this one. The reviews are also easier to manipulate than on iTunes, so they often result in a better star rating.
Even the GEICO Mobile download page on Amazon shows an overwhelming number of positive reviews. Of the 28 current reviews, 16 are 5 stars and the average is 4 out of 5.
Pros
Easy to use
Allows changes to policies
Offers quotes for new policies
Digital ID Cards right on your phone
Cons
Reports of app not working on certain devices
Often times when large organizations that are not really centered around technology we see feeble attempts at creating apps because the new craze is all about mobile. Their apps are generally very poor in quality and offer no real usable features.
The GEICO app is different.
The entire app was designed to take the place of the GEICO website, and nearly every feature you would possibly use is included. For all intents and purposes, an individual can manage their entire insurance portfolio, make claims and update account information all from their phone or tablet.
Pros and Cons
There are both good and bad things about every insurance company, including GEICO. Now that you have seen all of the detailed information on this company, let's simply and list the biggest takeaways in terms of pros and cons.
| PRO | CON |
| --- | --- |
| Low rates in most states | Average/mediocre customer service rankings |
| Convenient mobile and online services | Bundling is often with third-party companies |
| Good list of discounts | No usage-based program |
Frequently Asked Questions (FAQ)
We have covered a lot of ground, but you may still have some questions about GEICO. Here are a few answers, and if you can't find yours here, head over to GEICO's own FAQ for more information.
Will I really save 15 percent with GEICO? Geico's tag line is a bit misleading since it's impossible to say how much any one person can save by switching insurance companies. Rates are just too complex.
What we can tell you is that based on our data, GEICO's average rate is 19.11 percent lower than the national average, so it's definitely possible to save 15 percent or more.
How do I qualify for the Good Student discount? GEICO's qualifications for the Good Student discount are that you must be between the ages of 16 and 24 and maintain an average of a B or better – or the equivalent of a B if your school uses a different grading system.
Is GEICO cheap for young drivers? GEICO's rates for young drivers come in well below the average, even for a 17-year-old driver. That makes them a good choice price-wise for new drivers.

For a list of companies that we recommend, visit our Best Insurance Companies page.
Review Information
Summary
Reviewer
Review Date
Reviewed
Author Rating