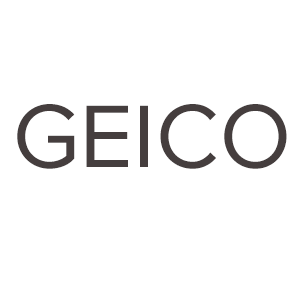 Get a Quote From GEICO
Love it or hate it, GEICO draws you in with their catchy commercials and adorable gecko spokesperson.
But they are more than an internet-based car insurance company with a huge marketing budget. They are a real player in the car insurance industry, and they are owned by one of the most successful companies in the world.
GEICO Insurance Overview
GEICO, which stands for Government Employees Insurance Company, was founded in 1936 to sell insurance products to federal employees and certain military members. The company went through many transitions over the following decades, with the largest one coming in 1996 when they were purchased by Warren Buffet and his company, Berkshire Hathaway.
GEICO is a direct-to-consumer insurance company that focuses primarily on auto insurance, but does have an extensive portfolio of other coverage options such as home, renters and motorcycle.
Direct-to-consumer means that GEICO's primary sales channel does not involve a middleman, also known as an agent.
Customers can get quotes, purchase policies, and make changes to existing coverage over the phone or directly online. There are agents licensed to sell GEICO products, but the bulk of policy sales are done directly between GEICO and their customers.
Direct-to-consumer insurance companies (like GEICO, Esurance and Progressive) have a competitive advantage over their more traditional agent-driven counterparts in that they can reduce costs since they are not paying out large commissions for each sale and renewal. The downside is clients with very extensive insurance needs may unknowingly find themselves with gaps in coverage, unless they have a good understanding of everything they need.
One thing is for sure. When it comes to car insurance, GEICO is the real deal.
In 2015, GEICO nudged past Allstate to become the second largest auto insurance company in the United States. However, they are still quite a bit behind the leader, State Farm.
Coverage options are available in all 50 states, as well as Washington D.C.

Products and Services
As mentioned above, GEICO excels when it comes to auto insurance. But their portfolio of products does not end there.
What makes GEICO different from many other companies is they do not actually underwrite a lot of their policies. But I will get to that a little further below.
For now, let us take a quick look at some of their more popular insurance products:
Car Insurance – Definitely GEICO's bread and butter, their policies come with all the standard bells and whistles, with the option to add extended coverage. Pretty standard across most major insurance companies.
Motorcycle Insurance – GEICO is one of the few companies that puts a lot of time and money into advertising their motorcycle insurance, and it has boosted them to one of the top spots in terms of coverage in the United States.
Homeowners Insurance – Whether you are looking for home, condo or renters insurance, you can do it all through GEICO and qualify for multi-policy discounts.
ATV Insurance – If you are looking to protect some of your off road toys, GEICO can help you with that.
Umbrella Insurance – Designed as an extension of car and home insurance liability, an umbrella policy can also fill in gaps that will protect you from things like libel and slander lawsuits.
Life Insurance – Policies available through GEICO are limited compared to some other full service insurance companies, but if you want term life coverage, it can be done.
Boat Insurance – Including other types of personal watercraft, you can protect your water toys through GEICO and in some cases qualify for multi-policy discounts.
Business Insurance – There is a reasonable list of coverages available through GEICO, but probably more suitable for a small business. Things like general liability, business owners policies and professional liability insurance can be obtained over the phone or through an agent.
So here is the deal when it comes to GEICO insurance products – besides auto insurance, almost everything is underwritten by a different insurance company.
What does that mean to you?
It means that even though you may have a car, home and umbrella policy you purchased from GEICO, the companies underwriting the home and umbrella policy are probably different.
GEICO sells these other policies through the GEICO Insurance Agency, Inc, which is basically a huge insurance agency licensed to sell products for other companies. Similar to going to a strip mall and getting a policy from XYZ Insurance Agency, but on a much larger scale.
The policies will almost always be managed by GEICO, and any questions, claims and payments will be handled by them as well. But they are basically outsourcing the underwriting to other firms that specialize in that type of coverage.
For the most part, GEICO is taking a fee off the top of your policy to manage and service it.
But what about car insurance?
As mentioned toward the top of this review, GEICO is one of the largest auto insurers in the United States, and yes, they underwrite those policies. That means when a claim is paid out on a GEICO car insurance policy, they are the ones footing the bill (and possibly reinsurance companies).
And while we are on the topic of car insurance (which is probably why you are reading this review), let's get into some of the finer details about their coverage.
For many people, GEICO's car insurance kicks butt.
GEICO is often one of the cheapest auto insurance options, especially for good drivers. Remember how I referred to them as a direct-to-consumer insurance company? They don't have to pay an agent in most cases, so they can sell policies for less.
In 2013, I did sample rate tests from the top direct-to-consumer insurance companies, and according to the profiles I tested, GEICO was the clear winner when it came to price.
But their car insurance is no silver bullet.
While many drivers get very good rates with them, there are going to be those that do not fit their preferred driver profile. Customers that have questionable driving histories or multiple claims will often be faced with higher premiums or get dropped all together.
Since GEICO typically keeps their rates pretty low, they operate on slimmer margins and have less wiggle room for paying out claims. Plus it costs a lot to be running TV ads non-stop.
GEICO Rates and Premiums
I briefly touched on GEICO's auto insurance rates in the section above, but here is where we will take a closer look at how they stack up.
GEICO is cheap.
If your primary sales decision when it comes to car insurance is price, then GEICO must be a company you add to your comparison shopping. Year after year in our rate quote tests, GEICO comes in near the bottom (cheapest) every time.
In our last test, GEICO came in a whopping 27% below the average, which puts them in the top five in terms of price.
As previously noted, not everyone will get the best rates from GEICO if they do not fit their preferred driver profile. If you are a good driver with little to no claims history, GEICO should definitely be on your short list if you are looking for cheap car insurance.
Ready for a break? Watch my video review of GEICO Insurance:
Advertising and Media
We all know the little gecko. We see him everywhere. Billboards, TV commercials, radio ads, online. You name it.
Where GEICO saves money by not paying out large commissions to insurance agents, they spend it on advertising. When a company does not have a proactive sales force out doing the heavy marketing lifting, they have to make up for it with TV and internet commercials.
"15 minutes could save you 15% or more on car insurance."
When it comes to advertising, what differentiates GEICO from many of their competitors is that their claims about saving money are often true. As one of the cheapest major car insurance companies out there, a lot of people CAN save money by switching to GEICO.
We are inundated with insurance ads saying things like – Customers save $423 on average when switching.
The reason that is true is most people that change insurance do so because they get a better deal. It doesn't mean that most people actually get a better one.
If 100 people get a quote from ABC Insurance Company and only 5 people will actually save money so they switch, the ad will still be true.
What the generic insurance ad doesn't tell you is – We are expensive, but a few people will save money with us and $423 is what those few actually do save.
See the difference?
GEICO Claims
Up to this point it probably sounds like I am pretty high on GEICO, and when it comes to their price, I am. But the true test is how an insurance company performs is when you actually need them: claims.
On paper GEICO's claims process is very good. They have multiple ways an individual can file a claim:
As with most major insurance carriers, GEICO has their preferred repair shops which they call Auto Repair Xpress. These shops are generally pre-approved by the insurance company and work directly with them during the entire process.
Customers are not required to use GEICO's preferred repair facilities. If you decide to go with your own mechanic, you are free to do so. Just know they will generally only cover the amount their in-network facilities would charge. So if you mechanic is expensive, you may have to pay some out-of-pocket costs for the repair.
But how do customers and non-customers feel about their claims process? The next section will dive into that.
Customer Feedback
When researching for this review, I did some digging for customer complaints. And whew… there are a lot of them.
If you simply look at the number of complaints filed against GEICO on various online forums, it can give the impression that they are a bad company. So it is important to look at them in comparison to other companies as well as their size.
Remember how GEICO just squeaked past Allstate to become the second largest auto insurer behind State Farm? Good, because that will provide some context for this section.
Allstate is roughly the same size as GEICO in terms of car insurance, with State Farm being almost twice as big. But the complaint totals on ConsumerAffairs.com show a slightly different story. Although not all negative, the majority are as, in our experience, most consumers go on the internet to write a review after a bad experiece:
2,930 Complaints – GEICO
2,657 Complaints – State Farm
1,444 Complaints – AllState
The numbers on consumer complaint board Pissed Consumer show a similar pattern :
490 Complaints – Allstate
802 Complaints – GEICO
838 Complaints – State Farm
What complicates the Pissed Consumer numbers is that they do not distinguish between the different channels of insurance each company sells. So the complaints against Allstate include complaints about auto, home, life, etc. Where GEICO complaints are primarily about their auto insurance, since that is the primary coverage they actually underwrite.
So a similar-sized company (Allstate) has about half the total complaints about their auto insurance, and a company nearly twice has big (State Farm) has roughly the same number of complaints. So we know on ConsumerAffairs.com that GEICO is about twice as likely to garner a complaint as the other two largest auto insurers.
Where GEICO also loses when comparing the big three is with the Better Business Bureau. According to the BBB, the total complaint breakdown as of this review is:
1,764 Complaints – State Farm
2,467 Complaints – GEICO
1,511 Complaints – Allstate
So despite being quite a bit smaller than State Farm, GEICO has basically the same number of complaints filed against them with the BBB in the past three years.
Bottom Line
They are cheap. Plain and simple.
GEICO is a huge auto insurer in the US, and they use their direct-to-consumer sales approach to keep their insurance rates low.
Where I found GEICO struggling the most is with consumer complaints and feedback. The vast majority of the complaints I read had to do with disagreements over claims and/or delays in payouts. For many people this is an important issue since insurance claims is ultimately why we pay for coverage.
At the end of the day, if you are looking for rock-bottom priced auto insurance, GEICO is a good choice. If rock star claims handling is your selling point, GEICO may not do it for you.
Get a Quote From GEICO

For a list of companies that we recommend, visit our Best Insurance Companies page.
Review Information
Summary
Reviewer
Review Date
Reviewed
Author Rating