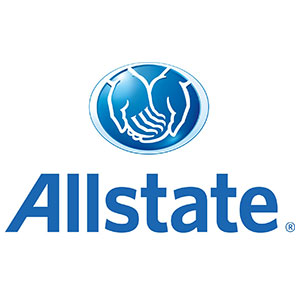 Allstate is a huge company.
With their image of trustworthiness and strength thanks to authoritative-looking spokesperson Dennis Haysbert (who once played the President on prime time television) Allstate is one of the best-known insurance companies in the nation.
The largest publicly owned personal lines insurance company in the U.S., in fact, with many subsidiaries and a large product range. A memorable slogan, a strong advertising presence, and sponsorship of multiple sports events make Allstate difficult to miss, and their market share is as strong as their image.
Whether or not their service lives up to that image, we'll see below in this review.
Allstate Insurance Overview
One of the most recognizable names in insurance was born from another well-known company; Allstate was originally a part of Sears, Roebuck, & Co., and has been around since 1931. In fact, the company is named after Sears' own brand of tires.
Today Dennis Haysbert asks "Are you in good hands?" at the end of Allstate commercials, but the "You're in Good Hands" promise goes all the way back to 1950.
With a 9.93% share of the auto insurance market, Allstate stands in third position behind only State Farm and GEICO (listed in the rankings under their parent group, Berkshire Hathaway). GEICO very recently pushed Allstate down to third place, but they remain very close by the numbers.
Allstate policies are primarily sold through captive agents – that means that most Allstate agents sell only products from Allstate and it's subsidiaries. That usually results in higher premiums because those agents take a commission, which is why you'll see companies like Allstate using better customer service versus direct sales to convince insurance customers the higher rates are worth paying.
Allstate has a long list of subsidiary companies, which even includes online insurance pioneer Esurance. Allstate bought out Esurance in 2011, giving them a strong foothold in the direct-buy market. Other companies under Allstate's banner are:
Allstate Fire and Casualty Insurance Company
Allstate Insurance Company
Allstate Life Insurance Company
Allstate Property and Casualty Insurance Company
Allstate New Jersey Property and Casualty Insurance Company
Allstate New Jersey Insurance Company
Allstate Life Insurance Company of New York
Castle Key Insurance Company
Castle Key Indemnity Company
Allstate Texas Lloyd's
Allstate County Mutual Insurance Company
American Heritage Life Insurance Company
Allstate Insurance Company of Canada
Products and Services
Although they are known primarily as an auto insurance company, Allstate sells nearly every type of personal lines policy as well as a good range of commercial products. This allows them to cover all the needs of a single individual under one banner, which adds a convenience factor as well as the selling point of multi-policy discounts.
Auto Insurance – Allstate's flagship product and the majority of their policy sales, auto insurance policies come with all the standard features as well as a long list of add-ons and discounts. Among the options is the "Your Choice Auto" upgrade options, which gives you several trendy add-ons including "Accident Forgiveness" and "Safe Driving Bonus" for an extra cost. The "Platinum" option comes with the most options, and it costs more as a result.
Homeowner's Insurance – Homeowner's policies from Allstate provide standard structure and personal property coverage. They also write landlord policies, renter's insurance, and condo insurance, covering a range of home types.
Motorcycle Insurance – Allstate isn't well known for motorcycle coverage, mainly because they don't advertise it as heavily as main competitor GEICO. They do in fact write comprehensive policies and offer a list of available discounts and add-ons like New Motorcycle Replacement, similar to what's available from their auto policies.
Life Insurance – Several of Allstate's subsidiaries, depending on where you live, write life insurance in the usual forms: term, whole, and universal.
Recreational, Off-road, and Boat Insurance – Allstate writes policies for a wide variety of different toys, from RVs to ATVs and including boats, snowmobiles, and more.
Business Insurance – Among the businesses Allstate covers are retail, service, contractors, medical, and wholesale. They provide a range of coverage including business property, liability, and commercial auto.
Financial Products – Financial products include annuities, IRAs, mutual funds, and college savings plans provided through several of Allstate's subsidiaries.
Supplemental Health Insurance – Although Allstate doesn't write full health insurance plans, they do offer a variety of products to provide extended coverage. These include disability, critical illness, cancer care, and accident protection.
This incredibly diverse list of coverage makes Allstate a convenient location for one-stop insurance shopping. Multi-policy discounts are one of the most attractive features of large companies with multiple product lines as well, which is a major draw for a lot of insurance shoppers.
A Closer Look at Allstate Auto
Since auto insurance is the number one product offering from Allstate, I'll take the time to give it a closer look. Allstate is by no means the most affordable auto insurance company on the market, but they sell their higher rates as being accompanied by superior service and a list of features, discounts, and add-ons that are intended to add value to the policy.
A Look at Accident Forgiveness
Allstate was the first company to offer one of the biggest trends in recent years – accident forgiveness. Accident forgiveness ushered in an age of somewhat gimmicky add-ons, allowing car insurance companies to charge higher premiums for endorsements that sound good, but offer questionable value to drivers.
Accident forgiveness basically allows you to have one accident covered within a three-year period for which the insurance company won't charge you – that means no rate increase because of the accident. Instead, the insurance company is charging you an extra premium whether or not you have an accident.
Accident forgiveness is essentially an extra charge that is likely to cost you more over a lifetime of insurance than the surcharge for a single accident would. Of course, it could be well worth it to those drivers who do get to make use of it, but overall it's not the benevolent offering it seems on the part of insurance companies – it's designed to make them money based on the likelihood that most people will pay for it and never use it.
Do Good Drivers Need Add-Ons?
Allstate also has other add-ons that are designed to add value to their policies, such as "Deductible Rewards", for which they reduce the deductible on the policy by $100 for each year accident-free. As with accident forgiveness, this is the type of add-on that is only helpful when you use it – meaning you would need to have an accident for the lower deductible to save you anything on your premiums.
Good drivers are Allstate's main market. The company has a number of perks offered to good drivers, including "Bonus Rewards", which pay customers back for good driving. Drivers with good records are those least likely to need add-ons such as "Deductible Rewards" and "Accident Forgiveness", which means they do not really add much value to the policy, they just cost more.
Drivewise – Usage-Based Insurance
One more trend Allstate has been quick to jump on is usage-based insurance.
Allstate's version is called "Drivewise", and like most usage based systems it involves a monitoring device in the car that records how far you drive, when you drive, how fast you drive and your braking habits.
Information gathered can be used to earn drivers a discount. Drivewise is an option drivers can choose to help earn lower rates.
Usage-based insurance systems are still new to the insurance market, so it is difficult to say how well they will work long-term. Drivewise is not yet available in all states, but it does show Allstate's typical willingness to move on new concepts in auto insurance.
Here's my longer review of Drivewise with more information on how it works.
Allstate Rewards and Safe Driver Bonuses
Allstate offers a couple of programs that promise to pay good drivers back for driving safely.
Allstate Rewards
First, let's look at the Allstate Rewards program, which allows drivers to earn point redeemable for a variety of products and services – sort of like an airline rewards program, but based on your good driving habits.
Although anyone can enroll, the most points are earned by using the Drivewise system. Joining is free, so although this is another one of those gimmicky things, I am unable to see a down side to joining, except that you'll have to get Drivewise if you hope to gather enough points to be really useful.
Safe Driver Bonus
Now let's look at the Safe Driver Bonus. Allstate promises a check in the mail every 6 months for those who keep a good driving record. Unfortunately, word from those insured by Allstate is that the program doesn't quite work that way.
This Allstate customer took to his blog to complain that he lost his safe driver bonus because his car was struck in a parking lot by a hit and run driver. As it turns out, the bonus check isn't for keeping a safe record, but rather for having no claims at all – even those for which you're not at fault.
The biggest argument against the Safe Driver Bonus is not how you get the checks, but whether they are worth it. Similar to Accident Forgiveness and Deductible Rewards, the Safe Driver Bonus is part of the upgraded "Your Choice Auto" plan – which means you pay an extra premium to get it. Essentially, if you're claim-free, Allstate will give you back some of the extra money you paid on your premiums – even if you get the check, you're not coming out on top in the end.
Allstate Premiums and Discounts
Allstate offers online quoting for auto insurance to allow drivers to obtain and compare rates without needing to call an agent, which makes it easier to obtain numbers – although you will still be directed to an agent to complete the policy.
The online quoting system requires that you enter some personal information up front, including your full address, something that commonly results in a lot of unwanted mail solicitation in the future.
Interestingly for a company that doesn't advertise itself as the lowest priced, in our rate comparisons Allstate consistently comes in as one of the more affordable options, often well below the average rate. That is based on our test information, which generally fits Allstate's target market.
Discounts
Allstate does offer a fairly good range of discounts, but notably absent from their list is a multi-vehicle discount, which is available from every other major insurer, including Allstate's top competitors.
Also surprisingly not available are loyalty, military, and affinity group discounts. Allstate is one of the few major insurance companies to offer new vehicle discounts for cars less than two years old, but that discount applies to a far smaller segment of the population.
A large number of Allstate's discount programs are aimed at good drivers and at encouraging safe driving, which is an admirable goal, but means that those most likely to benefit are those who are already receiving the company's best rates.
Advertising and Media
Allstate has been known to take a serious approach to their advertising in the past, which makes their more recent "Mayhem" commercials something of a surprise. In spite of adding some humor, the character of Mayhem (still quite a bit darker than GEICO's perky gecko), representing dangers like the distraction of cell phones, is still there to push Allstate's main message:
It's worth paying more to get better insurance.
It's the same message Allstate has been pushing for 60+ years with the "Good Hands" slogan, indicating that paying less for insurance (cut-rate insurance, as Allstate calls it) means you might find yourself in trouble when something goes wrong.
The "you get what you pay for" argument holds some water in the insurance industry, especially when it comes to paying more for higher limits and move coverage. Proving that paying more gets you better customer service is a tougher sell.
A 2016 Insure.com study of customer satisfaction with auto insurance studies ranked direct-insure giant GEICO higher than Allstate overall, although GEICO's lower overhead means generally lower rates.
More humor has been injected into commercials pushing Allstate's accident forgiveness, such as this spot, where a minor accident is a cause for laughs, since accident forgiveness means it won't cost him. As previously discussed, this particular add-on is of dubious value to consumers, but remains a central point in Allstate's marketing even though most major insurers now offer it as an option.
Allstate frequently pokes at GEICO as being a "cut-rate" insurance company, albeit indirectly. They're more direct in their advertising for recently acquired Esurance, which competes with GEICO in the online, direct-sales market.
In a somewhat confusing marketing approach, spots have gone after the "15 minutes" promise from GEICO while essentially missing the point – it's not the swiftness of quotes that bring people to GEICO, but the promise of lower rates. While Esurance might be competitive on that front, Allstate certainly will not.
Allstate Claims
When it comes to insurance companies, the moment of truth is always in the claims department. Since Allstate advertises that their rates are higher to ensure you'll be covered when something goes wrong, they've got a lot to live up to in this area.
Allstate allows claims to be filed in several ways:
Directly through your Allstate agent
By phone at 1-800-ALLSTATE
Via an online claims form
On a mobile device via the Allstate app for iPhone or Android
Allstate provides a good overview of their claims process on their website.
After the initial report, the claims department will assign an adjustor and begin gathering information. The adjuster will review your coverage to determine what benefits are available, take statements, review police reports if available, and in some cases personally inspect the damage.
For auto insurance claims, Allstate has drive-in inspection centers where adjusters are on hand to take a look and work up an estimate for.
In a straightforward claim, Allstate will pay damages up to the policy limits, minus any applicable deductibles, and close the claim. The process is much the same as most major insurance companies.
As a large company, Allstate has major resources to handle claims and a big team of adjusters and customer service representatives. They have online claim tracking available on their website so that customers can stay on top of the status of their claim.
Allstate also has an 800-member National Catastrophe Team available at a moment's notice to deal with major events such as earthquakes, hurricanes, or tornadoes. Their fleet of mobile claims centers that can be sent to any location is one of the perks of being insured with such a large company.
So the question now is how all of this actually translates to happy customers who feel their higher premiums were worth it.
Unfortunately, Allstate does not seem to live up to the good hands promise for all of its customers. Many of the reviews of Allstate's claims processing by customers are negative, citing slow response, refusal to pay claims, and shorting of payments. Customers of other insurance companies involved in accidents with Allstate-insured drivers cite similar complaints.
J.D. Power's customer claims satisfaction ratings survey gave Allstate a 3 out of 5 overall, a ranking that places the company in the "about average" range. Average is not a good rating for a company that promises superior service in return for admittedly higher rates.
In 2008, Allstate was called out on a reported "boxing gloves" approach to handling claims – fighting every step of the way to pay as little as possible on just claims, landing them a rating as the worst insurance company in the nation. This was on the heels of an expositional book called "From Good Hands to Boxing Gloves" by David Berardinelli, JD, Michael Freeman, PhD, DC, MPH; and Aaron DeShaw, DC, JD. The book claimed that Allstate, along with other major insurers, was using the advice of a consulting firm to fight claims and pay out less, purposefully avoiding legitimate claim payments. In the years since there seem to have been changes to some of these policies, and Allstate has denied any wrongdoing; some of the problems seen in the complaints against Allstate's claims department seem to match up to the allegations.
Customer Feedback
Any company the size of Allstate is going to have some customers who aren't happy, and Allstate seems to have quite a few of these. A search of customer reviews for the company finds a laundry list of complaints ranging from overcharging to refusing coverage to generally poor customer service.
Since every major insurance company has plenty of complaints, it's more useful to compare the number of complaints among the top three.
Consumer Affairs reviews of Allstate are 81% one-star, negative reviews. GEICO, is at 40%. By comparison, number one auto insurance company State Farm has a 77% negative review ratio.
When reading reviews it is a good idea to take into consideration that more people take to the Internet to review an insurance company when they are angry than when all is well, which can skew these numbers.
Although Allstate is not accredited on the Better Business Bureau, the site gives them an A- rating. The website shows 1512 complaints in the last 3 years, 546 of which were closed in the last 12 months. For a company as enormous as Allstate, those numbers are not terribly high.
To compare, GEICO has 2464 complaints in the past 3 years, and State Farm has 1761 complaints in the past 3 years. Since GEICO is about the same size in terms of policy count as Allstate, and State Farm much larger, those numbers are more important when comparing the two close competitors than the insurance leader.
Of course, GEICO doesn't write the range of products that Allstate offers – which means their complaints regard auto insurance. Not so for Allstate, whose complaint numbers cover all of their product areas. Considered from that angle, Allstate comes out ahead of GEICO.
Overall though, the feeling left by the reviews out there leaves me concerned that not all of their customers think are in good hands.
Bottom Line
Allstate aims their policies at drivers with clean records, and insurance rates are competitive for drivers in that market.
Although Allstate does not make an effort to sell their products as being inexpensive, they do in fact stack up pretty well for rates in their target market. They also have the ability to write nearly any policy you could want, allowing people with diverse insurance needs to keep everything under one roof.
Allstate is the third largest auto insurer in the country, which means that in spite of negative reviews, a fairly large number of people continue to have a positive experience with the company. However, the large number of negative reviews do still show that Allstate still has some work to do in the area of claims service.

For a list of companies that we recommend, visit our Best Insurance Companies page.
Review Information
Summary
Reviewer
Review Date
Reviewed
Author Rating