Metromile provides a refreshing new take on a mundane industry.
The last few years have seen a significant increase in Pay-As-You-Drive (also known as usage-based insurance) programs popping up from major insurance companies, and they are certainly drawing interest from consumers.
About Metromile
Metromile is a California-based startup that has also thrown their hat in the ring in a big way. Their goal was to create a car insurance model to accurately reflect actual mileage driven by their customers and charge them accordingly, and it seems to be working.
Metromile, previously backed by National General Insurance (formally known as GMAC), now acts as their own carrier, as of this year. A large part of this change is reflected in the claims experience for the customer. Customers can expect a more streamlined claims process as Metromile now has control over the claims and can assign a dedicated representative to you for the entire process rather than the customer going through a different company (National General). This will ultimately provide better customer service overall, something the company says is their main focus.
How Metromile and Metromile Pulse Works
Metromile utilizes what they call Metromile Pulse, which is simply their version of the OBD-II device that many usage-based insurance programs use. This device is used to track miles driven, and much more. Pay-per-mile is the core aspect of Metromile's business as their intentions are to provide the most accurate and fair means of insurance premiums, while still providing great coverage.
Metromile will send their insurance customer the Metromile Pulse which is inserted into the OBD-II plug of the car being insured. Installation is very easy and the device is free of charge but is only available to those insured by Metromile. The Pulse will then send data back to Metromile so they can calculate the monthly premium.
Metromile also offers an app, powered by the device, with many great features. The app is available for both iPhone and Android devices. The app gives you updated stats on your car. In fact, the Metromile Pulse does more than just track your driving for premium calculations; it acts as a monitoring service that alerts you to things like MPG, diagnostics reports, and emissions.
Data Metromile Tracks
Location – GPS tracks location. Insurance customers can turn this off if desired.
Miles – The total number of miles driven is the primary factor in determining premiums.
Diagnostics – The Metromile Pulse will read just about anything the car sends to the OBD-II sensor.
One big difference with Metromile and most other PAYD programs is that they are only interested in the number of miles driven when calculating premiums. It has nothing to do with your acceleration speed, location, times you drive, etc. It's simply based on how much you drive.
Data Used in Determining Rates
Miles – The only data metric used to influence premiums are miles driven.
Eligibility
Metromile currently offers the Metromile Pulse to their insured. Those insured with Metromile have access to the iPhone/Android app and can begin monitoring their car once they have received and installed the device. The app gives the customer access to features that include a car locator, vehicle diagnostics, and more.
Those in the qualifying states listed below can use Metromile and the Metromile Pulse to track their driving distances to determine their insurance rates.
Qualifications
Must reside in California, Illinois, Oregon, Washington, New Jersey, Pennsylvania, or Virginia.
Car must have an OBD-II port. All cars made after 1995 should have this.
Savings
As previously mentioned, Metromile is primarily interested in your miles driven. The premium is calculated as a combination of a base rate plus cost per mile:
Base + $ per mile = monthly premium
As a resident of Washington, I used my own information to get a sense of their pricing. My wife and I have two cars.
Car 1
$18.60 – Base Monthly Rate
$0.029 – Per Mile Driven
Car 2
$19.53 – Base Monthly Rate
$0.03 – Per Miles Driven
So our base cost would be about $38 a month, including comprehensive and collision. And another $1 for every 33 miles we drove in a month. For us, anything under about 1200 miles in a given month would mean a savings over what we are paying with our current provider.
Metromile is best suited for individuals that drive less than about 1000 miles a month. City dwellers and work-from-home professionals are perfect candidates, and they could potentially save quite a bit. Road warriors are probably better suited for a traditional insurance policy.
Metromile caps your daily driving total at 250 miles (150 for New Jersey) so if you go on a road trip, there will not be a massive insurance bill waiting for you when you get home.
Installation
For most cars, installation is very easy.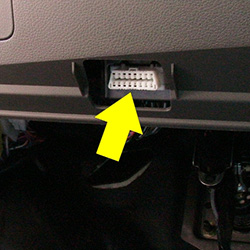 The Metromile Pulse device is quite small and plugs into the onboard diagnostics port, also known as the OBD-II port. For many cars, this is located below the steering wheel.
If you do not know where your OBD-II port is, Metromile demonstrates the installation process with a quick video on their website.
Metromile Claims
There are three ways to report a claim; online, phone, or by calling their toll-free number. The easiest way to file a claim is online. Metromile's app also allows you to file the entire claim right from your mobile device. You can choose to use the data from the Metromile Pulse device as well when you submit the claim via the app, which can, in turn, expedite the process.
Claims follow-up up can be done by calling or emailing your designated claims representative. There is a member of the claims team available 24/7.  Metromile is very focused on using technology to make their processes as streamlined as possible and is, therefore, working on a feature that will make claim tracking more convenient.
Bottom Line
Anyone driving under 10,000 miles per year and lives in Metromile's coverage area should seriously consider this program. The additional services provided are a great bonus as well. Metromile is a company who seems very focused on bringing their customer's fair rates based on what real driving stats. In our case, we would actually save each month switching to Metromile, and so it might be worth a look for others.
Of all the usage-based insurance programs out there, this is one actually gets me excited. 

For a list of companies that we recommend, visit our Best Insurance Companies page.
Review Information