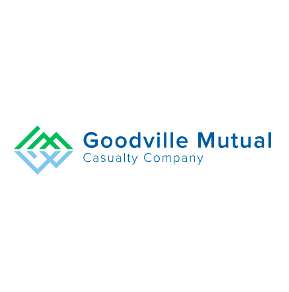 Goodville Mutual
is a multi-state property and casualty insurance company with a religious-based background. They write
auto insurance
,
home insurance
, farm, and more out of their Pennsylvania headquarters.
About Goodville Mutual
Founded in its namesake town of Goodville, PA, the company was created in 1926 by a group of Mennonites with the intention of running a business based on biblical values. The original product offered was personal auto insurance, but expansion into the home and farm markets came with the acquisition of Earl Mutual in 1988.
A 1996 merger with three other Mennonite mutual insurance companies expanded the company's reach, followed by several other acquisitions in the following years. In 2016 the company constructed a new headquarters in New Holland, PA, where they operate today.
Today the company covers seven states aside from Pennsylvania: Kansas, Oklahoma, Illinois, Indiana, Ohio, Virginia, and Delaware. Products are sold through independent agents.
Goodville Products
Goodville's property and casualty products include auto, home, farm, church, business, and umbrella policies.
Auto Insurance
Goodville's auto program includes all of the basics as well as plenty of extras. The Personal Auto Plus endorsement adds the following to a basic full coverage plan:
Accident forgiveness
Increased transportation expenses
Towing and Labor
Parked car collision deductible
Trip Interruption
Several of these, as well as a few other choices, can also be added to the policy a la carte. Goodville also throws in a few added benefits at no cost with all policies. Those are the Collision Deductible Waiver for accidents involved two Goodville drivers, and the Companion Policy Deductible Waiver, which applies to losses that involved two Goodville policies, such as auto and home.
Home Insurance
Like their auto program, Goodville's home insurance policy comes with a lot of extra benefits on top of the basics that we do not often see as standard.
These include:
Fire extinguisher recharge
Credit card coverage
Fire department charge coverage
Increased limits for inflation and personal property
They also offer a Home Cover Extra package for an additional premium. This package adds:
Power outage
Lock and garage door transmitter replacement
Sewer, drain, and sump pump
Deductible waiver
Increased coverage for personal property
Increased special limits
Homes that qualify for the Home Cover Plus plan can get all of the above and more at no extra charge; the site does not specify what those qualifications are.
Renter's insurance and country home products are also available.
Business
Goodville writes package business policies for a variety of markets that can be customized. In addition to base liability and property coverage, a variety of options can be selected to meet the specific needs of any given industry.
Commercial Auto is also available as an add-on to a commercial package or as a separate policy.
Goodville also offers specific products for home-based businesses as well as for tradesmen.
Farm
Farm policies combine home coverage with specialized protection for farm equipment, livestock, crops, and several other farm-specific needs.
Like their homeowner's policies, Goodville's farm product is a base package with a number of available add-on options. This allows the policy to be adapted to various types of farming operations.
Church
Goodville's church product is a comprehensive package policy that covers liability as well as property and church-specific items including cemetery liability.
Like all of Goodville's plans, there is a long list of options and added benefits for the church program.
Umbrella
Goodville offers umbrella policies to increase liability above and beyond the limits of underlying policies. These are available for personal, business, and farm policies. Coverage starts at $1 million.
Rates
Goodville does not offer online quoting, this is not uncommon for an agent-driven company. Visitors to the site are directed to use the agent search in order to find local assistance.
Smaller companies such as this one rarely compete dollar for dollar with the larger insurers, and instead rely on customer service, and in this case values-based appeal, to make up for higher premiums.
Claims
The Goodville website has what appears to be an online claim reporting form, although all that we are able to see is the policy lookup. It does look to be the first step to reporting a claim online.
Claims can also be reported via a toll-free number or a local number for this in the area of the company headquarters. The website does not say whether the claims line is available 24/7 or not.
Aside from the contact information, Goodville's site does not provide much in the way of claims information.
Ratings and Consumer Reviews
Goodville Mutual has an A- rating with the Better Business Bureau (BBB). Although there is only one complaint on file against the company in the past three years, it appears they failed to respond to that complaint, resulting in the lowered letter grade.
Of the 58 Google reviews, a lot are very positive. The overall score is a 4.0, and happy customers state that the service provided by Goodville is excellent. There are also some negative reviews, and these refer to slow response time on claims and various billing and cancellation issues.
There are only two reviews on Yelp. One is positive, and the other is negative, essentially canceling each other out in terms of the overall impression.
On Birdeye we found 50 reviews of Goodville with an overall 5-star rating. The vast majority of the star ratings here are 5-star, with a handful of 4-star and nothing lower.
Goodville has a truly impressive number of glowing reviews from their customers, resulting in a very positive impression of their customer service.
The Bottom Line
Goodville is likely to appeal to those who prefer a smaller, values-based company and do not mind paying a little more for the personal service of an agent. Their good reputation makes them a safe bet for providing the balance of rates and customer service. Budget shoppers might not find what they want here, but those who value company reputation as much as premium cost will want to look at Goodville.
For a list of companies that we recommend, visit our Best Insurance Companies page.
Review Information
Summary
Reviewer
Review Date
Reviewed
Author Rating