Capital Health Plan Medicare Insurance Review & Complaints: Health Insurance
Capital Health Plan Medicare insurance is offered through a Blue Cross Blue Shield (BCBS) licensee serving seven counties in Florida. The company's health insurance is mainly group plans for employers, but Medicare Advantage plans are available to individuals. The CHP Medicare rating is 4.5 stars.
Are you looking for free insurance quotes?
Secured with SHA-256 Encryption
UPDATED: Jun 1, 2022
It's all about you. We want to help you make the right coverage choices.
Advertiser Disclosure: We strive to help you make confident insurance decisions. Comparison shopping should be easy. We are not affiliated with any one insurance provider and cannot guarantee quotes from any single provider.
Our insurance industry partnerships don't influence our content. Our opinions are our own. To compare quotes from many different insurance companies please enter your ZIP code on this page to use the free quote tool. The more quotes you compare, the more chances to save.
Editorial Guidelines: We are a free online resource for anyone interested in learning more about insurance. Our goal is to be an objective, third-party resource for everything insurance related. We update our site regularly, and all content is reviewed by insurance experts.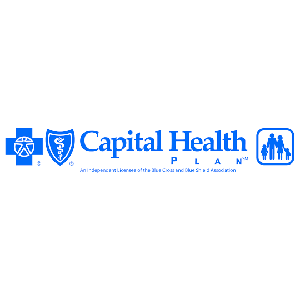 Capital Health Plan is a Blue Cross Blue Shield (BCBS) licensed health insurance company serving seven counties in Florida. They mainly write group health insurance plans for employers, as well as offering Medicare Advantage plans.
This Capital Health Plan Medicare review will help you decide if it's the right company for you. We'll discuss how to get Capital Health Plan Medicare quotes and the company's reputation.
But before you decide to buy Capital Health Plan Medicare insurance, be sure to compare your options.
Enter your ZIP code now, and we'll provide free Medicare quotes.
What is Capital Health Plan?
Capital Health Plan was founded in Tallahassee, Florida, in 1982 by a group of local leaders looking to provide residents with an affordable and accessible health plan. Today the plan serves more than 135,000 members in seven counties: Calhoun, Franklin, Gadsden, Jefferson, Leon, Liberty, and Wakulla.
Capital uses the BCBS shield name and license but operates independently. They run two Capital Health Plan (CHP) Health Centers to serve their members exclusively with a broad array of specialties. Their network across all counties includes more than 450 providers.
Capital's major medical health plans are aimed at employers looking for group coverage and state employees for whom they provide coverage. They also write several Medicare Advantage plans.
Are you looking for free insurance quotes?
Your one-stop online insurance guide. Get free quotes now!
Secured with SHA-256 Encryption
What Medicare Advantage plans are offered?
All of Capital's Medicare Advantage plans are HMO plans, with three offered to the general public and two Retiree Advantage plans offered either through private employers or through the State of Florida to its employees.
The CHP Silver Advantage plan is the company's $0 premium plan. It has no deductible, and copays are $10 for primary care and $50 for specialist visits.
The CHP Advantage Plus plan has no deductible and copays of $10 for primary care and $40 for specialist visits. Inpatient hospital visits have a copay of $250 per day for the first five days. This plan includes dental, vision, and hearing coverage as well as prescriptions. Tier one drugs start at a $3 copay.
The CHP Preferred Advantage plan also has no deductible, and copays are $10 for primary care and $25 for specialist visits. Inpatient hospital stays have a flat fee of $300 per admission, with no copay until day six, at which point there is a $100 per day copay through day ten. Dental, vision, and hearing are also included, and again prescription drug coverage starts at $3 for Tier one drugs.
The remaining two plans are only available through an employer. These Retiree Advantage plans can be offered either through a private company or the State of Florida, but they cannot be purchased by individuals. The plans appear to be the same as those offered in the individual market, however.
Are the rates competitive?
So what Capital Health plan advantage makes it better than other insurance products? The rates are listed on the Summary of Benefits and appear to be the same across all counties. Silver Advantage, as noted, is a $0 premium plan with no additional premium on top of the regular cost of Medicare. Advantage Plus has a monthly premium of $35, and Preferred Advantage costs $97 a month. These are on top of your regular Medicare premiums.
Since these rates are limited to a small geographical area, it is difficult to compare them to other companies. They are only comparable to other Florida insurers covering the same region.
How are claims processed?
CHP's Medicare plans are all HMO, which means a limited selection of providers through which claims billing is handled directly. This is how most health insurance companies operate. The lack of claims information on the website is not surprising.
There is an easy-to-access forms section of the website that includes a few reimbursement forms for Medicare, but members can expect that most claims will be handled without the need for action on their part.
The CHP Medicare formulary is available to help you determine how your prescriptions will be covered.
Are you looking for free insurance quotes?
Your one-stop online insurance guide. Get free quotes now!
Secured with SHA-256 Encryption
Does CHP have positive ratings and consumer reviews?
Strangely, the Better Business Bureau (BBB) page for Capital Health Plan states that the company is not rated because they have been in business for less than six months. The last time we reviewed this company, we could not find a BBB record at all. There are no complaints or reviews with the BBB.
The National Committee for Quality Assurance gives Capital's Medicare plans an overall 4.5 star rating out of five, which is excellent but down from the 5.0 rating the company had the last time we checked. Still, it is among the best-rated in the state.
The official 2020 rating from Medicare for Capital Health is 4.5 stars, which again is excellent and has been maintained from our last review.
There is not much out there regarding customer reviews of this health plan. That is likely because they are a regional insurer, but also points to a good reputation since a lack of complaints is usually positive.
What's the bottom line?
Capital Health Plan is a good health coverage choice if you don't mind the limits of an HMO and aren't looking for a long list of plans to choose from. This healthcare provider has a very good reputation based on trusted consumer surveys, and they have maintained high rankings for many years. If you're in the health care service area and looking for Medicare Advantage, CHP is worth comparing to your other options.
Affordable Capital Health Plan Medicare insurance might be your choice after you've done your research, but let us help you consider other options. Just enter your ZIP code below to get started and find other providers in the United States.