Traditionally,
insurance companies
 base their premiums on risk assessments they derive from a combination of statistical information and a driver's own history. Recently, however, telematics technology has made it possible to track a driver's habits more accurately, paving the way for
pay-as-you-go (PAYG)
and
pay-as-you-drive (PAYD)
auto policies.
About TrueLane
A number of companies are now offering usage-based plans, using telematics devices to track a driver's mileage and other habits.
The Hartford also joined the club and introduced TrueLane, their usage-based insurance product, in 2012. The Hartford's TrueLane program provides discounts to safe drivers who opt-in to have their driving monitored for six months.
How it Works
TrueLane relies on a telematics device that's plugged into the on-board diagnostics port (OBD-II) of your vehicle. When you enroll in the program, The Hartford will mail you the device free of charge. This small device then begins collecting and transmitting your driving data to The Hartford using cellular phone signals.
TrueLane's pay-as-you-drive policy is not a pay by the mile program. Instead, TrueLane uses telematics to get a clear picture of your driving habits and adjusts your rates accordingly.
Data Collected
Location
Time of day when driving occurs
Average speed
How Data is Used
It is not made completely clear from The Hartford's website exactly how the collected data is applied to set insurance rates. The website does state that it uses the data collected above to calculate trip distance, trip duration, acceleration, and braking to determine the appropriate discount.
There is no indication on the site that a specific number of miles or braking incidents will mark a driver as "safe." However, the website does state that drivers will not be penalized for their habits: If you don't qualify for a discount, your premiums will stay the same rather than rise.
The Hartford's website does address issues with security and data being shared. While all identifying information is removed from data collected, driving patterns and habits can be used for future program enhancements.
Eligibility
TrueLane is currently available in; Arizona, Arkansas, Connecticut, Minnesota, Missouri, Nevada, New Mexico, Oklahoma, Oregon, South Carolina, Virginia, and West Virginia.
To participate in the program, you'll need a vehicle with an OBDII port; these are standard in any car newer than 1996. However, electric cars, hybrids and diesel vehicles are not compatible with the TrueLane equipment, so they are not eligible for enrollment.
TrueLane is available to Hartford's current policy holders and is completely voluntary. Should you decide you no longer want to participate, you're able to opt-out at any time.
Savings
According to The Hartford's website, you'll receive 5% discount just for signing up and plugging the device into your car. After six months, when the policy renews, your driving habits will be assessed and a new premium will be applied to your policy. At that point, the company will send you a prepaid envelope to send back the telematics device.
The customer has an opportunity to save up to 25% per vehicle with the TrueLane program. While the "up to" aspect of any prospective savings can sometimes be misleading, the company's website does say that on average they anticipate a discount between 10% and 12%.
Installation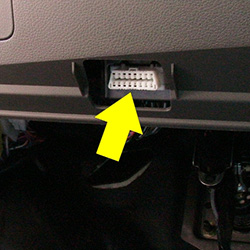 The TrueLane device plugs easily into your vehicle's diagnostic port, or the OBDII port. Nearly all vehicles built after 1995 have this port and it is quite simple to find.
If you are unclear where your OBDII port is, refer to this guide for help.
Bottom Line
With so many companies offering usage-based auto insurance, it takes some effort to stand out, and TrueLand just isn't doing it. Their website offers little information about how your behaviors will actually affect your rates, and the amount of data mined by the program may feel too intrusive for some people.
One thing that is nice to see on the company's website is their honesty regarding their anticipated savings. While is typical of companies to advertise their most appealing numbers, in UBI cases – the highest discount available, this can sometimes be misleading and ultimately result in a disappointed customer.
Usage-based auto insurance can be a great way for some drivers to save money, but The Hartford's version probably isn't worth pursuing unless you're already a Hartford customer and don't mind having your driving habits scrutinized.

For a list of companies that we recommend, visit our Best Insurance Companies page.
Review Information