Kentucky Farm Bureau Insurance Review & Complaints: Home, Life, Auto, Farm, Business & Health Insurance
Kentucky Farm Bureau Insurance Company exclusively sells home, auto, farm, business, and health insurance to members only. Membership appears to be fee-based, which means that those fees are going to cut into any savings from switching insurance companies. However – for those who do qualify, the company does appear to have a good reputation.
Are you looking for free insurance quotes?
Secured with SHA-256 Encryption
UPDATED: Dec 21, 2020
It's all about you. We want to help you make the right coverage choices.
Advertiser Disclosure: We strive to help you make confident insurance decisions. Comparison shopping should be easy. We are not affiliated with any one insurance provider and cannot guarantee quotes from any single provider.
Our insurance industry partnerships don't influence our content. Our opinions are our own. To compare quotes from many different insurance companies please enter your ZIP code on this page to use the free quote tool. The more quotes you compare, the more chances to save.
Editorial Guidelines: We are a free online resource for anyone interested in learning more about insurance. Our goal is to be an objective, third-party resource for everything insurance related. We update our site regularly, and all content is reviewed by insurance experts.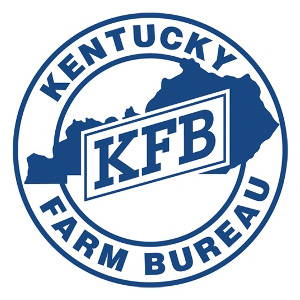 A member association with a long history, the Kentucky Farm Bureau provides insurance products designed to both protect and serve members. As one of the top-ranked Farm Bureaus in the nation, the Kentucky Farm Bureau's insurance products are popular throughout the state.
Who is Kentucky Farm Bureau?
The Kentucky Farm Bureau was formed in 1919 to work on the behalf of the state's farmers. Calling themselves the "Voice of Kentucky Agriculture" the KFB has more than 500,000 members and offers those members a wide range of services including banking, estate planning, scholarships, and of course, insurance.
The Kentucky Farm Bureau's range of insurance products includes the big three in personal products, farm insurance, business products, and some health insurance. Some products are sold through affiliated companies.
As a Kentucky company, the KFB serves only the state of Kentucky, with Bureau offices in every county. Products are sold through a network of county agents across the state.
Your one-stop online insurance guide. Get free quotes now!
Secured with SHA-256 Encryption
What insurance products are offered?
Does KFB have health insurance? The KFB has a wide range of products for both individuals and businesses. Their personal products include all of the basics as well as some specialty policies, and they also cover multiple types of businesses and farms.
Do they offer auto insurance?
The KFB has a basic auto insurance program offering all of the basics as well as common coverage options. From what is presented on the website, their program appears to be free of some of the common gimmicks that are trending in auto insurance today.
The program offers an impressive list of discounts, including some common discounts and a few different offerings, such as a discount for school bus drivers and students who commute to school.
The website promises auto insurance policies tailored to the needs of each individual driver, taking into account how often and how far you drive, among other factors – it should be noted that these factors are generally taken into account for any auto insurance underwriting.
Other Vehicles
KFB also offers boat insurance and policies for ATVs, personal watercraft, and motorcycles
Do they offer home insurance?
KFB has a range of different home insurance products for different types of houses and different needs, such as:
Special Form Homeowners – which is the standard single-family home insurance policy and includes structure coverage, personal property coverage, and liability
Broad Form Homeowners – which has more limits on what perils are included, and offers less comprehensive coverage; this policy is often used for seasonal properties or other properties that don't need the higher level offered by special form
Modified Homeowners – which is the most basic form of homeowner's coverage
Dwelling Fire coverage – a basic form of homeowner's available at three levels. These policies cover structure and liability but have little personal property coverage an are often used for rental homes
Apartment and Condo Insurance – for those who need contents and Liability coverage without structure coverage
Mobile Home Insurance – specifically designed for mobile homes
Renter's Insurance
Life Insurance
KFP has a full range of life insurance products, including term and whole life, according to its website, but policy details are not available. Southern Farm Bureau Life Insurance Company underwrites these policies
Farm Insurance
Not surprisingly, KFB has a strong farm insurance program. They offer Farm Owners Insurance in all three of the levels of their homeowner's policies (special, broad, and modified). They also have Farm Liability and Farm Equipment and buildings coverage available.
Business Insurance
KFP writes Business Owner's Insurance policies, which are package policies including basics of commercial coverage such as liability and business property coverage. In addition to the basic policy, there are a number of options available to customize the business policy to each company's needs such as outdoor sign coverage, earthquake coverage, spoilage coverage, and more.
They also write individualized commercial policies that can provide for the specialty needs of multiple industries.
Health Insurance
KFB has partnered with Anthem Blue Cross and Blue Shield to provide a range of health insurance options for its members. The company website does not offer information regarding health policies but does direct you to contact an agent.
Additional Products
KFB has several other products on the list, including flood insurance through the National Flood Program, Umbrella Insurance, and even coverage for churches.
Retirement Planning
Among the options for retirement planning are a range of annuities, long-term care offered through John Hancock, estate planning, and more.
Are their rates competitive?
Kentucky Farm Bureau does not offer online quoting, and insurance is available only to members, making it very difficult to do a price comparison against other insurance companies.
As a local, members-only, mutual company, KFB is likely to offer relatively good rates. They offer a lot of discounts and have a very specific audience for their products, making it likely the prices are tailored to that market as well.
KFB serves only Kentucky, so it can't be compared with our other rate test states. Although it was difficult to ascertain on the KFB website, reviews of the company indicate that there is a membership fee required, which means that the cost of that must be taken into account when comparing rates.
You can obtain electronic notifications when you set up your account with your email address, including your proof of insurance and other insurance documents.
How are claims processed?
During business hours, claims are reported directly to the insured's agent, and an after-hours toll-free number 1-866-532-2524 is available outside of those hours. The toll-free line operates from 4:30 p.m. to 9:00 a.m. and 24 hours on Saturday and Sunday.
After the initial report, the claim is assigned to an adjuster in the local claims office, who will then contact the insured within 24 to 48 hours. The process from here is not detailed on the website but likely follows common auto claims procedures.
Your one-stop online insurance guide. Get free quotes now!
Secured with SHA-256 Encryption
Are consumer research and complaints positive?
The Kentucky Farm Bureau has been an accredited company on the Better Business Bureau site since 1993. The company has an A+ rating from the BBB, and there are only seven complaints registered against them in the past three years. Six of those complaints are with regards to product and customer service.
There are very few Kentucky Farm Bureau reviews out there, which is generally a positive thing when it comes to insurance companies. Of the few reviews, there are actually a couple of positive ones, which further bolsters the theory that most customers are generally happy – they haven't complained and a few have even taken the time to write positive reviews.
How are the financial strength ratings?
| Rating Company | Grade | Financial Outlook |
| --- | --- | --- |
| AM Best | A | Stable |
| Fitch | N/A | N/A |
| S&P | N/A | N/A |
What's the bottom line?
Is Farm Bureau a good insurance company? Kentucky Farm Bureau is a local insurance company serving only its members, which cuts out a large portion of the population other than farm families. Membership appears to be fee-based, which means that those fees are going to cut into any savings from switching insurance companies. The market for which KFB insurance is worth considering is not a large one, which makes it difficult to recommend against other, likely less expensive, insurance companies. However – for those who do qualify, the company does appear to have a good reputation.