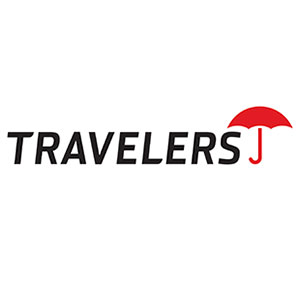 Traveler's red umbrella covers a lot of people; the group is ranked among the top five property & casualty insurers in the country. That's a big umbrella for an equally big company that promises shelter from life's storms.
Traveler's Insurance Summary
Traveler's started out as a travel insurance company – the source of their name – in 1864 in Hartford, Connecticut. Originally providing policies to railroad passengers for protection from the dangers of travel by train, they quickly expanded into property and casualty insurance offering an impressive list of firsts: the first auto policy, the first policy for commercial airlines, and even the first space travel policy.
In the 90s, Traveler's began a long list of acquisitions, mergers, and expansions. Purchased by Primerica in 1993, the company changed the name to The Traveler's Group in 1995. A 2004 merger with The St. Paul brought a brief name change to St. Paul Traveler's; the name was changed to The Traveler's Companies in 2007, dropping the St. Paul name but keeping the new headquarters in Minnesota. Today the company headquarters is in New York City, but there are still large offices in both Hartford and St. Paul.
Traveler's policies are sold through a large network of agents across the country, both under the Traveler's name and through a number of wholly owned subsidiaries retaining their own company names.
The list of subsidiaries includes:
St. Paul Fire and Marine Insurance Company
Fidelity and Guaranty Insurance Company
American Equity
Farmington Casualty Company
Athena Assurance
Select Insurance
Gulf Underwriters
The Standard Fire and Casualty
Today Traveler's ranks among the largest companies in the world, sitting at number 116 on the Fortune 500. In the 2014 FIO annual report, Traveler's ranked at number 5 of the top property and casualty companies in the U.S., taking the number 2 spot for commercial property & casualty and number 9 for personal.

Products and Services
Traveler's writes a pretty big range of products for both individuals and businesses, so it is easiest to break it down by personal and commercial lines to get a good look at the product offerings.
Personal Lines
Traveler's writes a number of different types of personal lines insurance, although they notably do not write life insurance (Traveler's Life and Annuity is in fact a subsidiary of MetLife and no longer associated with The Traveler's Companies). They offer mainly the basics, and for a company of their size the personal lines offerings are somewhat limited.
Auto Insurance
As of 2015, Traveler's ranked as the 10th largest provider of auto insurance in the U.S. Their policies provide all of the basic coverage – liability, comprehensive and collision, medical payments and more.
Traveler's offers four packages that can be added to the policy, for an additional premium, to provide more extensive and personalized policies:
Responsible Driver Plan – includes Accident and Minor Violation Forgiveness
Premier Responsible Driver Plan – adds Total Loss Deductible Waiver as well as Decreasing Deductible to the features of the Responsible Driver Plan
Premier Roadside Assistance – provides Trip Interruption Coverage and Personal Property Coverage in addition to towing, labor, and other roadside assistance perks
Premier New Car Replacement – includes gap coverage along with new car replacement without depreciation
Traveler's offers an extensive list of discounts for their auto insurance policies. Among them are common ones such as safe driver and some less common options including Hybrid car discount and Early Quoting discount for those who shop around before policy renewal.
Similar to many major car insurance companies, Travelers has introduced a usage-based option called Intellidrive. The device plugs into your car to monitor driving habits and help you earn discounts. They offer the added perk of allowing parents to sign up for email alerts when a teen driver uses the vehicle outside of predetermined rules. You can read a full review on the Intellidrive system here.
Homeowner's Insurance
Travelers is one of the largest personal property & casualty insurance companies in the nation, and their homeowner's policies provide all of the standard coverage including replacement cost dwelling coverage, personal property coverage, and liability. Options available include extended personal property coverage, water back-up coverage, and increased replacement cost.
Traveler's offers a number of discounts on homeowner's insurance in addition to the expected auto/home discount. Among the more unusual ones is the Green Home discount for LEED certified homes.
In addition to standard single-family dwellings, Traveler's writes insurance policies for condo owners and renters who need personal property coverage in a rental home. There is no coverage available for any other type of home such as manufactured homes or rental properties, which is unusual for a large property & casualty insurer.
Boat & Yacht Insurance
Traveler's has a good range of insurance products for water crafts of many different types. Policies are available for yachts, motorized boats, and antique and classic runabouts.
Boat policies are designed to be comprehensive and flexible, protecting boats both on and off the water as well as covering liability and personal property.
Other Personal Products
The rest of Traveler's personal lines products are a somewhat eclectic mix:
Umbrella Insurance
Identity Theft Coverage
Wedding Liability
Valuable Items Coverage
Flood Insurance
It is notable for a company the size of Traveler's that they do not offer motorcycle coverage or any kind of RV or off-road vehicles policies, which makes them a less than comprehensive choice for those with a lot of different vehicles and toys looking to insure everything in one place.
Commercial Lines
Traveler's is an enormous force in the commercial lines market, ranking as the second largest commercial property & casualty insurer in the nation. Their product offerings are a larger range than many similar companies, insuring businesses of all sizes for a lot of different risks.
Small Business Insurance
Traveler's Business Owner's Policy (BOP) for small business is called Travelers Pac, and is offered for many different business types, including:
Retail
Apartment buildings
Commercial buildings
Restaurant
Religious
Contractors
Garage
Technology
Wholesalers
Small business offerings also include commercial auto policies, commercial umbrella, and worker's compensation. Traveler's also offers the option of their cyber security insurance policy for small businesses, called CyberFirst Essentials.
Mid-Sized Businesses
For medium-sized businesses, Traveler's writes their IndustryEdge policies that cover a range of different needs. They cover a long list of business types, including:
Architects and Engineers
Healthcare Companies
Food Manufacturers
Publishers and Printers
Wood, Metal, and Mineral Manufacturers
Real Estate Companies
Retail
Restaurant
Traveler's Mid-Sized business insurance also provides policies for special risks, which can include the following industries:
Agribusiness
Construction
Inland and Ocean Marine
Oil and Gas
Financial Institutions
Renewable Energy
Transportation
Large Business
Traveler's writes property & casualty coverage for a variety of large businesses as well, including industrial parks, schools (including colleges and universities), amusement parks, hospitals and many more. They also write for specialized industries, covering a truly large range of businesses.
They offer a comprehensive risk management system called e-CARMA that helps large businesses track information and stay on top of losses.
Management and Professional Liability
Traveler's writes policies to protect financial institutions, private companies, non-profits, professional firms and public companies from the various liability risks associated with doing business. These policies are tailored to the company's needs and include employment practices liability, errors & omissions coverage, director's and officers liability, and commercial crime coverage.
Surety Bonds
In addition to the many business policies and coverage they write, Travelers also writes contract and commercial surety bonds.
Traveler's Prices and Premiums
Traveler's has never promoted itself as the most affordable insurance company around, which makes sense since their auto premiums are generally on the higher side. Our standard rate quote test returned a price that was 33.5% higher than the average for auto insurance rates.
Traveler's does offer a good list of discounts, especially for their auto insurance policies, and also has multi-policy discounts available so that those who choose to bundle can get a better rate on all of their policies. The Intellidrive pay-as-you-go (usage based) system is also a good new way to bring the premiums down.
Traveler's policies are exclusively sold by agents, which means commissions, and as a result higher premiums overall. Although the company is very competitive in terms of market share in both auto and personal property & casualty markets, their biggest arm is their commercial lines. Because they make so much of their money from the commercial side, which differentiates them from other large personal insurers, they may have less impetus to work on bringing auto rates down. This allows them to focus on top-tier drivers with lower risks.
Traveler's does offer online quoting for their auto insurance to help consumers compare rates with other companies. Their website promises an average savings of $415 per year for those who switch to Traveler's, but as always those promises have to be taken with a grain of salt. Insurance companies can claim savings based on those customers who did choose to switch, without mentioning how many people got a quote and decide not to switch – potentially a large population who found the rates too high.
Traveler's Claims
Traveler's accepts claims reports both online and over the phone depending on the type of policy. The contact information for reporting a claim varies, with different contact information for personal and commercial policies.
Personal lines claims including all auto, property, and boat claims can be reported via:
Phone at 1-800-252-4633
Online through the claims form on the website
For commercial lines claims, the contact information varies based on the type of policy:
1-800-238-6225 – For Auto, Property, General Liability, specialty, and Worker's Comp
1-800-832-7839 – National Accounts Claims
1-800-243-2490 – Constitution State Service Claims
1-877-828-4132 – Construction Claims
Bond and Specialty Insurance claims contact information is found on this page
Some claims can be reported online
Because business insurance claims can be complex, the Traveler's website offers a list of guides and information to help handle claims reporting and processing.
Traveler's website offers a very simple access point to allow customers to track claims and get information on the process. There is also a great deal of information to help with just about any type of claim in the claim support center area of the website.
Although quite divided, Traveler's various claims processing centers also provide service and information that is specific to the type of policy and claim, something that is particularly important with their wide range of business insurance products.
When it comes to claims satisfaction, Travelers appears to be under performing. They got an overall ranking of three out of five stars on the 2016 J.D. Power customer claims satisfaction survey. That's an "average" ranking according to their system. The company received a 3 out of 5 star across the board in categories such as,  service interaction, repair process, and settlement.
For a company that is not known for its low prices, Traveler's should be expected to make-up for cost in the service department. This is especially vital when it comes to claims, which is generally the time for an insurance company to show its true colors. While Traveler's doesn't particularly fail in this area, they certainly do not shine – an average rating is just not good enough if your premiums are among the highest around.
A look at reviews for Traveler's shows a large number of complaints surrounding claims that have not been handled to the satisfaction of the customer, which explains the J.D. Power rating.
Consumer Feedback
Traveler's is a very large company, and as a result there are bound to be plenty of negative reviews. That is common across the board for insurance companies of this size. Interestingly, fewer ratings overall can be found online on the most common sites for consumer complaints. ConsumerAffairs.com, for example, shows only a total of 122 reviews, 113 of which left a rating. That's a small number of review compared to the other large insurers such as Allstate and GEICO, which have hundreds of reviews.
The disparity might have something to do with the fact that part of what makes Traveler's so big is their commercial lines, and businesses rarely take to review sites to complain. Overall, though, the ratio of negative to positive reviews on Consumer Affairs paints a not-so-pretty picture, with only five 5 star and 68 single star reviews.
It's always important to note that customers are far more likely to write an online review when they are displeased than when they are content, so that has a tendency to skew online reviews. That said, the complaints about Traveler's are overwhelmingly focused on claims. There are also a large number of complaints regarding price increases, which does not surprise me given Traveler's already high premiums.
PissedConsumer.com has over 150 complaints about Traveler's on file. The overall rating on that site is 1 out of 5 stars. Again, complaints tend to surround claims handling and customer service, both things that should be stellar in a company charging higher premiums.
The BBB gives Traveler's an A+ rating, which they based on a number of different factors including response to complaints. They have a total of 3w7 complaints in the past three years, with 120 of those closed in the last 12 months. For a company of this size, those numbers are not alarming.
In 2007, Traveler's faced a class action lawsuit alleging the company paid fees to brokers in order to win business, an illegal practice. The company wound up paying $6 million in a settlement as a result of the lawsuit. Traveler's promised to reform business practices in addition to the payment. Any time a company has been accused of shady business practices, it can be difficult to put that aside when it comes to trusting them with covering your most valuable assets.
Bottom Line
Traveler's is a huge player in the commercial insurance industry, and although they offer a good selection of personal products, their focus does not seem to be on that side of the business. It's hard not to get that feeling from the company when you consider their high personal product premiums and lack of customer satisfaction with claims and service.
Traveler's is possibly a good choice for anyone who has both business and basic personal lines needs, since they write such a large array of business policies and are likely to be able to provide services to most owners while allowing them to also have their home and auto under one roof. However, other companies are likely to offer the same product combinations at a better price.
Traveler's is not likely to be the insurance company of choice for the budget-conscious, since their premiums are generally on the high side. Their lack of extended product offerings for personal lines is also likely to send consumers elsewhere – there are no life insurance and no extra products like RV, ATV, and motorcycle polices. For those with complex personal lines needs and without business insurance needs, better rates and service are likely to be found elsewhere.

For a list of companies that we recommend, visit our Best Insurance Companies page.
Review Information
Summary
Reviewer
Review Date
Reviewed
Author Rating