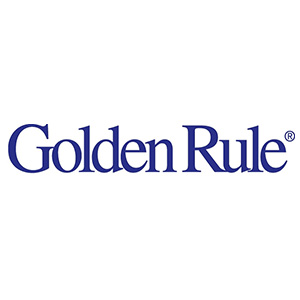 Golden Rule
is an Indiana-based
health insurance
company that is part of
UnitedHealthCare
, one of the biggest health insurance groups in the country. They write individual health insurance plans across much of the country.
About Golden Rule
Golden Rule Insurance was founded in 1940 in Indianapolis, Indiana, and became a part of UnitedHealthCare in 2003. Their products are sold under the UnitedHealthOne banner, which is the branding used for individual products that are underwritten by a variety of subsidiary companies owned by United.
Golden Rule's product lineup is centered on individual health insurance plans. The company has a history of political support for candidates pushing the increased use of HSAs in health care reform. Our research, however, did not show any products from Golden Rule that utilize an HSA – this may be due to the states in which we looked or a change in their offerings.
Golden Rule underwrites a variety of products under the UnitedHealthCare name. These include dental, vision, short-term medical, supplemental health, and prescription drug plans. Currently, there does not appear to be any major medical plans offered by Golden Rule (although other UnitedHealth companies do offer this type of plan).
Golden Rule continues to operate out of Indianapolis and offers their products in 40 states as well as the District of Columbia.

Golden Rule Products
Which of the companies under the UnitedHealthOne brand will underwrite the insurance depends on the state of residence; for example, when we attempted to get product information for California we found only dental, critical illness, vision, and prescription discount plans available. Hospital and medical indemnity coverage is offered in the state by a different UnitedHealth subsidiary.
Because of the long list of products and the various versions of those products make it difficult to provide details, we have tried to give an overview of each of the products Golden Rule writes. We drew from both California and Indiana to get a look at the products not offered in one single state.
Short Term Medical
Golden Rule has a variety of short-term medical plans designed to provide catastrophic coverage for those that are in between major medical plans for a variety of reasons, including job changes.
The plans we saw in Indiana range from 60/40 coinsurance up to 80/20 coinsurance. Deductibles are either $10,000 or $12,500. These are high because this type of plan is meant to be in place to protect against catastrophic medical bills, and not for regular ongoing medical care.
Hospital and Doctor Insurance
Golden Rule's Hospital and Doctor insurance plans pay a flat rate per day to cover fees for inpatient hospital care that are not paid for under major medical insurance.
The plans listed for Indiana start at coverage of $1,000 a day and go up by $1,000 increments to $5,000 a day.
Dental
In both states we looked at, Golden Rule has six different dental insurance plans available. These plans all offer similar basic coverage but differ in terms of copays and coinsurance amounts. Some plans include coverage for major dental service, while others cover only basics. None of the plans we looked at include orthodontia coverage.
Vision
There are two plans available in both states we looked at. The vision plans all include annual exams and benefits for eyeglasses and contacts. These plans can be bundled with the dental plans.
Critical Illness
Golden Rule's Critical Illness insurance plans pay a flat rate benefit upon diagnosis with any of the covered critical illnesses.
The payout benefits start at $10,000 and go up to $50,000.
Accident
Golden Rule offers three different accident insurance plans in Indiana. Each of the three plans offers an increasing level of benefits to pay for medical costs arising from an accident. Coverage pays for doctor visits but does not provide any benefits for prescription drugs.
Discount Card
In both of our sample states Golden Rule offers a discount program that provides discounted services for both medical care and for prescription drugs.
Term Life
In Indiana, Golden Rule writes 10 or 20-year term life insurance plans with death benefit amounts going up to $200,000. An optional Critical Illness rider can be added to the plans.
Rates
We looked at the rates for a 30-year-old male, which are readily available and easy to locate on the UnitedHealthOne site. Since there are so many different plans, we are listing some of the more common options.
Short-term medical starts at $44.40 (in Indiana, as this coverage is not available in California) and goes up to $64.20.
Dental insurance plans start at $27.95 in California and go up to $76.90 a month. Rates in Indiana are a bit lower – which is not surprising – and start at $21.03
Hospital and Doctor insurance is not underwritten by Golden Rule in California. The Indiana rates start at $52.59 a month for this product.
The last rates we gathered are for term life insurance. A 10-year term policy with a death benefit of $25,000 came in at $6.81 a month. A 20-year-term policy at $200,000 has a monthly rate of $56.33.
Claims
We did not find much in the way of claims information on the company's website. Although most health insurance plans handle claims directly with the provider, some of the policies that are underwritten by Golden Rule will require the filing of claims directly by the insured.
On the contact page, there is both a mailing address and a fax number for claims. A phone number is not listed, but United does have a main customer service line where claims questions can likely be directed. There is also a member portal where existing customers can check on existing claims.
Ratings and Consumer Reviews
Golden Rule Insurance Company has an A+ rating with the Better Business Bureau (BBB). They have been accredited since 1985 and have a total of 17 complaints on file in the past three years. There are five negative reviews on the BBB page citing issues of claims denial and long wait times on hold with the company.
There are 85 reviews of Golden Rule on Consumer Affairs and an overall one-star rating. The complaints on this site are much the same, including billing issues and claims issues. There are also multiple complaints about the difficulty of getting a person on the phone.
The complaint volume for Golden Rule is not high for the size of the company, and the type of complaints are fairly common to this sort of insurance company. It does seem like there is an issue with hold times for customer service, which is a problem that Golden Rule needs to address, but this is often common to large insurance companies that have outgrown their staff.
The Bottom Line
Golden Rule's branding under UnitedHealthOne is a bit confusing, and the other companies under the same brand add to that confusion, but the brand does provide name recognition. They have a long list of products that differ from state to state and may be a good value depending on your needs.

For a list of companies that we recommend, visit our Best Insurance Companies page.
Review Information
Summary
Reviewer
Review Date
Reviewed
Author Rating