Dairyland Insurance Review & Complaints: Auto & Motorcycle Insurance
Dairyland Insurance reviews find that the company was acquired by Sentry Insurance in 1966, and continues to write auto insurance and motorcycle insurance policies under the Sentry Dairyland name. Dairyland Insurance quotes are specifically for drivers who have a problematic driving record, poor credit, or lack of experience. Dairyland Insurance car insurance may be a viable option for non-standard car insurance, and Dairyland Insurance motorcycle coverage is also popular. Dairyland insurance rates vary by location.
Are you looking for free insurance quotes?
Secured with SHA-256 Encryption
UPDATED: Apr 28, 2021
It's all about you. We want to help you make the right coverage choices.
Advertiser Disclosure: We strive to help you make confident insurance decisions. Comparison shopping should be easy. We are not affiliated with any one insurance provider and cannot guarantee quotes from any single provider.
Our insurance industry partnerships don't influence our content. Our opinions are our own. To compare quotes from many different insurance companies please enter your ZIP code on this page to use the free quote tool. The more quotes you compare, the more chances to save.
Editorial Guidelines: We are a free online resource for anyone interested in learning more about insurance. Our goal is to be an objective, third-party resource for everything insurance related. We update our site regularly, and all content is reviewed by insurance experts.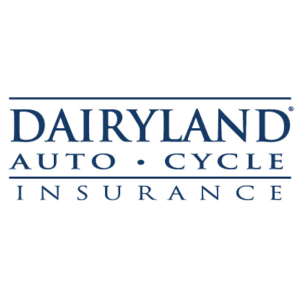 Are you looking for free insurance quotes?
Your one-stop online insurance guide. Get free quotes now!
Secured with SHA-256 Encryption
Dairyland Insurance is a Wisconsin-based insurer offering car insurance and motorcycle insurance products. The company offers coverage throughout most of the United States for a variety of vehicles with both four wheels and two wheels and focuses on non-standard insurance coverage markets.
Whether you want to compare Dairyland insurance rates or see how you can get Dairyland insurance quotes, we are here to help. Our Dairyland Insurance review has everything you need to know.
Ready to see some numbers before you get into the Dairyland insurance review below? Enter your ZIP code below to get free car insurance quotes. Comparing quotes is the best way to get cheaper auto insurance.
What is Dairyland insurance?
Dairyland was founded in 1953 in Madison, Wisconsin as a non-standard auto insurance company offering coverage to those who had difficulty obtaining it elsewhere. In 1966 another homegrown Wisconsin insurer, Sentry Insurance, which remains the parent company of Dairyland to this day, acquired Dairyland. At this time, Dairyland auto insurance expanded into motorcycle liability insurance as well.
Dairyland, which was offering coverage in 27 states at the time of the merger, continued expansion, and in 2005 reached 43 states through a merger with Viking Insurance.
Dairyland headquarters is located in Stevens Point, Wisconsin, and any auto and motorcycle policy is offered through local independent agents.
Are you looking for free insurance quotes?
Your one-stop online insurance guide. Get free quotes now!
Secured with SHA-256 Encryption
What insurance product does Dairyland offer?
As a non-standard insurer, Dairyland is an option for drivers who have a problematic driving record, poor credit, lack of experience, or other issues that prevent them from obtaining insurance on the standard market. They write both cheap auto insurance and standard motorcycle insurance rates.
Auto Insurance Coverage
Dairyland writes coverage for those who require an SR-22, drivers with DUIs on their record, non-owner policies, and more. Not surprisingly for a non-standard insurer, the website pushes liability coverage-only policies, but also offers full coverage options including comprehensive coverage, collision coverage, and uninsured/underinsured motorist coverage. Towing and labor, rental reimbursement, and even special equipment coverage are also options.
Dairyland offers a range of discounts, some of which are aimed specifically at the non-standard market. Discounts for obtaining a quote ahead of the start date and having previous insurance are incentives for drivers who may have had insurance problems in the past. They also offer common discounts such as multi-car and anti-theft devices.
Dairyland offers a range of payment options for their policies, including a pay-as-you-go option that features a low down payment and minimal monthly payments.
It is not unusual for a non-standard insurer like Dairyland to not offer some of the common options seen at standard insurers, such as accident forgiveness or deductible reduction.
Motorcycle Insurance
Looking for the best motorcycle insurance? Dairyland Insurance motorcycle insurance is called DairylandCycle, and offers coverage for a wide variety of motorcycle types including touring, sport, and cruisers. They also cover mopeds and scooters. Unlike some other companies, they do not have strict limits on the brand or type of motorcycle they cover.
In addition to the basic coverage such as liability, comprehensive, and collision, Dairyland has multiple added value coverage options for motorcycles. These include coverage for added costs during an accident away from home, overseas temporary coverage, and rider training.
Discounts for motorcycle insurance include membership discounts for rider clubs and groups, multi-policy discounts, and loyalty discounts.
What are Dairyland insurance rates?
While Dairyland does have an online quoting system, at the time of this review it was not functional. The company touts cheap, affordable car insurance, but as a non-standard insurer, they are unlikely to compete with standard insurance companies. Their insurance premiums may be competitive with other non-standard auto and motorcycle companies, but due to the lack of functionality of the quoting system, we were unable to verify this.
What are Dairyland insurance claims like?
Dairyland does not have an option for online claims reporting, but there is a 24/7 toll-free line available for reporting claims. You may also be able to use the Dairyland insurance app.
Unlike many insurers, Dairyland does not push a preferred repair network but instead offers to work with the chosen repair shop of the customer. This is available from every insurer, but a preferred network repair shop is usually presented as offering added benefits.
Dairyland provides a good rundown of their claims service on the website and promises fast, fair claims service. Although there is not much in the way of detail, there are a lot of promises that the process will be easy and smooth.
Are you looking for free insurance quotes?
Your one-stop online insurance guide. Get free quotes now!
Secured with SHA-256 Encryption
What are Dairyland insurance financial strength ratings and consumer reviews?
Dairyland is a bit difficult to get a clear picture on when it comes to Better Business Bureau (BBB) ratings, which is an insurance rating organization, as there are multiple pages for each local branch in various states. There is not a BBB page for the head office in Wisconsin, however, there is one for the parent company, Sentry. Sentry is currently not rated by the BBB, and the page states this is because the company is in the process of responding to previously closed complaints. There are 111 complaints on file in the past three years, and 32 were closed in the past 12 months.
Pissed Consumer has 97 reviews of Dairyland, with the vast majority being negative. There are repeated complaints of difficulty with canceling policies, as well as failure to pay claims.
Consumer Affairs has similar complaints on file about this company, with a total of 71 reviews adding up to a one-star overall rating.
While the complaints are not unusual in volume for a nationwide company, there are repeated complaints about the same issues, which always raises some concern. Non-standard insurers, in general, tend to have more complaints, particularly from people involved in accidents with the company's insured drivers. That may be due to the higher-risk nature of the drivers they insure.
What is the bottom line?
If you require non-standard insurance, choices are somewhat more limited, therefore Dairyland may land on your list of options. They do appear to have good coverage choices and an open policy on who and what type of vehicle they insure. There are certainly some concerns in the complaints about this company, however, regarding their claims handling and billing practices. Checking reviews for your local Dairyland office may be helpful to the final decision, as local agents and adjusters may vary in their service approach.
Now that you know all about Dairyland Insurance, it's time to get some quotes. Compare car insurance rates for free – just enter your ZIP code.
References: