Canal Insurance Company Review & Complaints: Commercial Truck Insurance
This Canal Insurance Company review finds the company only writes insurance for commercial trucking fleets. Canal Insurance Company rating is B+ with the Better Business Bureau for a failure to be transparent about ownership, and customers review the company negative due to the unpleasant Canal Insurance Company claims process.
Are you looking for free insurance quotes?
Secured with SHA-256 Encryption
UPDATED: Apr 28, 2021
It's all about you. We want to help you make the right coverage choices.
Advertiser Disclosure: We strive to help you make confident insurance decisions. Comparison shopping should be easy. We are not affiliated with any one insurance provider and cannot guarantee quotes from any single provider.
Our insurance industry partnerships don't influence our content. Our opinions are our own. To compare quotes from many different insurance companies please enter your ZIP code on this page to use the free quote tool. The more quotes you compare, the more chances to save.
Editorial Guidelines: We are a free online resource for anyone interested in learning more about insurance. Our goal is to be an objective, third-party resource for everything insurance related. We update our site regularly, and all content is reviewed by insurance experts.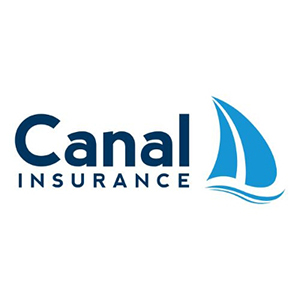 Are you looking for free insurance quotes?
Your one-stop online insurance guide. Get free quotes now!
Secured with SHA-256 Encryption
 South Carolina-based
Canal Insurance
is focused on insurance for the commercial trucking industry. They provide commercial auto coverage to a variety of operations across the country.
About Canal Insurance
Canal Insurance was founded in 1939 to meet the needs of the growing long-haul trucking industry. Originally owned by a bank to cover vehicles they had financed, the company was purchased by an insurance agent in 1939 and began independent operations selling to the public.
By 1960 the company had expanded to cover 42 states and had a highly successful operation. The company's headquarters remain in Greenville, SC, although they have moved over the years to larger headquarters buildings.
Canal insures a variety of trucking operations, including fleets and single trucks. Policies are sold through agents across the country.
At the time of our visit to the Canal website, we found it to be functioning poorly, with incorrect links and some pages that did not load or took several attempts to load; this is a frustrating experience for a reviewer and even more so for a customer.

Are you looking for free insurance quotes?
Your one-stop online insurance guide. Get free quotes now!
Secured with SHA-256 Encryption
Your one-stop online insurance guide. Get free quotes now!
Secured with SHA-256 Encryption
Canal Products
The Canal programs are broken up by fleet size, and they are entirely focused on commercial trucking operations.
Express is for fleets of 1-10 trucks, Mid-Fleet for those with 11-50 trucks, and Fleet for those with 51+ trucks.
Coverage includes general trucker's liability, cargo/freight insurance, physical damage, and of course all of the standards of commercial auto. This includes liability for property damage and bodily injury.
Canal's truck insurance program also provides comprehensive roadside assistance, with a mobile mechanic available, as well as towing, tire changing, and other services.
Fleets of 11+ can add enhanced cargo/freight coverage in addition to that which is included standard. The cargo coverage is comprehensive and can be customized as needed. The cargo/freight and physical damage coverages have a single deductible option as well.
In addition to the coverage side, Canal offers their Risk360 safety program that provides a variety of related services including fleet monitoring and safety education.
How to Get Rates
Online quoting is not offered from Canal, which is expected for this type of company. Commercial auto, and particularly this type of insurance coverage, is very specific in nature, which means it is much better off quoted with a representative or agent.
Quotes can be obtained by contacting a Canal agent; the website offers a search function for this purpose.
How to File Commercial Trucking Claims
Canal's website has an online form that can be filled out to report a loss. Claim documents can also be attached when submitting the form or can be sent in by other means such as fax or regular mail.
There is a toll-free 24/7 emergency claim line. The site recommends using this line immediately in the case of any hazardous spill, serious injury, death, or claim involving refrigerated cargo. It seems likely that it can be used for any claim, however, if the customer prefers to talk to someone.
Further details are not offered in terms of claims processing or services.
Your one-stop online insurance guide. Get free quotes now!
Secured with SHA-256 Encryption
What are the Ratings and Customer Reviews?
Canal Insurance has a B+ rating with the Better Business Bureau (BBB), with a total of five complaints on file in the past three years. The lowered rating is explained as being due to failure to be transparent about ownership, location, or products/service offered. There is no further detail offered as an explanation of what the particular issue was with this company. The complaint volume is low.
The only customer reviews we could find were on Yelp, where there are four one-star reviews. These complaints focus on the failure to pay claims and unprofessional service.
We were unable to find much else in the way of information on Canal, which is fairly common for a commercial insurance company.
What's the Bottom Line?
With some issues reported by the BBB and a website that simply wasn't functioning right at the time of our visit we didn't come away with a positive impression of Canal. Their complaint volume isn't high, but the other issues do raise some concerns. Considering the importance of coverage for commercial trucking operations, customers may want to look elsewhere.

Are you looking for free insurance quotes?
Your one-stop online insurance guide. Get free quotes now!
Secured with SHA-256 Encryption