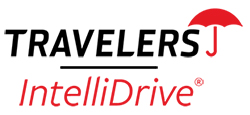 IntelliDrive by Travelers
is a usage-based (also known as pay-as-you-go) insurance program that monitors driving habits and reports them back to the company. In theory, by monitoring driving habits,
insurance companies
can assign premiums based on individual risk factors, rather than aggregate data across thousands or millions of drivers.
Usage-based insurance has been on the rise in recent years, and insurance companies are beginning to market these programs heavily. Progressive offers Snapshot, their pay-as-you-go service, in nearly every state across the country, while  MetroMile is gaining traction in the Pacific Northwest.
About Intellidrive
Traveler's Intellidrive is a 90 day usage-based insurance program offered to customers to track their driving behaviors. The program offers an incentive to drivers who demonstrate safe driving habits in the form of a discount. However, the company's website also states that riskier driving habits can result in a premium increase.
How it Works
Since our last review of this product, the program seems to have changed quite a bit. It seems as though the company has recently reintroduced the program as the Intellidrive App.
In our previous review, although a few years ago, the program was much the same as most companies offering UBI insurance.  The customer would simply plug a device into their car, this device would then report back to Travelers via signals from cell phone towers. Once the data was compiled and analyzed, the company would determine the appropriate discounts based on their findings.
The most recent information available shows that the program is now completely done with the Intellidrive App. The customer simply downloads the app and through the apps built in software, it is able to automatically track and keep a record of driving habits and trips.
The data collected is then rated by Travelers and given a star rating, 5 is the highest rating available. The premium adjustments are made at the time of your next renewal.
Data Collected
The Travelers IntelliDrive device collects a number of different metrics, including:
GPS Location
Time of Day
Average Speed
Braking
Acceleration
Miles Driven
How Data is Used
According to Travelers, data used in calculating premiums is a combination between time of day, average speed, braking, and acceleration. The website also states the the collection of location information is only used for research purposes and will not affect your premium.
Eligibility
On our previous review of this product, there were a handful of states where Intellidrive was offered. Now, it seems as though the program is only available to those who live in Minnesota or Nevada.
In order to use the IntelliDrive App, the customer is required to have a smart phone. Both iPhone (4s and above) and Androids can be used.
Savings
When a customer signs up, they can almost immediately save up to 5% on their premium, just for enroling. Travelers does a poor job of explaining what "up to" means on their website, or really what the range is.
Once the data collected has been reviewed, as mentioned earlier, the adjustments to a premium are made at the time of renewal. The website states that customers could receive "up to" a 20% discount off of their premium. The problem is the actual numbers are not readily available anywhere on Travelers website.
Installation
Because their is no longer a device to plug into your vehicle, the only installation needed to be done would be on your phone. The user would simply download/install the Intellidrive App, and follow instructions from there. I would assume that the first step, after installation, would be to login to your account and then begin driving.
Bottom Line
While the previous version of Intellidrive was more mileage-based, this one uses braking, acceleration, speed, and time of day to calculate the savings. Personally I am more of a fan of mileage based results as they are calculated with actual numbers that a normal person can comprehend, not ambiguous things like how fast you accelerate. It makes the entire process more predictable, which is an advantage for consumers.
Any information regarding the Intellidrive Program was difficult to find this time around. Furthermore, the information that was found was very minimal. In order to get more information on the program, the customer needs to login to their portal on the website, or look through your policy where the website states you'll find more information on the product.
What I do not like about Travelers IntelliDrive program is how hard it is to find actual numbers about their discounts, or information about the product in general. As mentioned above, if you are a current policy holder, more information is likely to be available to you, however the fact that I could not find them easily says most consumers won't either.
Issues that some may have with any usage-based insurance is the lack of privacy. The program does track a lot of personal data and many feel as though this is too much information being giving to an insurance company. For those who do not mind that companies knowing where you are and when you're there, this program is definitely worth a look. As UBI insurance is expanding more and more, there are plenty of people jumping on board and excited for the possible premium discount that UBI's programs typically offer.
If I could make one suggestion it would be to just make sure you get hard discount numbers from your agent before forking over all your personal driving data.

For a list of companies that we recommend, visit our Best Insurance Companies page.
Review Information