Best Auto Insurance for New Hampshire
The best auto insurance for New Hampshire would be a company that offers a combination of a great auto insurance product that also comes at a great price. Amica Mutual, State Farm, and Allstate are some of the top choices for value and service.
Are you looking for free insurance quotes?
Secured with SHA-256 Encryption
UPDATED: Jul 22, 2020
It's all about you. We want to help you make the right coverage choices.
Advertiser Disclosure: We strive to help you make confident insurance decisions. Comparison shopping should be easy. We are not affiliated with any one insurance provider and cannot guarantee quotes from any single provider.
Our insurance industry partnerships don't influence our content. Our opinions are our own. To compare quotes from many different insurance companies please enter your ZIP code on this page to use the free quote tool. The more quotes you compare, the more chances to save.
Editorial Guidelines: We are a free online resource for anyone interested in learning more about insurance. Our goal is to be an objective, third-party resource for everything insurance related. We update our site regularly, and all content is reviewed by insurance experts.

New Hampshire has some of the lowest car insurance rates in the nation, ranking in the bottom ten and well below the national average. That is good news for drivers, but to find the best coverage at the best rate, shopping around is still the best bet. Our top picks for New Hampshire car insurance are a great place to start.
The Basics of Auto Insurance in New Hampshire
New Hampshire is unusual among the states in that it does not have a mandatory insurance law; this means that you are not required to carry a minimum amount of coverage or carry any coverage at all.
This does not mean that you don't need insurance, however. New Hampshire still has a law requiring drivers to show financial responsibility in the event of an at-fault accident. That seems confusing, but what it really amounts to is that unless you are able to provide a bond or certificate of deposit in a large amount of money, you need to have insurance.
While there is no minimum coverage required, the lowest amount available from a New Hampshire insurance company is $25,000 per person and $50,000 per incident for bodily injury. The minimum available for property damage is $25,000. This makes a minimum coverage policy in New Hampshire comparable to most other states' legal minimum requirements.
Even though the state does not mandate insurance, drivers with a loan or lease on their vehicle will still need to take out a policy to satisfy the terms of the loan or lease agreement. Lenders and lessors protect their interest in the vehicle they are financing for you by requiring that you provide proof of insurance to repair or replace the car if needed. The terms of the financing agreement should clearly spell out what you are required to carry in terms of insurance.

Are you looking for free insurance quotes?
Your one-stop online insurance guide. Get free quotes now!
Secured with SHA-256 Encryption
Your one-stop online insurance guide. Get free quotes now!
Secured with SHA-256 Encryption
Specifics of New Hampshire Auto Insurance
Since New Hampshire's car insurance law is confusing, we will explain a little further.
In New Hampshire, drivers are required to be financially responsible for injuries or damage caused as a result of their negligence. That means when you are found at fault in an accident, the can be sued for the damages. Without insurance, you will be responsible for the full amount of the damages.
Not only that but if you fail to provide proof of financial responsibility after an at-fault accident, you can have your license suspended and be required to file an SR-22 (proof of financial responsibility).
Drivers in New Hampshire are strongly encouraged to purchase an insurance policy, and the best way to really ensure adequate protection is to purchase coverage above the legal minimum.
Our Process
Our top choices for New Hampshire car insurance were selected by looking at three main factors. Those are the company's reputation including claims handling, the company's rates including available discounts, and the quality of the products.
Most people start shopping for car insurance by comparing rates, but the price is only a piece of the picture. The real value in car insurance is found by paying a fair and competitive rate for a quality insurance policy that meets your needs and issued by a company that has a great reputation for taking good care of customers.
We chose the companies that rank the best for customer satisfaction, both through customer reviews and through trusted consumer reports. We took a special interest in the company's claims satisfaction ratings since claims are always the true measure of an insurance company.
We also looked for companies that offer competitive rates, looking not for the least expensive but for the best price on solid coverage – from a top-rated insurer.
Each of the three top picks on our list offers coverage to everyone in New Hampshire, and there are no eligibility requirements. As a result, USAA does not appear on our list, but they are always recommended to those that qualify thanks to low rates and a solid reputation.
Our Top Picks
These three companies rise to the top thanks to their rates, service, and all around good value.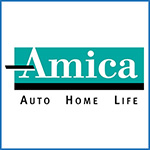 Amica Mutual is among the top-ranked insurance companies in the nation and sits at number one for 2018 on the New England regional J.D. Power survey. They rank right at the top in every area of service, from the shopping process through the claims. This company has a reputation that's hard to beat.
They also offer really competitive rates for car insurance in New Hampshire and offer one of the best auto and home insurance discounts in the industry. That makes them a great pick for anyone looking to bundle.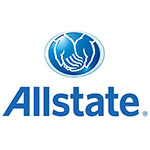 Although Allstate does not always perform as well in nationwide surveys, they are doing very well in New Hampshire for customer satisfaction, ranking third overall in the regional survey. They are doing something right in this state.
Allstate is well known for having one of the longest lists of discounts around. Since they already come in among the lower rates for New Hampshire drivers, that list of discounts really puts them over the top in terms of value for many people.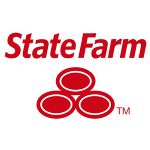 They are the largest auto insurance company in the nation and also rank at number two in the regional survey of customer satisfaction, which makes them a top pick in New Hampshire. State Farm ranks highly in national claims satisfaction surveys too and holds a very solid reputation.
State Farm is also surprisingly affordable. They have a solid list of discounts that includes a good auto/home bundling discount and come in among the lower-priced options even without those discounts. That all adds up to good value.
Your one-stop online insurance guide. Get free quotes now!
Secured with SHA-256 Encryption
Shopping for Car Insurance in New Hampshire
As noted previously, there is a legal minimum for the amount of coverage an insurance company can offer on a policy. That minimum, however, is not likely to be adequate in anything more than a relatively minor accident. It is highly recommended that drivers carry higher limits to protect themselves from the financial ramifications of an accident.
Shopping for car insurance is easier when you know exactly what coverage you need and want. Most car insurance companies have a standard level of coverage the use for quotes when the potential customer does not request certain limits. Because these standards can vary from company to company, it makes comparison shopping challenging. Knowing what you want makes sure that all of the quotes you receive are for the same coverage. That makes them easier to compare.
Our top picks for New Hampshire are all big companies, but that does not mean smaller options are not worth a closer look. A local independent agent is the best choice to help you explore local insurance options.
The Bottom Line
New Hampshire's car insurance laws are unusual, but amount to the same thing as any other state – you need to be financially responsible for damages in an accident, and insurance is the best way to do that. Shopping around will help you to take advantage of New Hampshire's already low rates and find the best value for your needs.

Are you looking for free insurance quotes?
Your one-stop online insurance guide. Get free quotes now!
Secured with SHA-256 Encryption