Best Home Insurance for New York
The best New York home insurance companies are Amica Mutual, State Farm, and Farmers Insurance based on rates, coverage, and reputation. Compare New York home insurance quotes with our free tool below to get the lowest New York home insurance rates.
Are you looking for free insurance quotes?
Secured with SHA-256 Encryption
UPDATED: Oct 22, 2021
It's all about you. We want to help you make the right coverage choices.
Advertiser Disclosure: We strive to help you make confident insurance decisions. Comparison shopping should be easy. We are not affiliated with any one insurance provider and cannot guarantee quotes from any single provider.
Our insurance industry partnerships don't influence our content. Our opinions are our own. To compare quotes from many different insurance companies please enter your ZIP code on this page to use the free quote tool. The more quotes you compare, the more chances to save.
Editorial Guidelines: We are a free online resource for anyone interested in learning more about insurance. Our goal is to be an objective, third-party resource for everything insurance related. We update our site regularly, and all content is reviewed by insurance experts.

New York home insurance comes in just a little above the national average, although rates differ greatly depending on where you live. Whether you are in New York City or upstate where rates are lower, shopping around is your best bet for finding a great deal on your insurance; these top picks are a great place to start.
The Basics of New York Home Insurance
Home insurance is not mandated by state law like car insurance, but it is required as a part of your mortgage agreement, so unless you are mortgage-free, you have to purchase it. Even if you are one of the lucky ones without a mortgage payment, home insurance is a must to protect your most valuable asset.
New York home insurance has the same basics as that offered in other states. It covers the house itself with dwelling replacement coverage, your personal property, and provides liability coverage as well. Many other coverages may be included either standard or as an optional endorsement you can add on to your policy in order to customize it.
The main part of the policy is the protection for the dwelling, which is usually calculated at replacement cost, although many policies offer extended coverage beyond that amount. This coverage is the amount of money that would be necessary to re-build the home from the ground up, and frequently does not match the market value of the home. New York insurers can offer a Market Value policy, which is unusual and is used only when the replacement cost of the home exceeds its market value, common in older homes.

Are you looking for free insurance quotes?
Your one-stop online insurance guide. Get free quotes now!
Secured with SHA-256 Encryption
Are you looking for free insurance quotes?
Your one-stop online insurance guide. Get free quotes now!
Secured with SHA-256 Encryption
Specifics of Home Insurance in New York
New York's home insurance market is similar to that in other states, although the state's coastline impacts some of the available policies and discounts. Coastal homes that are at risk for hurricane damage may qualify for discounts when the home is updated with wind mitigation upgrades. Some insurance companies may require a certain level of wind mitigation in order to issue a policy at all.
Coastal – and some other homes – will also need to carry flood insurance, which is not covered as part of a standard home insurance policy.
Like most states that are home to a very expensive urban area, New York's average home insurance rate is inflated by the high cost of insurance in the city of New York. Rural areas tend to have much lower rates by comparison.
Our Process
Our top picks for New York home insurance all meet several basic standards that add up to a company offering real value in home insurance. Our requirements are that the company offer great coverage with plenty of standard inclusions on their homeowner's policy, that they have an excellent reputation for customer service, and that they also offer competitive rates.
While the rate is often the most important consideration for anyone shopping for home insurance, it is important to make sure you know what you are getting for your money. Cut-rate companies may skimp on coverage by reducing the replacement cost coverage, covering personal property only at actual cash value, and leaving off benefits that come standard elsewhere. A good rate is not so great if the coverage isn't enough to protect you.
That good rate is also only as good as the company behind it. We looked at the ratings for each company from major consumer resources such as J.D. Power, as well as doing our own research into customer complaints and reviews. All of the companies on our list have a solid reputation for taking good care of customers, particularly during claims – when it really counts.
All of our selections offer coverage to the majority of New Yorkers, without specific eligibility requirements. This means that while USAA is a highly rated company and a great choice for those with the right military connections, they do not make our list due to eligibility rules.
Our Top Picks
These companies offer great coverage with competitive rates, and back it with a solid reputation for taking good care of their customers.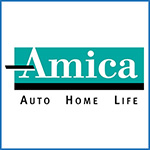 Amica Mutual
Amica Mutual is the top-rated home insurance company in the nation, holding the top title for both J.D. Power's home insurance satisfaction and property claims satisfaction surveys. In overall satisfaction they earn five out of five across the board, in all categories.
They also have competitive rates and offer a hefty auto/home discount that can bring down you rates overall. And their standard home insurance policy includes top-notch coverage with extended replacement cost on the dwelling as well as replacement cost for personal property. Amica Mutual is a great value in home insurance.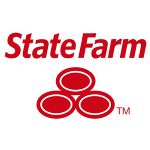 Ranking highly in customer satisfaction surveys, State Farm is the largest home insurance company in the nation and also ranks among the best choices for New York. Their rates are competitive everywhere, but they are especially low in upstate New York where State Farm edges out most major competitors on rates.
With a comprehensive policy that come standard and a good bundling discount – among other available discounts – State Farm is one of the best values for insurance overall. And all of this comes with the personal attention of an agent, which is not always the case with low rates.

While they may not be the least expensive in upstate New York, Farmers offers highly competitive rates in New York City, earning them a spot on our top picks list. The average rate in the city is well above the overall state average, so finding a good deal in this pricey city is not always easy.
Farmers ranks well for customer satisfaction both in the overall home insurance and claims satisfaction surveys. They have a comprehensive home insurance program that provides a range of coverage as part of the standard policy, including extended replacement cost for the dwelling. And like State Farm, it comes with your own personal agent.
Are you looking for free insurance quotes?
Your one-stop online insurance guide. Get free quotes now!
Secured with SHA-256 Encryption
Shopping for Home Insurance in New York
Because New York City's rates vary so much from other parts of the state the approach to shopping may be a little different if you are in Brooklyn versus Buffalo. The main approach, however, remains the same.
The first step to shopping for homeowner's insurance is to understand what kind of coverage you need. There are plenty of replacement cost calculators out there, and they often come up with different answers. It is a good idea to check in with your lender to find out what amount they require you to carry in dwelling coverage, but also to consider what seems to be a reasonable number for replacement cost.
Bear in mind that in a place like New York City where market values far exceed replacement cost in many cases, your calculated replacement cost may be nowhere near what you paid for your home. That's ok – insurance is there to repair or rebuild your home if it is damaged, and replacement cost is calculated to do just that.
In New York, big companies rule our list, but small companies that fly under the radar and be the right choice for your particular needs. It is always worth talking to a local agent to get some quotes from the local and regional companies serving your area. The more quotes you have to compare, the more you can feel confident you are making the best choice.
The Bottom Line
New Yorkers can choose from some of the best-rated companies in the country and still get a great rate on home insurance, which makes shopping a little easier. Remember that New York City and the rest of the state differ greatly in terms of home insurance, so a recommendation that is great in the country may not offer the same kind of deal in the boroughs.

Are you looking for free insurance quotes?
Your one-stop online insurance guide. Get free quotes now!
Secured with SHA-256 Encryption