Best California Home Insurance
The best California home insurance companies are AAA, Allstate, and Wawanesa Insurance. Average California home insurance rates fall 35% below the national average and there are no state-mandated California home insurance requirements. To get the best California home insurance costs, and best homeowners insurance in California, comparison shop for California home insurance quotes using our free tool below.
Are you looking for free insurance quotes?
Secured with SHA-256 Encryption
UPDATED: Aug 6, 2020
It's all about you. We want to help you make the right coverage choices.
Advertiser Disclosure: We strive to help you make confident insurance decisions. Comparison shopping should be easy. We are not affiliated with any one insurance provider and cannot guarantee quotes from any single provider.
Our insurance industry partnerships don't influence our content. Our opinions are our own. To compare quotes from many different insurance companies please enter your ZIP code on this page to use the free quote tool. The more quotes you compare, the more chances to save.
Editorial Guidelines: We are a free online resource for anyone interested in learning more about insurance. Our goal is to be an objective, third-party resource for everything insurance related. We update our site regularly, and all content is reviewed by insurance experts.
California is a big and diverse state, which means that although the average home insurance rates fall below the national average by 35 percent, the cost of home insurance will vary greatly. Whether you live near the beach or the desert, shopping around for the best California home insurance that meets your needs at a good price can be a challenge. We have chosen three of the best homeowners insurance options to help.
Find the best insurance for you today by getting a FREE quote with just a click.
What coverage should I get for homeowners insurance?
Home insurance is not like auto insurance – there are no mandatory California homeowners insurance laws. Mortgage companies, however, do require that the homeowners to whom they lend money for a home purchase carry a home insurance policy. This protects their investment, but it also protects you.
If you fail to have the right home insurance in place, your lender can force-place insurance on the home and charge you for it. This type of insurance protects only the lender and has no benefits for you or your personal property. A package home insurance policy from a reputable insurer satisfies the mortgage company while providing you with protection for your biggest investment.
A homeowner's policy is a package that includes several parts. The main parts are coverage for the dwelling itself, coverage for personal property, and liability. Home insurance also provides coverage to pay for living expenses if you cannot be in your home during repairs on a covered loss.
In addition to these benefits, a homeowner's insurance policy can also be customized with a verity of optional coverage choices and endorsements. You can choose the ones that fit your needs; for example, if you work at home you may need a home office endorsement.
Your one-stop online insurance guide. Get free quotes now!
Secured with SHA-256 Encryption
Specifics of Home Insurance in California
It is vital to be aware that there are two risks for which standard home insurance does not provide coverage. The first is flood, the second is a big one for California homeowners: earthquake.
Both flood insurance and earthquake insurance can be purchased as separate policies to supplement the main homeowner's insurance and provide coverage for these risks. In some cases, flood insurance may be required. This usually happens when you buy a house in a high-risk flood zone.
While earthquake insurance is not usually a requirement, it is a wise investment for California homeowners.
Our Process
While rates are usually the first concern for insurance shoppers, our ultimate goal in selecting the best home insurance for California is not to present the least expensive, but the best value.
Value is comprised of three main factors, and the price is one of them. The other two are coverage and company reputation.
All of the companies on our list have a good reputation for being there for customers when they are needed. That means they rank highly in claims satisfaction as well as for general customer satisfaction. We looked at ratings from trusted consumer survey sources as well as our own research into customer complaints to determine which companies fit the bill.
While home insurance policies generally offer the same coverage from each company, what coverage is offered as standard varies greatly. Some companies offer extended replacement cost on the dwelling or replacement cost coverage for personal property standard; with others these are options. We looked for companies that offer comprehensive coverage even on their base policies. We also looked for companies that make it easy to upgrade coverage without breaking the bank.
All of the companies on our list offer insurance across the state and to the majority of California homeowners. We left off companies that have special eligibility requirements and those that cater to a certain population. While USAA is a great company, they serve only military members and their families. Similarly, while California has some very high-value homes, we did not choose insurance companies that cater mainly to that market. Our choices are intended to be useful to the largest possible portion of the population.
Our Top Picks
These three companies all meet our standards for a good value in California home insurance.

AAA is one of the biggest insurance companies in California, and for 2018 Auto Club of Southern California earned the second-place spot in J.D. Power's home insurance satisfaction survey. Although you do have to be a member to get insurance, AAA home insurance is open to all residents, and the fee also comes with other benefits.
Both of the two policy tiers offered include extended replacement cost, and the higher-end policy has guaranteed replacement cost. Replacement cost on personal property is standard, too. And to top it off, their rates are excellent.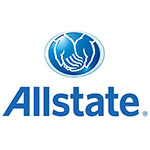 Allstate is very competitive in terms of price for California homeowners, and they also have one of the most impressive lists of discounts of any insurance company, making it easy to get the rate even lower.
They offer comprehensive coverage on all of their home policies, with plenty of options to customize. Allstate home insurance also has a great reputation for taking good care of customers, ranking well with J.D. Power and showing a very low number of justified complaints with the California Department of Insurance.

Wawanesa is the smallest company to make our list; California is one of the two states they serve and the only state in which they write homeowners. Their home insurance policy has great coverage, including extended replacement cost with inflation protection as well as replacement cost for personal property as standard features. They also offer earthquake coverage as an endorsement.
Although they are too small to make J.D. Power's lists, Wawanesa does have good customer satisfaction ratings with a low complaint volume. And all of this comes at some of the lowest rates in the state.
Your one-stop online insurance guide. Get free quotes now!
Secured with SHA-256 Encryption
Shopping for Car Insurance in California
There are a lot of insurance companies in California, and as we have already noted the vastness and variety of homes in the state mean what is right for one homeowner may not be right for another. Rates will also vary a lot between different areas.
We recommend getting as many quotes as you can to compare companies, and do not pass up quotes from smaller companies. Although they may not have the name recognition they often make up for size in service and even in terms of price. Although the smaller company on our list does operate on a direct buy basis, you will likely need the help of an agent to gather quotes from other smaller options.
Before you shop, take the time to figure out what coverage you need as well as what coverage you want. Replacement cost calculations can differ a lot from company to company, so decide on a number you are comfortable with and that meets mortgage requirements and make sure all quotes meet or exceed that amount.
Even if you aren't sure you want to buy earthquake insurance, ask for quotes. It is well worth looking into how much it costs to add this coverage in a state where serious earthquake damage is a high risk.
The Bottom Line
California residents have a lot of insurance companies to choose from for their home. Shopping around can be a bit time consuming, but is well worth it to get real value and real protection for your biggest investment. Insurance companies both large and small can be a great choice for your California home, so consider all your options before you buy; just be sure to check each company's reputation.
Enter your ZIP code to get a FREE insurance quote today.