Best Auto Insurance in New Jersey
The three best auto insurance companies in New Jersey are GEICO, Allstate, and Amica Mutual. New Jersey has higher auto insurance rates than average, but if you are looking to bring them down shopping around is a better choice than a lower-coverage policy.
Are you looking for free insurance quotes?
Secured with SHA-256 Encryption
UPDATED: Jun 1, 2022
It's all about you. We want to help you make the right coverage choices.
Advertiser Disclosure: We strive to help you make confident insurance decisions. Comparison shopping should be easy. We are not affiliated with any one insurance provider and cannot guarantee quotes from any single provider.
Our insurance industry partnerships don't influence our content. Our opinions are our own. To compare quotes from many different insurance companies please enter your ZIP code on this page to use the free quote tool. The more quotes you compare, the more chances to save.
Editorial Guidelines: We are a free online resource for anyone interested in learning more about insurance. Our goal is to be an objective, third-party resource for everything insurance related. We update our site regularly, and all content is reviewed by insurance experts.

New Jersey ranks a little above the national average when it comes to auto insurance rates, which means it is fairly expensive to insure a car in the state. Thanks to the unusual structure of New Jersey auto insurance laws, however, and the plethora of car insurance companies to choose from, finding an affordable policy is possible.
The Basics of Auto Insurance in New Jersey
New Jersey drivers can get on the road legally in one of two ways; the state offers two different plans that both meet requirements.
The Basic plan is designed for those who are on a tight budget and does not require that you carry any bodily injury liability coverage, although you can choose to include $10,000 for this coverage as an option. This plan does include $5,000 in property damage coverage. There are no increases on this plan for limits; drivers who want more coverage should purchase the Standard plan.
The Basic plan requires a minimum of $15,000 in personal injury protection, and it includes a higher limit of $250,000 for specific serious injuries. Drivers can choose to select the limited right to sue option on this policy as well; we will discuss right to sue in New Jersey below.
The Standard plan works more like the car insurance plans seen in most states, with a minimum requirement of $15,000 per person and $30,000 per incident for bodily injury. The minimum for property damage is $5,000, like the basic policy, and all limits can be increased.
The Standard plan also includes a requirement for $15,000 in personal injury protection, which can be increased and also includes the higher limit of $250,000 for specific serious injuries.
With Standard auto policies, drivers can add uninsured/underinsurance motorist coverage as an option; the Basic plan does not offer this. All Standard insurance policies also have a full coverage option; not all insurance companies offer this on Basic auto policies.
Are you looking for free insurance quotes?
Your one-stop online insurance guide. Get free quotes now!
Secured with SHA-256 Encryption
The Specifics of New Jersey Auto Insurance
With the basics of the two coverage options out of the way, it is worth a look at how right to sue works in the state.
There are two levels of right to sue in New Jersey. With the Unlimited Right to Sue option, you can sue the driver that caused an accident for pain and suffering as the result of injuries in that accident with no limitations.
With the Limited Right to Sue option, the at-fault driver cannot be sued for pain and suffering unless the accident results in one of these:
Loss of a body part
Loss of a fetus
Death
Permanent injury
Major disfigurement or scarring
A displaced fracture
Reducing the right to sue reduces the risk that insurance companies take in terms of the potential cost of a claim; it also means a reduction in court usage for lawsuits. As a result, it means lower premiums and better rates for drivers in New Jersey.
Under New Jersey law, Basic policyholders can only select the Limited Right option. Standard policyholders can select either option for auto insurance coverage.
Our Process
While some drivers in New Jersey may choose the Basic policy, we looked for the best rates on the Standard-style policy for a typical driver instead. The reason for this is because the coverage on the Basic plan is very minimal, and far below what we would normally recommend for any average driver anywhere. Instead, we looked for insurance companies offering a good value for better coverage.
All of the insurance companies that made our list had to have a good reputation. We looked at our own research into consumer reviews as well as trusted rating sources to find companies that are known for great claims handling, excellent customer service, and an all-around good policyholder experience. When comparing options in auto insurance for drivers, safe driver discounts are a good consideration as well.
As always, we looked at both local and national choices to provide options for smaller and larger companies as well. All of our choices cover drivers across all of New Jersey, although some may have better rates in certain parts of the state. We chose companies that offer coverage to the general public. Although some companies, with specific membership.  requirements, may offer great value through savings of customers with policies designed for their members.
Our Top Picks
These three companies can provide a great value in car insurance to New Jersey drivers, with an option available for just about anyone.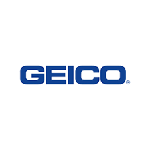 GEICO
The leader in low insurance rates nationwide is also a leader for low rates in New Jersey. They offer some of the most affordable rates even for young drivers or those with a less than perfect record, so it is not a surprise more New Jersey drivers choose GEICO than any other insurance company.
They are also the second largest car insurance company in the country and have a strong, solid reputation and an easy to use mobile app. Regardless of where you live in the state, GEICO is a good bet for your insurance.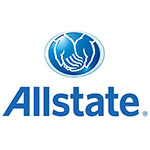 Allstate
Allstate provides the personal service of an agent that many drivers prefer and still comes out below average when it comes to rates. They have a very long list of discounts available, more than most companies which makes it even easier to get a great rate.
Allstate is a large company and has solid ratings, and there's no concern about financial stability here. If you want that agent approach, Allstate is the best bet in New Jersey.

Amica Mutual
Topping several of J.D. Power's lists for the best in claims satisfaction as well as overall customer service, Amica Mutual is a direct buy company that cuts out the agent to reduce rates. They also have an excellent auto/home discount that makes them a top pick for shopping your home insurance around.
Amica offers great value in their policies, with rates coming in below average and a lot of added benefits to sweeten the deal.
Are you looking for free insurance quotes?
Your one-stop online insurance guide. Get free quotes now!
Secured with SHA-256 Encryption
Shopping for Car Insurance in New Jersey
The first thing to decide when shopping for New Jersey car insurance is whether you plan to select a Basic or Standard policy. While the Basic plan is the cheapest option, it cannot be stressed enough how little coverage it really offers. This plan is generally selected by people who do not have a lot of money, which means they don't have the financial ability to cover damages if found at fault either.
Even at the state legal minimum coverage requirements, the Standard policy offers significantly more coverage. We still – always – recommend carrying higher liability limits. Consider how quickly $5,000 in damage can be done to a brand-new car, and it becomes clear why.
Once you have decided on the coverage limits you are comfortable carrying, make sure that all of the insurance companies you obtain quotes from provide a rate for the same levels. Check with your auto insurance company on any additional coverage that might be included. That way you can be sure to compare apples to apples.
It is also a good idea to shop your home insurance around at the same time since auto/home discounts are substantial and can really bring down your coverage rates.
The Bottom Line
New Jersey has higher rates than average, but if you are looking to bring them down shopping around is a better choice than a lower-coverage policy. There are a lot of lower cost insurance options available to New Jersey drivers, including some of the biggest names in the business – so take a look around before you decide on the minimum limits.
Are you looking for free insurance quotes?
Your one-stop online insurance guide. Get free quotes now!
Secured with SHA-256 Encryption